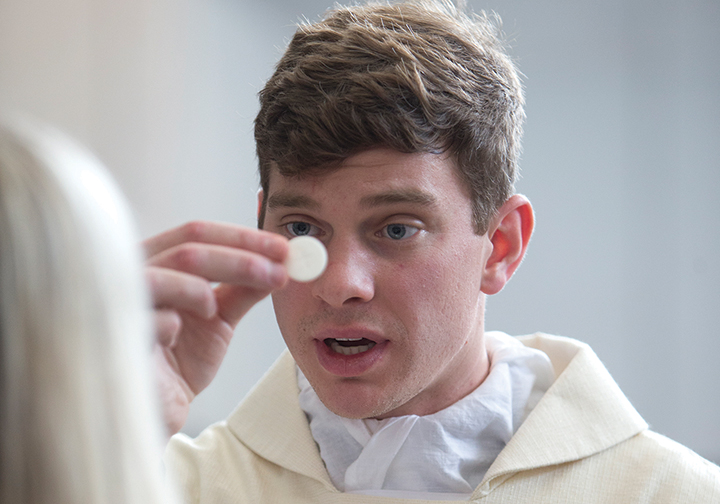 by Joe Bollig
joe.bollig@theleaven.org
KANSAS CITY, Kan. — Sometimes, the early signs of a vocation to the priesthood are subtle. And sometimes they're as obvious as a brick through a window.
That was the case for Deacon Timothy James Skoch. His nickname on his high school softball jersey was "Priesthood."
Even so, it wasn't a sure thing. He applied for the seminary during his sophomore year at university, but changed his mind and told the vocation director Father Scott Wallisch, "No."
"Quite frankly, the seminary would have been wise in telling me 'no,' too, at that point in my life," said Deacon Skoch. "I just needed more time to grow as a man. In my senior year, Father Wallisch accepted me."
Deacon Skoch, 28, was ordained a deacon on May 21, 2022, at Christ the King Parish in Topeka. He and two other men will be ordained to the priesthood by Archbishop Joseph F. Naumann at 10:30 a.m. on May 27 at Prince of Peace Church in Olathe.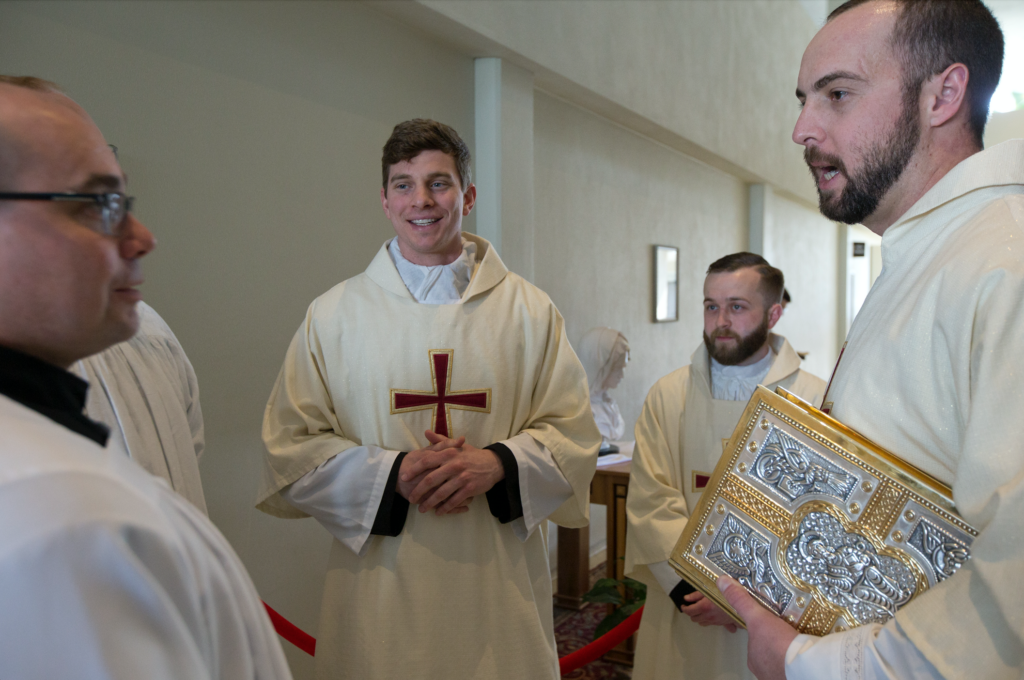 He was born and raised in Hastings, Nebraska, one of seven children of Dr. Michael Skoch, a family practice physician, and Ginny Skoch, a homemaker. The family belonged to St. Michael Parish.
Sunday Mass was a big part of the Skoch family life. How could it not be since his father was a parish organist and his mother was a cantor and choir member? Seeing his father leave the loft to receive holy Communion made a big impact on him at an early age, although he didn't realize it at the time.
Hastings is in the Diocese of Lincoln, so one might wonder how he ended up in the Archdiocese of Kansas City in Kansas.
The partial answer is roots.
His paternal grandfather was a farmer near Baileyville, in the northwestern part of the archdiocese. His mother is from Sabetha, which is 65 miles north of Topeka. His father graduated from the University of Kansas, as did Deacon Skoch and two of his brothers.
Of course, there's more to the story.
Deacon Skoch had a totally Catholic education until he graduated from St. Cecilia High School in 2012. He next went to the University of Kansas, where he graduated in 2016 with a bachelor of arts degree in sports management with a minor in business.
"I wanted to participate as an equipment manager for the basketball team at KU," said Deacon Skoch. "I tried out to be a manager at basketball camp. The month I wasn't [at basketball camp], I worked at Camp Tekakwitha (the archdiocesan summer camp). I just really loved the community there. It was my first experience of youth ministry."
Camp Tekakwitha and a Fellowship of Catholic University Students (FOCUS) conference encouraged him to consider discerning the priesthood more deeply, as did participation in Prayer and Action. He was also involved with the St. Lawrence Catholic Campus Center, where he served Mass.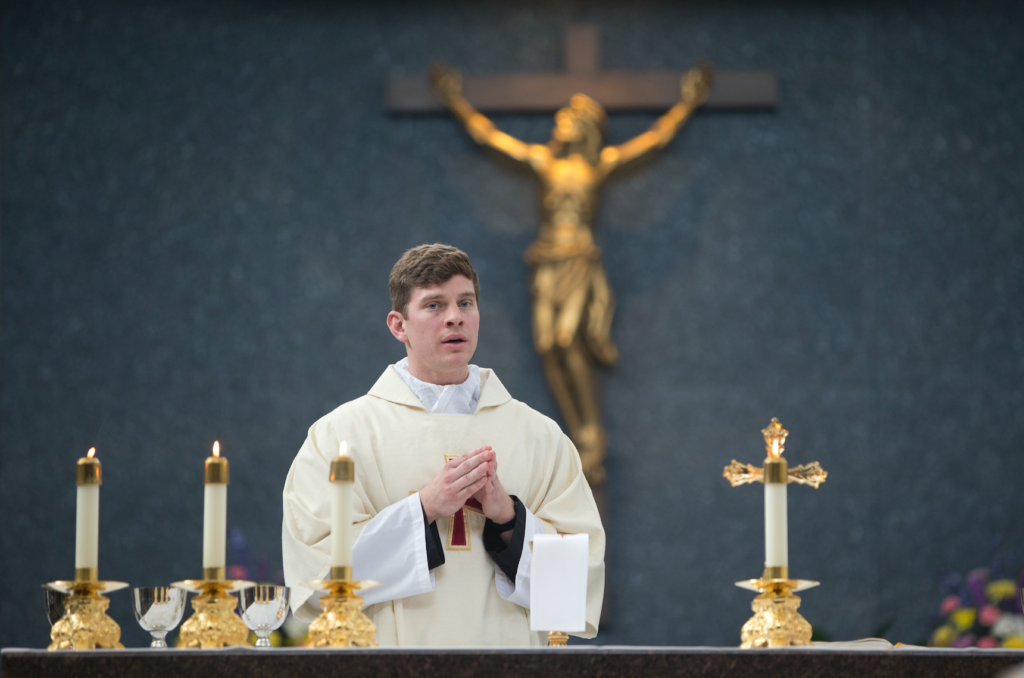 And little things along the way seemed to be subtly nudging him toward the seminary.
Then, during the fall of his senior year, his parents made an unexpected weekend visit. They took him out for dinner — and questioning.
"They sat me down and looked across the table and said, 'School's ending. What's your next step?'" said Deacon Skoch.
By the spring, he was certain that his next step was to figure out if God wanted him to become a priest. When he told his parents that he had put in his application, they weren't surprised. As far back as his second semester at KU, his father told him, "Son, one step at a time." They never pushed him, but rather encouraged him to consider it carefully.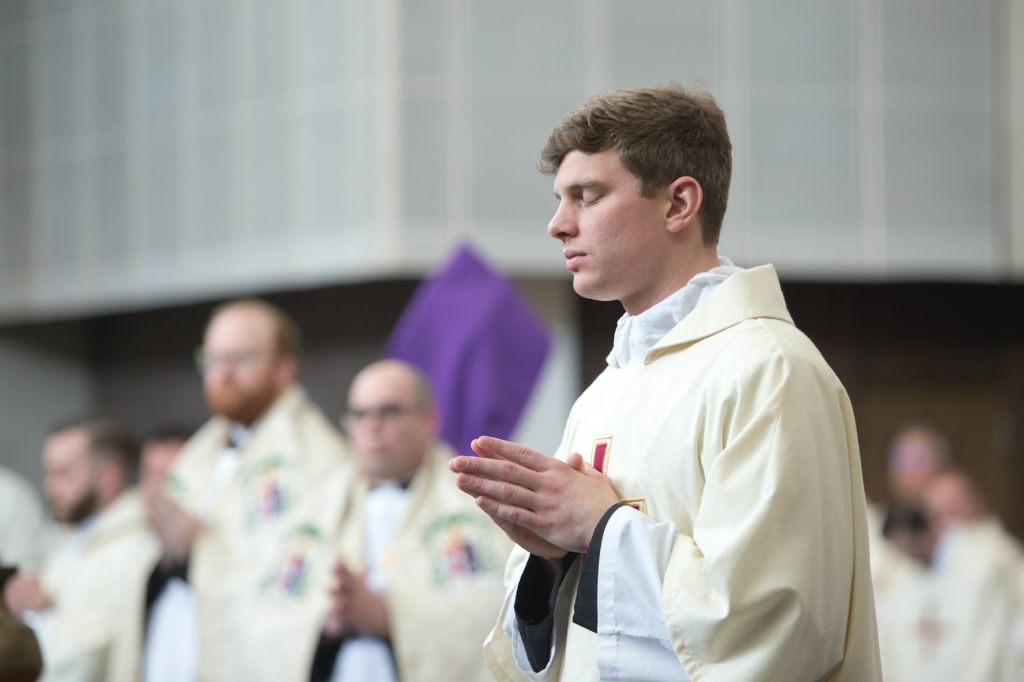 But there was one more thing: What about married life? Five of his siblings are married. He has 14 nephews and nieces, and more on the way. Could he forgo marriage and embrace a celibate life? He prayed for grace and received it.
He entered St. John Vianney Seminary in Denver in August 2016.
Why does he want to be a priest?
"I believe God has called me, that Christ has invited me to be his priest," said Deacon Skoch. "I think I was made with a celibate's heart in my mother's womb. I know that's bold to say, but the prophet Jeremiah wrote, 'Before I formed you in the womb, I knew you.'
"I think I had a celibate's heart, and it was up to me to discover that heart that wasn't for anyone but to follow Christ intimately. The priesthood was mine to choose or to choose not to. It's not naive discernment."
Timothy J. Skoch
Age: 29 (on ordination day)
City/town/location born: Hastings, Nebraska
Parents: Michael and Virginia Skoch
Siblings: Lauren, Benjamin, JohnMarc, Margaret, Thomas and Lucy
Hometown: Olathe
Education:
• Grade school – St. Michael Elementary School K-5th
• Middle/high school – St. Cecilia Catholic Middle/High School 6th-12th, graduate 2012
• College – University of Kansas 2012-2016, bachelor of arts in sports management, minor in business
• Seminary: St. John Vianney Theological Seminary, Denver
What did you do before seminary? Equipment manager for the men's basketball team at KU, 2013-2016
My encounter with the famous/infamous: KU head basketball coach Bill Self gave the last 2 of 15 gold medals to the two managers who traveled to Korea for the University Olympic Games in 2015. This gesture meant a lot to my manager brother, Chip Kueffer, and myself. I have a photo of Coach Jim Harbaugh (then of the 49ers, now of the Michigan Wolverines) and me.
One of the most inspirational Christians I've met: The moment was brief, but meeting Sister Miriam James, SOLT, at a FOCUS conference tops my list.
Favorite food: American Chinese food, especially a cup of egg drop/wonton/hot sour soup all in one.
Favorite childhood toy: Green and tan army soldiers or the Nintendo 64
When I was growing up I wanted to be: A physical therapist
Dream vacation: I already took it. Last summer, I went to the 150th British Open at St. Andrews with my dad, three brothers, two brothers-in-law and a priest.
Favorite leisure activities: Playing basketball, going for a walk, or doing yardwork
My hidden talent/skill: I worked for a landscaping company in high school and enjoy beautifying a small outdoor house space.
My advice to someone seeking their vocation or how to get the most out of the seminary experience: Make strong and virtuous friends; then, if you take the step into the seminary, make yourself available and transparent to formation.
What I'm most looking forward to in my priestly ministry is: Being a member of a presbyterate, that is, being a brother priest. Then participating in Christ as good shepherd.
I want to be a priest because: Through friendship with God, I've come to understand that I was made to be Jesus' priest. By growing in understanding, I was able to make a firm "yes" to his invitation after four years of seminary.