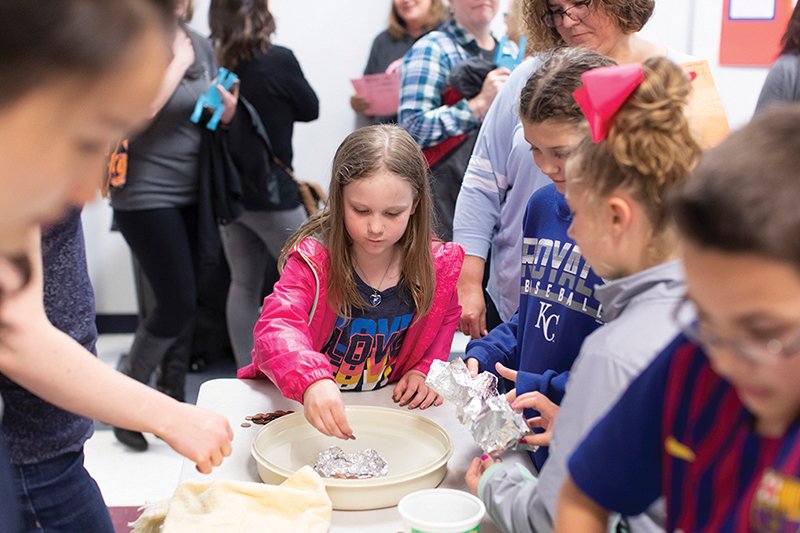 by Joe Bollig
joe.bollig@theleaven.org
KANSAS CITY, Kan.— When Don Lueger attends Mass at St. Mary Church in St. Benedict, his thoughts always turn to God.
But they also turn to the wiring.
The church, built in 1893, is so beautiful that it was placed on the National Register of Historic Places in 1980. In 2011, it was named one of the "Eight Wonders of Kansas."
The church was wired for electricity in 1913. Over the years, the parish has employed additional wiring for various things, but the basic electrical infrastructure is still the old "tube and knob" wiring installed when Woodrow Wilson began his first term as president of the United States.
"There are a lot of old structures that still have [tube and knob] but, yes, it makes you nervous," said Lueger.
The rewiring project, however, will cost $125,000. That's a big chunk of change for a small, rural parish.
Lueger is a board member of the Catholic Foundation of Northeast Kansas, and he knew about something that could help his parish's wiring situation: iGiveCatholic, an online crowdfunding effort that will last the full 24-hours of Tuesday, Dec. 3.
Lueger approached his pastor, Father Reginald Saldanha who approved the proposal, so the parish is participating in iGiveCatholic for the first time this year.
The power of online giving
St. Mary Church is not alone. This year, 200 archdiocesan entities — parishes, schools and ministries — are participating in iGiveCatholic. Last year, 47 participated in the fundraising effort.
This is actually part of a larger, national "Giving Tuesday" effort. iGiveCatholic is the Catholic participation that began five years ago with the Archdiocese of New Orleans.
iGiveCatholic is different from traditional fundraising campaigns — it's online, most donations are small and it reaches a whole different segment of the population. Donors can give to one organization or as many as they want.
"This is the third year," said Kathryn Robards, marketing coordinator for the CFNEK, "that the CFNEK has sponsored this [iGiveCatholic] opportunity for the parishes, schools and ministries of the archdiocese. Each organization has the opportunity to develop a fundraising project or goal for the project they want to raise money for."
All kinds of needs
Last year, St. John Paul II Parish in Olathe used the iGiveCatholic campaign to raise funds for technology items to produce and livestream events. Now, they're doing something different.
"This year, we're supporting our new sister parish, Holy Name of Jesus in Kansas City, Kansas," said pastor Father Andrew Strobl. "They have a need for a more secure entrance."
The entrance to the school cafeteria is also the entrance to the parish hall. What the parish needs is security cameras and new, secure doors. The estimated cost of the improvements is $3,500 — certainly a reasonable goal for this kind of approach.
"This is a great opportunity for our parishes to work together," said Father Strobl.
Any amount can make a big difference for a small ministry, and Vince Eimer hopes that donors will respond to the needs of Christ's Peace House of Prayer near Easton.
"Each year we've participated has brought in $1,500 to $2,000, which is helpful," said Eimer, director. "For an operation our size, that amount of money can make a real difference."
Christ's Peace House of Prayer is a retreat center that relies on freewill donations. The wish list this year includes a new laptop computer, replacing the chapel windows, restaining the guest cabins, and a regrade and regravel of the parking lots and pathways.
"These are maintenance projects that have been delayed too long," said Eimer. "We need to get the place as strong as possible for the future."
Another archdiocesan participant with needs is St. John the Evangelist Parish in Lawrence. The church is nearing the 100th anniversary of its construction. Naturally, in a building that old, issues develop.
For St. John the Evangelist, the issue is the subflooring in the carpeted areas of the sanctuary. A mixed collection of flooring types built over the generations means they can't lay carpeting smoothly — thus creating a hazardous situation. The project will cost $91,000, and the parish would like to do the work during the summer of 2020 when school is out.
Countdown to giving
iGiveCatholic will begin precisely at midnight on Dec. 3 and end at 11:59 p.m. For people who for some reason can't give on Dec. 3, said Robards, the iGiveCatholic.org website will open for advance giving from Nov. 18 to Dec. 3.
Those who aren't "tech-savvy" can donate by giving a check or cash directly to their designated recipient, said Robards.
But online donors have an advantage: They can track how well their organization is doing in real time by following the "leaderboards" on the iGive Catholic.org website.