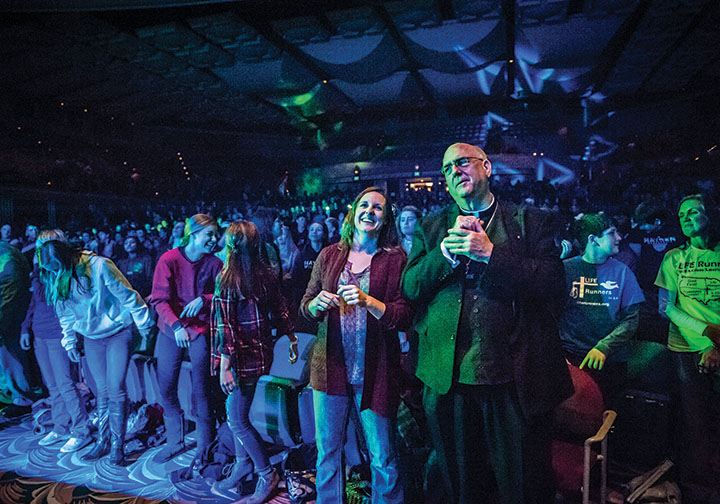 by Marc and Julie Anderson
mjanderson@theleaven.org
TOPEKA — Ignite.
The word means "to catch fire" or "to begin to glow."
And that's what Deb Niesen, the archdiocese's pro-life consultant, wants to happen here in northeast Kansas. She wants people to catch the fire of the pro-life message, especially given that abortion remains a right in Kansas.
With that in mind, she invites everyone in the archdiocese to join her on Jan. 24 at the annual IGNITE for Life rally to be held at the Topeka Performing Arts Center.
This year's featured speaker is Lila Rose, founder and president of Live Action, a nonprofit organization with "the largest digital footprint for the global pro-life movement."
"Our theme this year for IGNITE is 'Celebrating Life's Heroes.' Part of it is that we're going to be celebrating the overturning of Roe that happened in 2022. We have all the life heroes and prayer warriors since 1973 who have been standing for life during all of these years. So, we're recognizing those people and their tireless effort for the past 50 years," Niesen said, adding that Rose is among those internationally known voices advocating for the sanctity of life.
Rose's investigative reporting on the abortion industry has been featured in major news outlets including the Los Angeles Times, the Washington Post, the Atlantic, CBS and ABC "Nightline." She is also the author of "Fighting for Life: Becoming a Force for Change in a Wounded World," in which she shares her own personal story as well as tips for "finding the passion you need to make a difference — and draw closer to the One who truly saves."
"I think Live Action plays a big part in this because something that Live Action has been doing recently is creating videos, sharing all of the different stories of people who have chosen life, even amid difficult circumstances," Niesen said. The videos highlight some of the more difficult scenarios people use to justify abortion, such as rape, incest and life of the mother.
Of Rose herself, Niesen said, "Right now, she is probably one of the most influential advocates for pro-life in the country. . . . What I love about her is that she's extremely passionate but she's also extremely compassionate in her message and she teaches us how to stand firm in our defense of all life, but she does it in a very loving and respectful way."
IGNITE for Life
Date: Jan. 24
Place: Topeka Performing Arts Center
Schedule: 8:30 a.m. – Doors open
9 a.m. – Speaker presentation
10:30 a.m. – Mass with Kansas bishops
Noon – March to Kansas Capitol for rally on the south steps