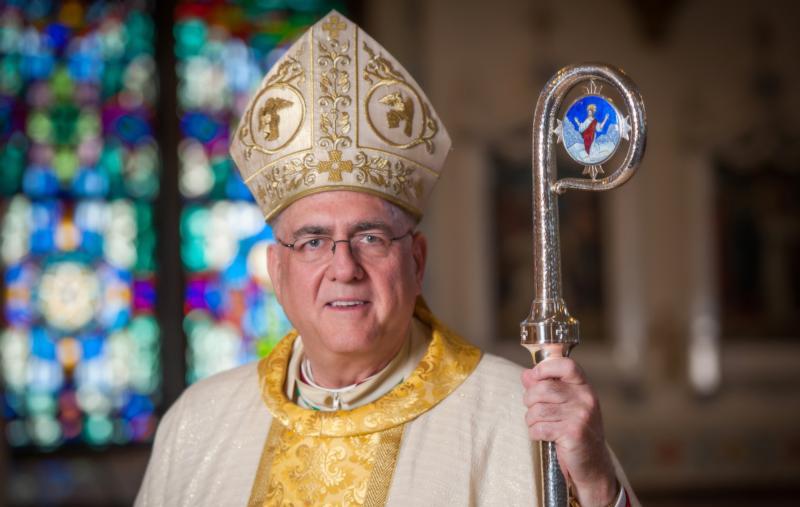 by Archbishop Joseph F. Naumann
Each year, on the third Monday of January, our nation observes Dr. Martin Luther King Jr. Day, commemorating the life and legacy of a great American hero.
Dr. King was recognized as the leader of the United States civil rights movement of the 1950s and 1960s that successfully fought against the evil of racism and worked specifically to end laws and public policies that allowed, promoted and often mandated racial segregation.
January 22 is the anniversary of the 1973 U.S. Supreme Court twin decisions (Roe v. Wade and Doe v. Bolton) that struck down every state statute restricting abortion. Consequently, for the past almost 50 years, abortion has been legal in the United States through all nine months of pregnancy for virtually any reason.
Every year around the time of this anniversary, the national March for Life occurs in Washington, D.C. Hundreds of thousands of pro-life Americans gather each year in Washington as well as in state capitals to advocate for legal protection of children and women from the human tragedy of abortion.
For the first time in 49 years, there is a well-founded hope that the U.S. Supreme Court in 2022 will allow states greater authority to determine policies regulating abortion and protecting the lives of unborn children.
These two annual national events are occasions when many are inspired to advocate for the defense of some of the most fundamental of human rights.
Martin Luther King Day celebrates the right of every American to have equal protection under the law, no matter their race or ethnicity. The March for Life is a reminder that every human life is sacred, no matter age or stage of development. Without the right to life, no other right matters.
While the moral teachings of our Catholic faith give clear guidance for the formation of our consciences on both racism and abortion, neither racial discrimination nor legalized abortion are primarily religious matters, but rather are first and foremost fundamental human rights issues.
The evil nature of both institutionalized racism and legalized abortion are accessible to everyone through reason alone and are not dependent on the moral teaching of any particular religion.
One of the great flaws with the founding of our nation was the continued acceptance of slavery. While many of our founders opposed slavery, they judged that an attempt to abolish slavery at the moment of our nation's founding would fracture the fragile coalition of former British colonies seeking independence and thus jeopardize the success of the American Revolution.
Sadly, this failure of the founders to address the human rights abuse of slavery postponed an inevitable conflict within our nation that eventually resulted in a bloody Civil War. Tragically, for almost a century after the Civil War and the emancipation of slaves, the Congress, state Legislatures and the courts permitted racial discrimination in our laws and public policies.
The courage and determination of Dr. King and many other civil rights leaders in the 1950s and 1960s resulted in victories in the courts, the Congress and state Legislatures. Fortunately, today an overwhelming majority of Americans oppose racism. Consequently, expressions of racial bigotry have become culturally unacceptable.
Nevertheless, vestiges of past institutional bigotry, as evidenced by the explosion of racial tensions over the past 18 months in so many urban areas, reveal the wounds inflicted by racism are not yet healed. Avoidance of addressing fundamental human rights abuses results in great harm not only to its victims but also undermines the moral and legal authority of government.
The pre-Civil War failure of a unified condemnation of slavery by the Catholic bishops in the United States remains a disgrace and embarrassment for our church. The lack of a united and energetic effort by Catholic bishops in the United States for decades after the Civil War to combat racial injustice remains a grave failure of leadership.
In our November 2018 "Open Wide Our Hearts — A Pastoral Letter Against Racism," the U.S. Conference of Catholic Bishops acknowledged and asked forgiveness for our past failures.
"Therefore we, the Catholic bishops in the United States, acknowledge the many times when the church has failed to live as Christ taught — to love our brothers and sisters. Acts of racism have been committed by leaders and members of the Catholic Church — by bishops, clergy, religious and laity — and her institutions. We express deep sorrow and regret for them. We also acknowledge those instances when we have not done enough or stood by silently when grave acts of injustice were committed.
"We ask for forgiveness from all who have been harmed by these sins committed in the past or in the present."
At the same time, our church can be proud of many American Catholics who were advocates for the victims of racism and fought vigorously against racial injustice, e.g., Father Augustus Tolton — the first African-American Catholic priest; Sister Katharine Drexel; Sister Thea Bowman; and a host of lay leaders. Growing up in St. Louis, I am proud of Cardinal Joseph Ritter's decision to desegregate the Catholic schools in St. Louis in the late 1940s.
Similar to proponents of slavery who predicted economic and social disaster for our nation if slavery was banned, legalized abortion advocates today make dire predictions of a negative impact upon women if the U.S. Supreme Court allows states greater latitude to regulate, much less prohibit, abortion.
Abortion advocates pit the welfare of women against the lives of their children. In truth, once a child is conceived in the womb of a woman, the welfare and best interests of mother and child are intimately linked.
Catholics in the United States can be justifiably proud that for the past 50 years their church has been a leader in efforts to protect both mother and child from the abortion industry.
At the same time, the Catholic community has also been a leader in developing practical resources to help and accompany women with difficult or untimely pregnancies.
The sanctity of each and every human life as well as the dignity of every human person are fundamental truths. One does not need any religious affiliation to acknowledge that no one has either the right to destroy another human life or to discriminate against another member of the human community based on race and ethnicity.
These two great human rights movements — the protection of the right to life of the innocent unborn child and defense of the civil rights and innate dignity of every human being, no matter the race or ethnicity — are naturally, deeply connected.
For 10 years of my priesthood, I had the privilege of serving as a leader in our church's pro-life efforts as well as serving as a pastor in predominantly African-American communities.
Reason alone makes clear to us both the dignity of every human being no matter their race or ethnicity as well as the right to life of every human being, no matter age or stage of development.
Our Christian faith adds to what reason reveals. Christians believe that every human being is made in the divine image and every human life is of such worth in God's eyes that Jesus gave his life on Calvary for each one of us.
Martin Luther King Day and the March for Life celebrate equally self-evident truths: 1) the sacredness of every human life, no matter age or stage of development; and 2) the dignity of every human person, no matter race or ethnicity.
These annual January celebrations remind us of certain inalienable rights that are not bestowed by the government, but which our laws and public policies have an obligation to protect.