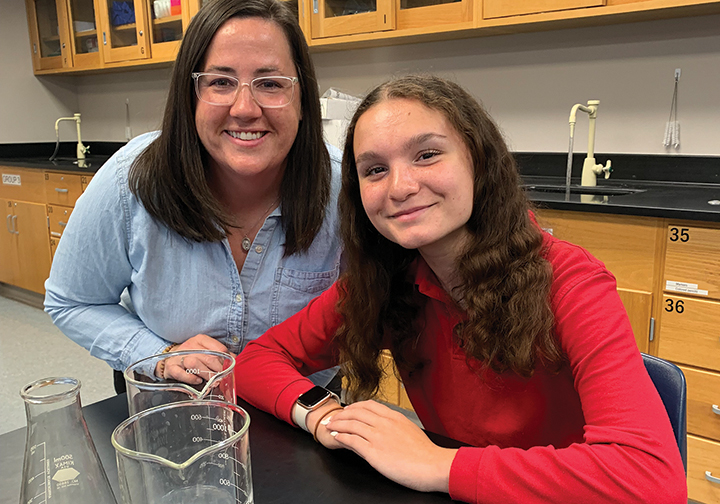 by Jan Dumay
Special to The Leaven
ROELAND PARK — Josephine Herrold will be the first in her immediate family to go to college, thanks largely to a $50,000 scholarship she was awarded recently.
Josephine, 17, who goes by Josie, just finished her junior year at Bishop Miege High School in Roeland Park. She said the scholarship means being able to pursue her career goal of becoming either a medical doctor or a pharmacist.
"I'm actually really excited about it because I come from a low-income family," she said. "It's really nice to have that big cushion of money, and to be able to stay in the area with it."
She explained that a stipulation of the scholarship was agreeing to attend a designated college in the metro area. She plans to attend either the University of Kansas or the University of Missouri-Kansas City.
She heard the good news from her Miege counselor.
"I was so happy," she said. "I didn't know how to react."
The scholarship was awarded by KC Scholars, which on April 28 gave out 575 scholarships so that low- and modest-income students across the six-county, bistate region could attend college. Launched in 2016, the program has awarded more than 6,000 scholars, with more than 2,000 scholarship recipients currently in college. It has seen more than 150 scholars through to graduation.
It is all made possible through the continued financial support of the Ewing Marion Kauffman Foundation.
"It is so gratifying to show our scholars that, because of their hard work, they can attend college and secure careers that will forever change their lives and that of their loved ones," said KC Scholars president and CEO Earl Martin Phalen in a press release.
Josie was the only student from Bishop Miege to receive a traditional scholarship of $10,000 a year for five years. Eight juniors from Bishop Ward High School in Kansas City, Kansas, also received a traditional scholarship and a freshman from St. Thomas Aquinas High School in Overland Park received a college match scholarship of up to $1,400 to use toward college.
It was no surprise to Mary Beth Summers, a biology teacher at Miege, that Josie earned the scholarship. Summers was one of two Miege teachers who wrote a letter of recommendation for Josie, whose scholarship application also included writing two essays and answering questions not only about her classwork but life outside academics.
"Oh my gosh, I was so excited for her," Summers said. "She's one of the most deserving people I have ever met. She's such a hard worker and she doesn't expect any free handouts. Even though she's so busy herself, she's willing to help other people. She's just the sweetest kid. She asks really good questions and has a drive for science."
Bill Creach, the school's director of campus ministry, agreed.
"She's the total package," he said. "She's bright, she's personable, she's humble and she's involved."
Josie did indeed participate in a variety of activities. These included running cross country and track, playing CYO basketball, being editor-in-chief of Miege's yearbook, participating in HOSA (Health Occupations Students of America), going on mission trips, and being a lector and server at Mass in her parish of Queen of the Holy Rosary in Overland Park. Josie is a 2020 graduate of John Paul II Grade School in Overland Park.
Her class schedule also kept her busy: Advance Placement (AP) biology, language and composition, and U.S. history; college algebra; Honors Spanish III and editorial leadership; theology II and computer science essentials.
She earned a 3.95 unweighted grade point average on a 4-point scale and a 4.45 weighted grade point average on a 5.0 scale. Weighted scales take into account honors and AP classes, which are weighted heavier.
Josie, whose favorite subject is biology, said Miege has prepared her well for furthering her education after she graduates next year.
"We have a good ratio between teachers and students," she said. "I also believe that the teachers are really good about teaching information and being there if you need extra help. I feel I've never had issues in a class because a teacher can't teach a subject."
KC Scholars' newest program, Great Jobs KC, provides tuition assistance to approved job training programs in high-paying and high-demand industries such as construction, health care, information technology and manufacturing. Adults 18 and older can learn the skills needed in one year or less to earn $45,000-$85,000.
To learn more about KC Scholars and Great Jobs KC, visit the website at: www.kcscholars.org.