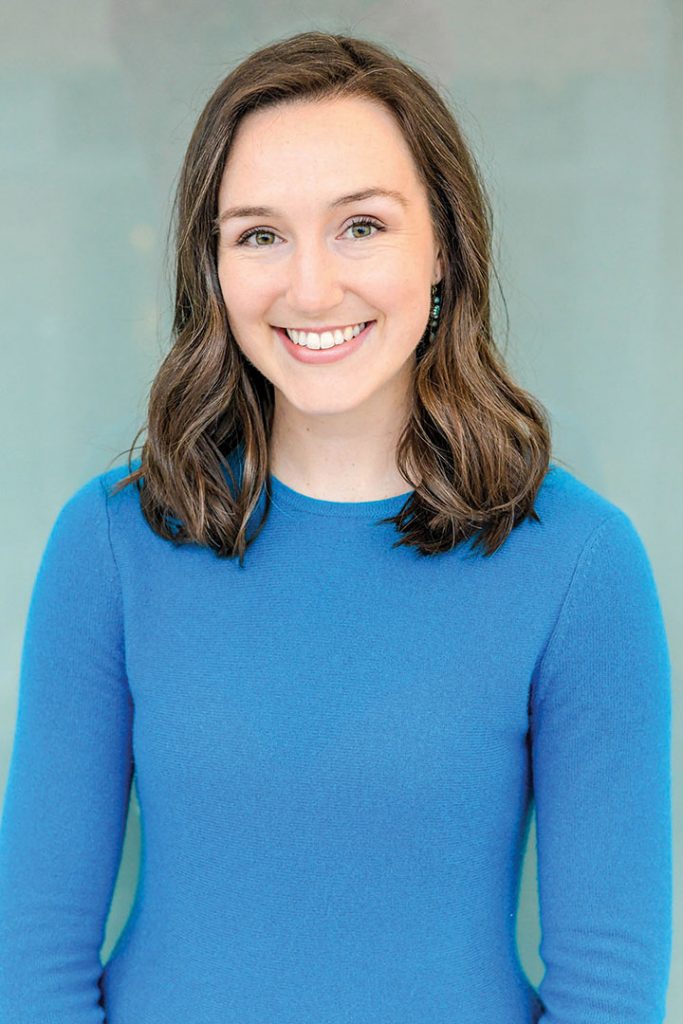 by Moira Cullings
moira.cullings@theleaven.org
KANSAS CITY, Kan. — Joy Fesen never expected to face a pandemic in the midst of her third year of medical school.
But the University of Kansas School of Medicine student is making the most of the situation, volunteering four to eight hours each week at a COVID-19 call center.
"It's a new pandemic, so there aren't a lot of resources in place," said Fesen, who hails from Hutchinson, and now attends Guardian Angels Parish in Kansas City, Missouri. "People aren't necessarily sure of where to turn."
Fesen will graduate from medical school next May. Because the last two years of the program are centered around clinical rotations, she was in the middle of an internal medicine clerkship when the pandemic hit.
Since then, she's had to transition her duties to an online platform but continues to work with patients virtually.
"The residents and the attending [physicians] are still seeing patients, so they take us around with an iPad," said Fesen. "We do the same kind of process, just from our homes.
"It is very different," she added, "but [the hospitals are] trying to streamline everything as best they can."
Fesen isn't dwelling on her own struggles. She decided to dedicate her spare time to working on the COVID-19 call line at the clinic where she has volunteered in the past.
While there, Fesen takes calls from people who have concerns over, questions about or symptoms of COVID-19.
"If there's a worry that the caller or whoever the person is calling for has COVID, then we can assess their symptoms and exposures and other background health data to schedule them for a test if necessary," said Fesen.
She also takes calls from health care providers who call to schedule a patient for a COVID-19 test.
The work has been both disheartening and gratifying.
"Your heart goes out to the people who are calling in with only information that they've heard from the media," said Fesen. "They have some symptom and, whether or not they do have coronavirus, they're immediately concerned about the repercussions of their symptoms.
"On the other hand, there's hope [knowing] people are willing to sacrifice their time [to help]."
In Fesen's eyes, the pandemic has caused uncertainty, but it's also showcased the best of humanity.
"This whole process is overwhelming and kind of feels like it's out of our control," she said. "But what I've seen so much of during this pandemic is individuals making a sacrifice for a neighbor or colleague or often complete strangers so that other person can have a bit of respite.
"Maybe it's a tiny act of love, like working a few hours at a call line, or something bigger, like working on the front lines," she continued. "It's those things I've seen instill hope."
Fesen grew up Catholic and has leaned on her faith during this difficult time.
"I think that what I've learned from Catholicism in general is that when we're confronted with challenges, the best tactic to take is to face it with love," she said.
"It sounds so simple," she added, "but now, and throughout the history of the church, that method has been so successful, and I think it stands as an example for me and for those of other faiths and backgrounds.
"Personally, I'm very inspired by Pope Francis, who chooses to unite in situations like this and other global events and bring people together with acts of love. I think that's the best way to go about it."
The pandemic has made Fesen even more certain of her choice to pursue a medical career.
"I'm definitely more motivated to continue the process after seeing what a pandemic can do," she said.