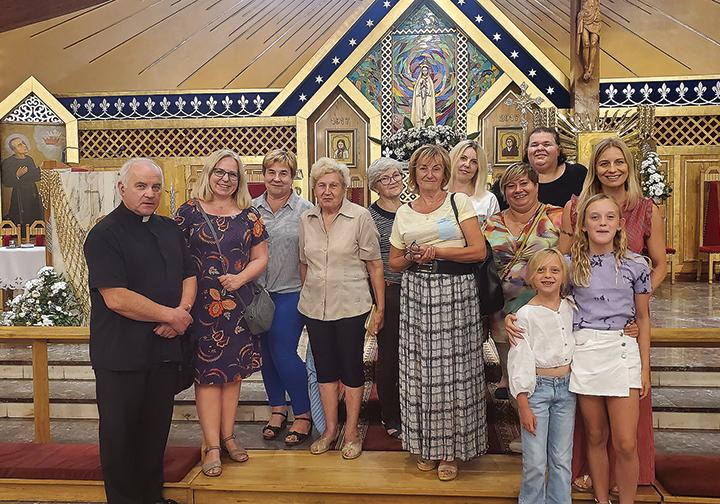 by Moira Cullings
moira.cullings@theleaven.org
OLATHE — Helena Anderson first heard Father Jan Golembiewski's story some six months ago.
It was so remarkable that she made sure to visit the Polish priest at his parish, Immaculate Heart of Mary in Otwock, Poland, during her annual visit to her native country this summer.
Shortly after Russia invaded Ukraine in late February, the priest opened his rectory to refugees, and he continues to house 12 women and children.
Anderson heard his story and shared it with her pastor Father Michael Hermes of St. Paul Parish in Olathe.
Father Hermes quickly asked parishioners for help — and ultimately extended the invitation to more Catholics in an article that appeared in The Leaven on April 8.
The response was overwhelming. Father Golembiewski received $35,040 in donations, which has helped him cover the additional costs of having the refugees stay with him.
His message now is one of gratitude.
"I am immensely grateful for every help you have given, every good word, every penny you have given," he said. "The most important thing I ask for is your prayer.
"Do not forget us."
A warm welcome
Upon their arrival at Immaculate Heart of Mary, Anderson, her mother and daughters were greeted by parish volunteers, several of whom have been hosting refugees in their own homes.
"Everybody was super-nice and super-friendly," she said. "Those [refugees] are in really good hands."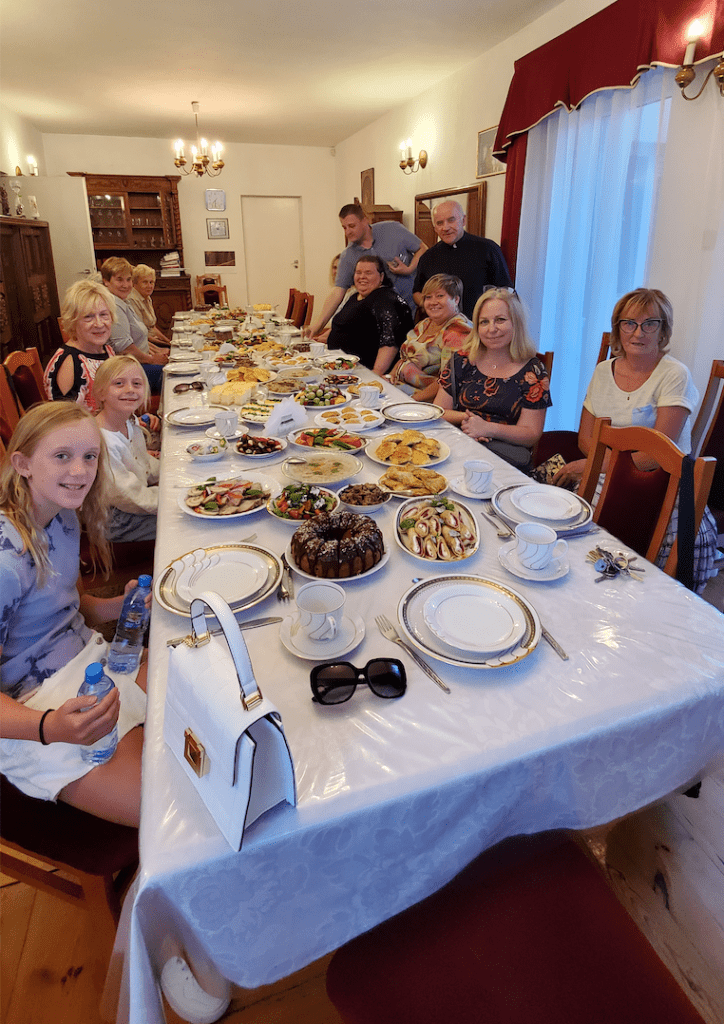 Father Golembiewski gave a tour of the church, where they prayed together before sharing a meal.
"It was an appreciation dinner not only for me because I came," said Anderson, "but also for all the volunteers that helped with everything going on there."
Anderson met a few refugees, watched children playing outside and saw the rooms where they stay.
She was impressed by how frugal Father Golembiewski has been with the donations he received from northeast Kansas.
"He's doing a great job with managing the money," she said. "He's trying to save as much as possible because he doesn't know how long this war will take.
"You can see that he's a priest but also a businessman."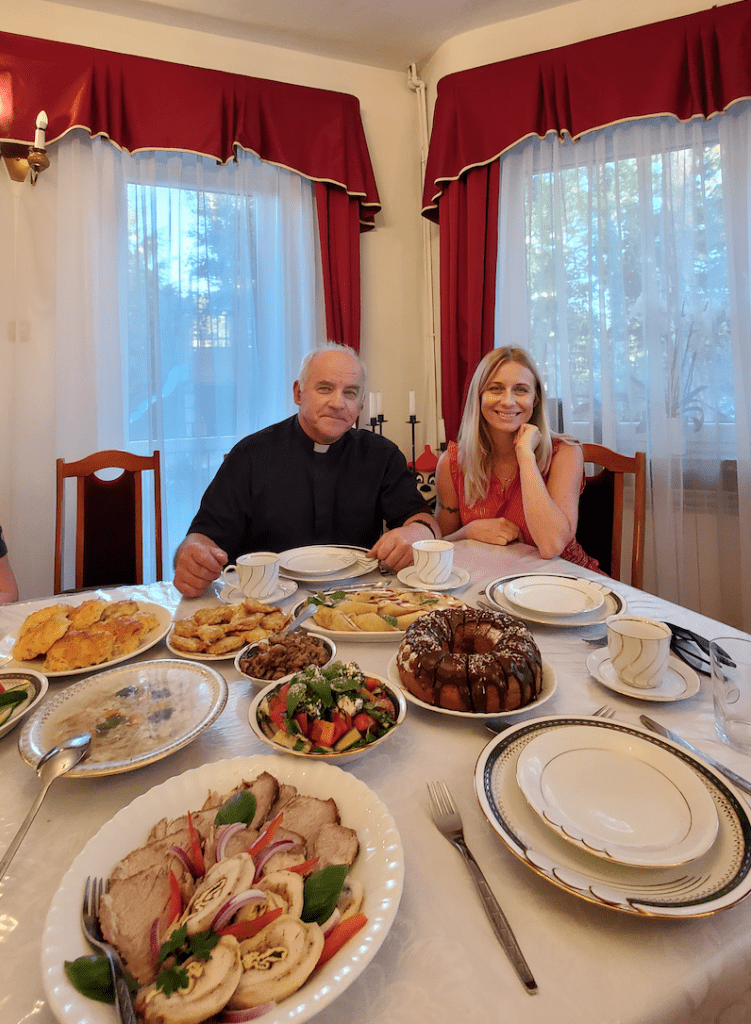 Witnessing firsthand the ripple effects her support for the priest caused was humbling for Anderson.
"Of course, it felt good," she said. "And it felt good that he shares the money with the families in the parish that host other refugees."
A glimmer of hope
Much has happened in Ukraine over the past seven months, and the Ukrainian army reclaiming occupied territory as of late has offered a glimmer of optimism for the country.
Ukrainian President Volodymyr Zelenskyy visited the eastern city of Izium on Sept. 14, just days after Ukraine took back the city from Russian forces.
The visit marked a critical triumph — one that has provided a turning point in the war and given hope to Ukrainian citizens.
But for now, Poland continues to provide a necessary refuge for displaced Ukrainians who've fled the Russian invaders.
According to the Operational Data Portal of the U.N. High Commissioner for Refugees (UNHCR), the current number of Ukrainian refugees recorded in Poland is more than 1.3 million.
As of this summer, said Father Golembiewski, Poland was still receiving around 25,000 people daily.
Some of the families Father Golembiewski has welcomed have moved on to more permanent residencies. But six adults and six children have remained.
"As of today, none of them are planning to return home as long as the war continues," said Father Golembiewski. "They want to continue living with us."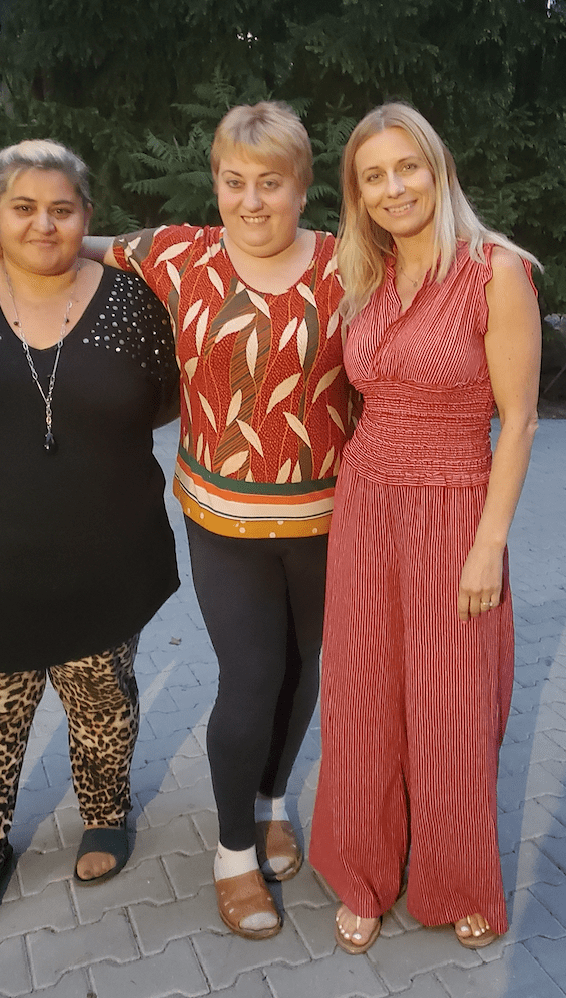 Some parish families and a group of Benedictine Sisters have also welcomed mothers with children and have been able to use part of the donations the parish received from northeast Kansas.
"As long as there is a need, the door of the rectory will remain open," said Father Golembiewski. "The future brings uncertainty, but I believe that the war will end and our wards will safely return to their homes.
"For today, my residents have not become independent enough to find a home for rent, but they also do not return to their homes.
"[As long as] the war continues, I can't imagine denying them a roof over their heads."
Fresh memories
"Until a few months ago, most of us could not imagine that war would break out in Europe," said Father Golembiewski. "In such a civilized world, experienced [in] and still remembering the atrocities of the Second World War, no one will dare to attack another country."
The experience is raw for the priest, whose father, a teenager at the time, survived the German siege of Warsaw in 1939.
"Throughout World War II, my father and grandparents welcomed refugees from Warsaw at home," he said. "We lived about 30 kilometers from Warsaw, so often both Jews and Poles were hosted at home for one or two nights and moved on."
Years after the war ended, Father Golembiewski recalls his mother running out of the house when a low plane would fly overhead, expecting a bombing.
"From my childhood, I remember a house full of memories of the war," he said.
Anderson has also been affected by war on a personal level.
Her grandparents survived the brutal massacre of Poles by the Ukrainian Insurgent Army throughout Volhynia — a region in Nazi-occupied Poland that is now part of Ukraine.
"They would go and burn villages," said Anderson. "They were torturing people. It was horrible."
Around 100,000 Poles were estimated to have been killed by the group of Ukrainian nationalists led by Stepan Bandera.
Anderson's grandparents were ultimately forced to leave their home behind.
"It was a huge trauma [for my grandma] because she was 15 and she used to work in a hospital," said Anderson. "And she saw all those people being tortured and women being raped."
Anderson said the way Polish people have opened their homes to Ukrainians shows that people can move past a traumatic history and demonstrate mercy.
"We're different people," she said. "What happened in the past is in the past. Yes, that was the history [and] yes, we need to know about it. But we're not living it.
"We don't hate people for what some of their ancestors did."
Finding God
Father Golembiewski anticipates difficult months ahead as the cost of living continues to rise in Poland.
"Since July, government subsidies for people who have given shelter to refugees have ended," he said, "so I will have to cover the cost of living myself with a small participation of working ladies from Ukraine.
"The costs of energy, gas and fuel are rising at an alarming rate, and inflation has not gone below 15 percent for several months now, so the cost of living is getting higher."
As a result, the economic situation of his own parishioners is also worsening, and he won't be surprised if he loses their financial support.
Despite the hardships he has faced, Father Golembiewski has been inspired by the "empathy and compassion" people have shown throughout the war.
"In such extreme situations as war," he said, "we were able to open not only our hearts, but also our homes to complete strangers and treat them like family.
"We have found God in another human being. It's a very uplifting experience in such a selfish and materialistic world today."
To learn more about the Polish rectory and how you can help, send an email to: giving@spcatholic.org.