by Moira Cullings
moira.cullings@theleaven.org
LEAVENWORTH — They are two different communities, with different stories to share.
But writing for both a military and a Catholic audience has kept Katie Peterson on her toes.
Peterson became a freelance writer and photographer for The Leaven in the spring of 2017. Since then, she's produced dozens of articles and photographs for readers to enjoy.
"I am very devoted to my Catholic faith, so to be able to write stories in regard to that was automatically appealing to me," said Peterson. "And I also just love to write."
Peterson is a parishioner at Immaculate Conception-St. Joseph Church in Leavenworth, where she is a regular cantor and choir member and a contributor to the parish newsletter "Family Ties."
She's also a product of Catholic schools. Peterson attended Xavier School, Immaculata High School and the University of St. Mary — all in Leavenworth.
After studying English in college, she sought a career in writing. She joined the Fort Leavenworth Lamp newspaper as a production assistant in October 2016, where she is now a full-time reporter.
The Lamp is the weekly newspaper for the U.S. Army military community in Fort Leavenworth.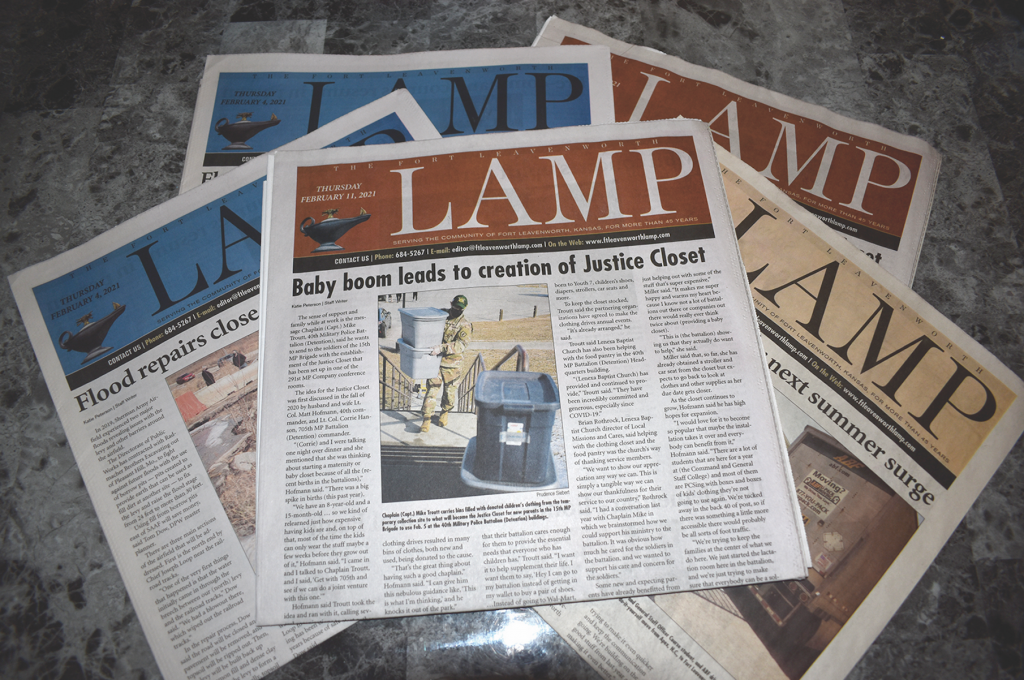 Peterson has earned several Kansas Press Association awards for her work, and Bob Kerr, the paper's editor, is grateful to have her on his team.
"She has come so far since she started working at the Fort Leavenworth Lamp as a production assistant," said Kerr.
"My only regret is that we did not give her the opportunity to work as a reporter sooner than we did," he continued. "She is reliable, listens, learns quickly and is always eager to work on her next assignment."
Kerr has been particularly impressed by Peterson's ability to pick up on the military style of writing, which she had no prior experience with.
"I'm sure it was a steep learning curve for her," he said, "almost like learning another language."
Peterson agreed that's one challenge she's had to overcome, but writing for the military community is incredibly gratifying.
One of her favorite assignments for the Lamp was a feature last year for Flag Day, the celebration of the adoption of the flag of the United States, celebrated on June 14.
"I wrote up a feature about the significance of the flag to the military," said Peterson, "especially those who are surviving family members.
"Actually talking to some family members who lost a loved one and had that experience — what it was like getting that flag [and] where it's placed in their house now — that was a really special story to do."
Peterson's favorite Leaven assignment was an article she wrote in 2017 about her dad's 100th shadow-box rosary creation.
A close second might be an assignment she had in September of last year, in which she told the story of a young woman who converted to Catholicism after many discussions with a friend.
Peterson felt a personal connection to their journey. She was once an RCIA sponsor herself for a 15-year-old girl who came to the faith.
"I always said that was one of the most important things I'll ever do in my life — to help a young girl come into her faith," she said.
More than anything, Peterson appreciates the chance to create for a living.
"With a newspaper, you have to be objective," she said, "but there's still a way to be creative with it and find that angle with a story in a way that people remember."
Both her freelance and full-time work give her a place to do that daily.
"Just like getting to tell the Catholic side with The Leaven, it's unique to be able to tell stories of military families," she said, "and seeing heroism a lot of the time with the military.
"Getting to tell those stories is very rewarding as well."
Although this year has challenged the way Peterson covers events — and she's been working from home throughout — it's also come with a few perks.
Cutting out the commute gives her more time for her hobbies, especially singing, songwriting and reading.
"Delving into that more and getting to focus on other passions has been good," she said.
But by far the best blessing has been Sadie — a 5-year-old terrier Labrador Retriever mix Peterson adopted last October from the Fort Leavenworth Stray Facility.
"It's the best decision I've ever made," said Peterson. "She's definitely meant to be mine."