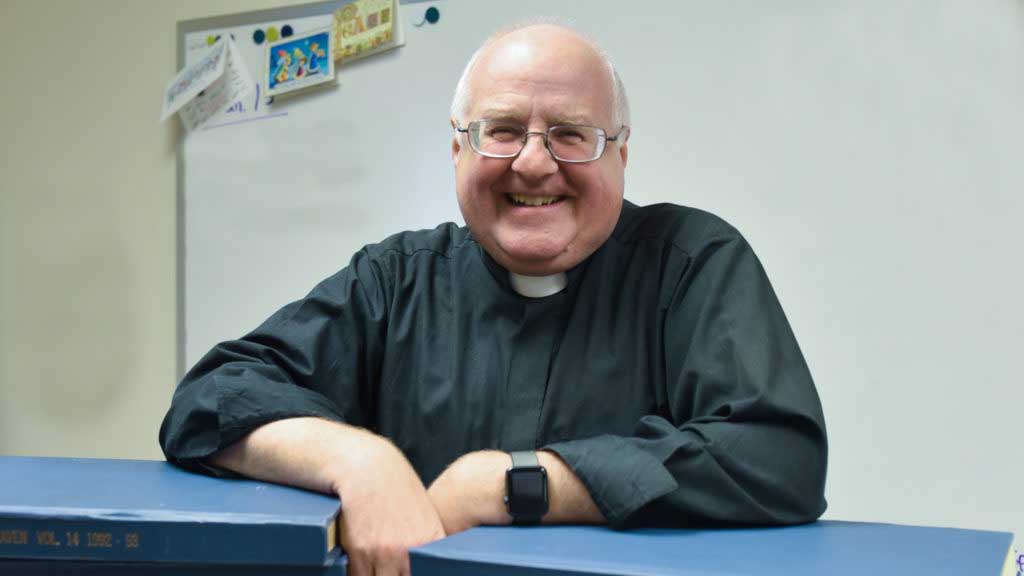 by Father Mark Goldasich
I was there and then I wasn't.
Come with me to last Friday evening, the first Lenten fish fry at the parish. As I left home about 5:45, I was surprised to see some slush on my windshield. By the time I got to the parish center, the slush was becoming slick on the sidewalks.
I popped into the kitchen to ask the Knights to sprinkle down ice melt. They looked at me like I was crazy, since they'd just put some out a few minutes before. Apparently, it had been covered over by another layer of the slush. They rushed to re-apply the ice melt.
I sat down to enjoy a delicious fish dinner and conversation with some parishioners. (Just for the record, I don't count meatless Fridays as part of my Lenten penance, since eating seafood, grilled cheese sandwiches or eggs is never a burden.)
After the meal, I led Stations of the Cross and then headed back out to my car. The sidewalks were nicely salted as was the parking lot. Unfortunately, the windows of my car were caked with stubborn ice. I cracked open the door, got comfortable in the seat and put on the defroster full blast.
I started to feel guilty, though, when I heard one of the Knights across the parking lot scraping windows. I said to myself, "Mark, you lazy cow! Get out there and scrape your windows. Don't let the poor defroster do all the work."
I cleared the driver's side of the windshield and headed to do the same on the passenger side. I remember standing on the curb . . . and then I wasn't. My right foot bent at an unnatural angle, and I landed on my right knee on the asphalt.
I got up as quickly as I could and checked — not to see if I'd injured anything, but to make sure that nobody saw me fall! Sure, my pants were ripped at the knee, but I could move all my toes and put pressure on that right foot, so things could have been much worse. A few minutes later, that lone Knight noticed me and came over to scrape my windows. He'd not seen me fall and I was too proud to 'fess up to it.
As I hobbled through the weekend Masses, it reminded me of my first few days of this Lenten season. Sadly, I've limped through them, doing a poor job on the resolutions that I'd set out to accomplish.
But Lent has been doing its job in revealing my heart to me. It's not that my Lenten resolutions are too numerous or too difficult.
No, even though I know they're good for me, I found myself simply not wanting to do them. And it's that stubborn will of mine that the Lord wants to work on. As I slowly heal physically, I'm confident that the Lord will patiently lead me to grow spiritually healthier as well.
One of my parishioners approached me after Mass and said, "Gosh, Father, I want to feel sorry for you, but you know, Patrick Mahomes played with an injured ankle and still won a Super Bowl!"
I answered, "Yup, but I don't have his $500 million salary!"
And besides, I still have more than a "second half" of Lent to show what I can do!