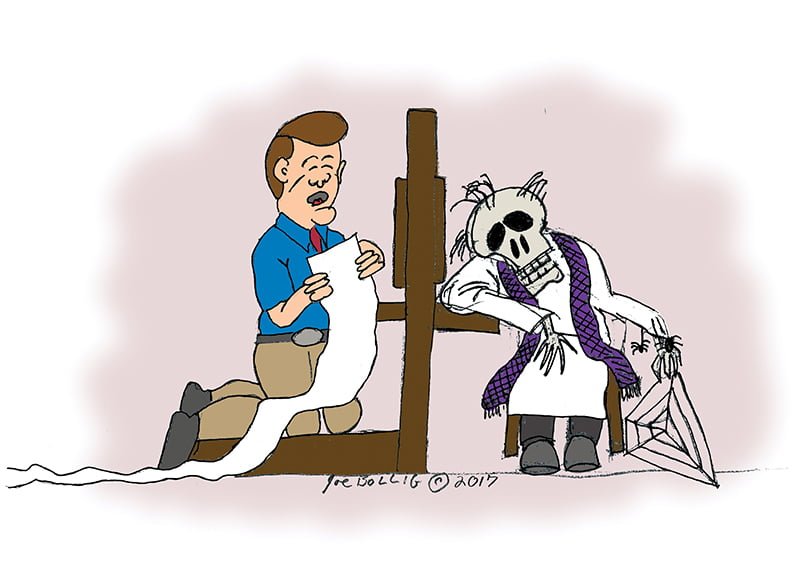 KANSAS CITY, Kan. — We're on the cusp of the Fifth Sunday of Lent, but you still haven't received the sacrament of reconciliation?
Don't fret yet. There's still time.
Many parishes across the archdiocese have Lenten reconciliation services scheduled this week or next, or have confessors available on Wednesday nights.
But if you're putting it off because you've been away from the sacrament for a while, you're in luck. Here you will find everything you need to know to make a good confession — from some do's and don'ts, to an examination of conscience, to a copy of an act of contrition.
Don't let this opportunity pass you by.
As Pope Francis said, "Confession is the sacrament of the tenderness of God, his way of embracing us."
Step by step
Most confessionals or reconciliation rooms allow for you to choose to confess behind a screen or face to face with the priest.
The penitent enters and kneels at a screen or sits in a chair. The priest greets the penitent, and both the priest and the penitent make the sign of the cross.
The penitent may begin with the traditional formula, "Bless me, Father, for I have sinned. It has been (indicate time) since my last confession."
The priest invites the penitent to place his trust in God, and then confess his sins.
The penitent receives some advice, encouragement and a penance from the priest.
The priest asks the penitent to express his sorrow by praying an act of contrition or some other appropriate prayer. The priest then prays the prayer of absolution, and the penitent responds, "Amen."
The priest dismisses the penitent using one of the formulas found in the ritual, often "Go in peace." The penitent goes forth to live and continue the celebration of the sacrament by doing his or her penance.
Do's and Don'ts of confession
Do remember that during Lent, parishes throughout the archdiocese will be making the sacrament of reconciliation available from 6-7 p.m. every Wednesday.
Do prepare for the sacrament by doing what's called an examination of conscience. You can use the guide that appears here, another one you found elsewhere or just a sober mental review of your sins since your last confession.
Do remember to start by telling the priest how long it's been since your last confession. It's OK if you don't remember exactly.
Do remember to limit your confession to a discussion of your sins. Spiritual direction, marriage problems, struggles with addictions, etc., are more appropriate for an appointment you make with your pastor.
Do come as early as you can and wait as patiently as you can. Avoid coming in at the last few minutes that confessions are being heard, if at all possible.
Do confess all mortal sins and the number of times committed.
Don't avoid the sacrament because you've forgotten how to go to confession or you can't remember an act of contrition. The sacrament is an encounter with Christ the healer, not a memory test. Ask the priest for help.
Don't worry if you cannot remember the exact number of times you've committed a certain venial sin. You can use "often" or "occasionally" or other such terms to distinguish frequency of recurring venial sins.
Don't forget to end your confession with the words "I am sorry for these and all the sins of my past life," or something similar, so the priest knows you're done.
Don't confess other people's sins. Putting some time into acknowledging your part in arguments with your spouse, kids or boss prior to making your confession, for example, will help you recognize and admit your own responsibility in the matter.
Don't treat the sacrament as a get-out-of-jail-free card so you can receive Communion — then deliberately commit the same sins again. Pray to accept the grace of the sacrament to strengthen you to do better.
Don't hold back for fear the priest will think less of you. This is the time to lay your sins before the Lord; the priest is only his representative. Remember that the priest goes to confession as well; he knows the courage it takes to confess those things you are most ashamed of.
Examination of Conscience
Whether you go to confession frequently or are doing so after a long period of absence, it is important to prepare to celebrate the sacrament. We do this by praying to Holy Spirit to help us recognize our sins and have true contrition by making an examination conscience. Two traditional formats for the examination of conscience are meditations that use the Ten Commanments and the precepts of the church, which can be found in the Catechism of the Catholic Church (nos. 2042 and 2043).
Act of Contrition
O my God,
I am heartily sorry for
having offended thee,
and I detest all my sins,
because I dread the loss of heaven and the pains of hell;
but most of all because
they offend thee, my God,
who are all good and
deserving of all my love.
I rmly resolve,
with the help of thy grace,
to confess my sins,
to do penance
and to amend my life.
Amen.
Primer for Confession
1) I am the Lord your God. You shall not have strange gods before me.
• Do I seek to love God with my whole heart and soul? Does he truly hold the rst place in my life?
• Have I been involved with the occult or superstitious practices?
• Have I ever received holy Communion in the state of mortal sin?
• Have I ever told a lie in confession or deliberately withheld confessing a mortal sin?
2) You shall not take the name of the Lord your God in vain.
• Have I insulted God's holy name or used it lightly or carelessly?
• Have I wished evil on anyone?
3) Remember to keep holy the Lord's day.
• Have I missed Mass deliberately on Sunday, the Lord's Day, or on holy days of obligation?
• Do I try to keep Sunday as a day of rest?
4) Honor your father and mother.
• Do I honor and obey my parents? Do I care for them in their old age?
• Have I neglected my family responsibilities to spouse and children?
• Is my family life centered around Christ and his teaching?
5) You shall not kill.
• Have I murdered or physically harmed anyone?
• Have I had an abortion? Have I encouraged an abortion?
• Have I abused drugs or alcohol?
• Have I mutilated myself through any form of sterilization?
• Have I encouraged others to have themselves sterilized?
• Have I harbored hatred, anger or resentment in my heart toward anyone?
• Have I given scandal to anyone by my sins, thereby leading them to sin?
6) You shall not commit adultery.
• Have I been unfaithful to my marriage vows in action or thought?
• Have I practiced any form of contraception in my marriage?
• Have I used fertility treatments condemned by the church?
• Have I been engaged in sexual activity with a member of the opposite sex or the same sex?
• Have I indulged in pornographic material?
• Am I pure in my thoughts, words and actions? Am I modest in dress?
• Am I engaged in any inappropriate relationships?
7) You shall not steal.
• Have I taken what is not mine?
• Am I honest with my employer/employee?
• Do I gamble excessively, thereby robbing my family of their needs?
• Do I seek to share what I have with the poor and needy?
8) You shall not bear false witness against your neighbor.
• Have I lied, gossiped or spoken behind anyone's back?
• Have I ruined anyone's good name?
• Do I reveal information that should be con dential?
• Am I sincere in my dealings with others or am I two-faced?
9) You shall not desire your neighbor's wife.
• Am I envious of another's spouse or family?
• Have I consented to impure thoughts?
• Do I try to control my imagination?
• Am I reckless and irresponsible in the books I read and the movies I watch?
10) You shall not desire your neighbor's goods.
• Am I envious of the possessions of others?
• Am I resentful and bitter over my position in life?