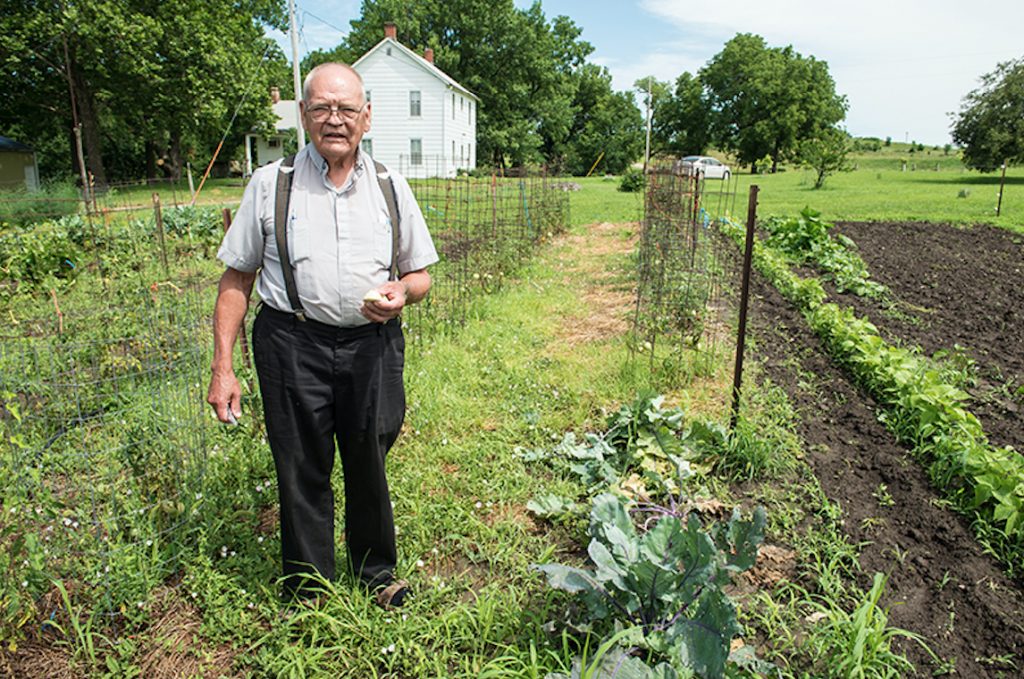 by Joe Bollig
joe.bollig@theleaven.org
FLUSH — Picture a warm summer night in the Flint Hills, about 10 p.m. A dark shape moves across Father Earl Dekat's farmyard.
Suddenly, there is a startled chittering and the shape goes scrambling away.
Another raccoon has discovered Father Dekat's three-strand electrified garden fence.
Like most gardeners, the retired priest is generous with his produce — but draws the line at foraging critters.
In Topeka, his friend Father Bob Hasenkamp also has a fence around his garden — chicken wire, not electrified. He hopes it will keep the raccoons away from this year's cantaloupes. Maybe.
Last year, he planted outside the fence. He had 18 or so big, healthy cantaloupes ripening on the vine.
"Just about the time they were starting to get ripe, the raccoons found them," said Father Hasenkamp. "They'd come in at night and eat a couple of them. If they didn't finish one, the next night they'd come back and finish that one off before they started on the others."
"I kind of give the raccoons credit for good stewardship and not being wasteful," he joked.
Many priests in the archdiocese like to garden. The demands of ministry and lack of suitable ground often limit what they can do.
Retirement, however, offers improved prospects for green-thumbed pastors with passions for planting.
Two retired clerics — Father Dekat and Father Hasenkamp — graciously granted tours of their gardens to The Leaven.
It began with the roots
When Father Dekat retired six years ago, he moved to his favorite place: the family farm where he was born and grew up with his three brothers and four sisters.
Originally, the farm, near Flush, was a half section — 320 acres. He has sold most of it, retaining about 115 acres.
Father Dekat rents out the remaining land because he doesn't farm himself, but he keeps a big garden in the very spot where his self-sufficient parents had a garden.
"It was a little bigger than what it is now," he said. "As kids, we had to do a lot of hoeing and planting. I have a lot of history of gardening."
And he didn't like it. Like any kid, he wanted to play baseball and swim in the nearby creek.
Gardening in those days, however, was no hobby. It was a matter of survival.
"It seemed like an awful chore," he said, "but we liked the food. It was labor intensive, and we kids weren't too anxious to do the work.
"But when you get older, you enjoy tilling the soil and watching [the plants] grow."
Father Hasenkamp was also raised in a farm family, located 60 miles northwest of Topeka.
"I spent a lot of hours on the tractor — cultivating the corn, harvesting the wheat, baling hay — everything you did on the farm," he said.
"In those days — we're speaking of family farms — everyone had some milk cows, chickens and pigs," he explained. "Everyone was self-sufficient as far as food was concerned.
"And we always had a big garden. I didn't like working in the big family garden, but I had my own little garden, so I had these little rows of vegetables.
"That was mine, and I took great pride it in."
When Father Hasenkamp retired from being a pastor 11 years ago, he moved to a retirement "village" that has two community gardens. It's close to a tree-lined creek, which acts as a thoroughfare for deer, rabbits, raccoons and other critters. Hence, the gardens are fenced.
A study in contrasts
Father Dekat's garden is big, rambling and a little weedy here and there. The battle against weeds, insects and critters is eternal. Vineweed (or bindweed) is a particular enemy of his.
There are also bald patches that have been rotary-tilled because it's past midpoint in his gardening season and those are the places that have been harvested.
Father Dekat might plant some crops that will carry on into the fall.
By contrast, Father Hasenkamp's garden is smaller, neater, more precisely planted and well mulched. He has to make the best of the space he has.
Father Dekat loves tomatoes, so he's planted several tomato plants and also has "volunteer" plants of tomatoes and dill.
Father Hasenkamp doesn't like tomatoes, so the few he grows he gives away.
Both gardeners give away much of their produce. But since Father Dekat's plot is so much larger, he does quite a bit of canning.
They share a conventional approach, however. No raised beds and no unusual plants — unless you count the purple kohlrabi (German cabbage) that Father Dekat grows.
Since some of the surrounding parishes are pastored by priests from India, he also grows produce for them that they use in their cooking: mint, eggplant and hot peppers.
Both men also reap spiritual benefits from their gardening.
"I think gardening is a spiritual exercise," said Father Hasenkamp. "When I go to the garden, I feel very close to the Creator. . . . Like the Scriptures say: 'We can plant the seed, but God gives the growth.'
"You can see that every day."
Father Dekat agreed.
"When you look at how God plants a little seed in us," he said, "we call that faith.
"From that, you can do great things."