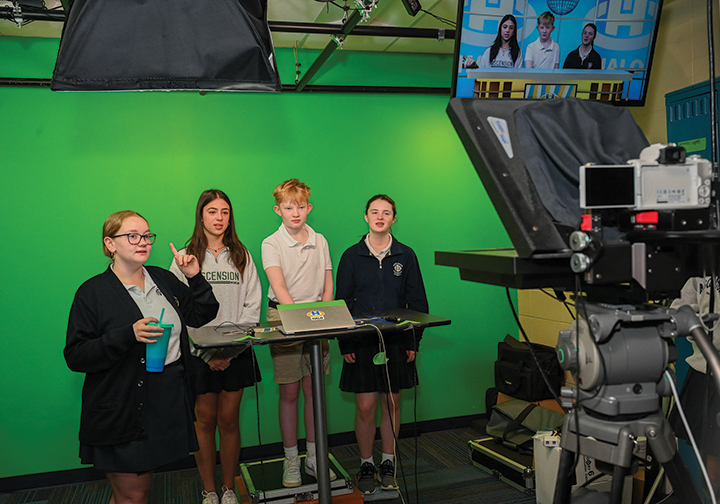 by Moira Cullings
moira.cullings@theleaven.org
OVERLAND PARK — It's always an exciting day when students at St. Thomas Aquinas High School here get to show off their "Halo" broadcasting program to potential future Saints.
"It's great seeing all of the students," said Aquinas sophomore Max Broomfield. "I'll hopefully see some of these faces next year."
Broomfield was one of several students who welcomed a group from Ascension School in Overland Park on April 13.
Each semester, students from multiple area Catholic elementary schools visit Aquinas for a behind-the-scenes look at how "Halo" operates.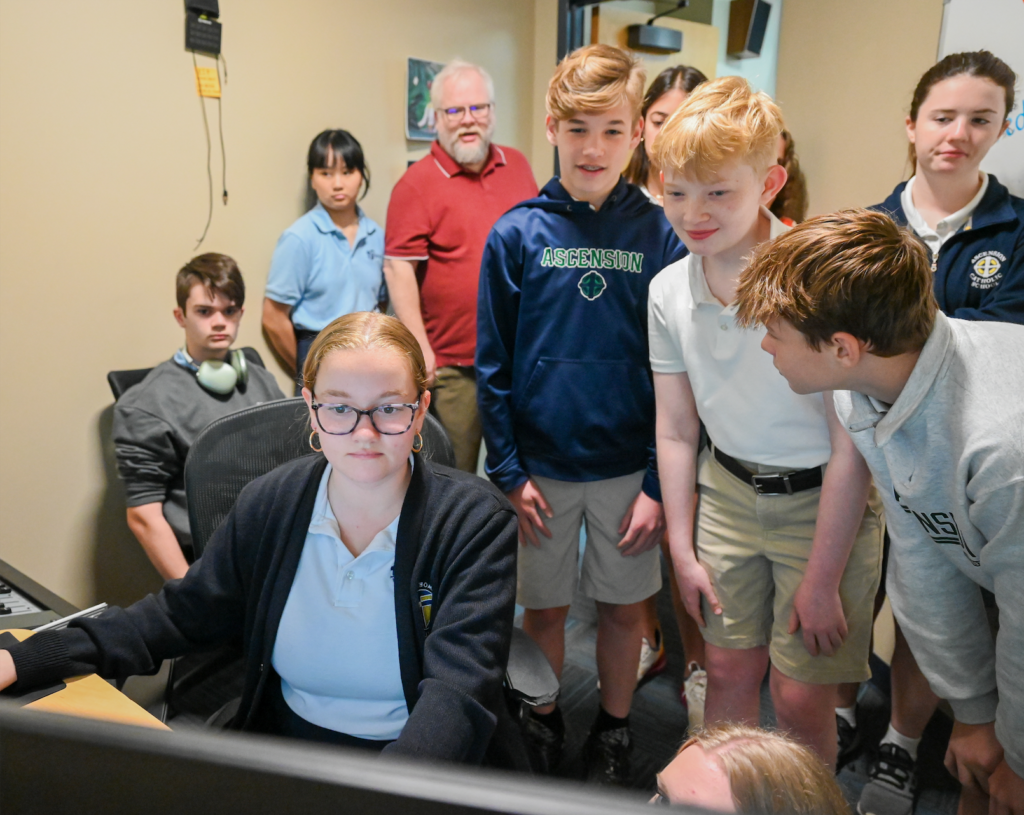 Al Miner, who teaches the class, said the broadcasting program has developed significantly over the past several years.
The school previously utilized a PA system for its morning announcements.
"Whenever we would have a video announcement," said Miner, "everybody would turn on their TVs and be excited and want to see.
"So, we decided we wanted to have morning video announcements every day to keep the interest and excitement up. We try and do things as excellently as we can."
After renovations at the school, the former counseling office was converted into a studio, engineering room and classroom for "Halo."
Now, students are able to offer morning announcements, livestreamed sports games and more through the high-tech program.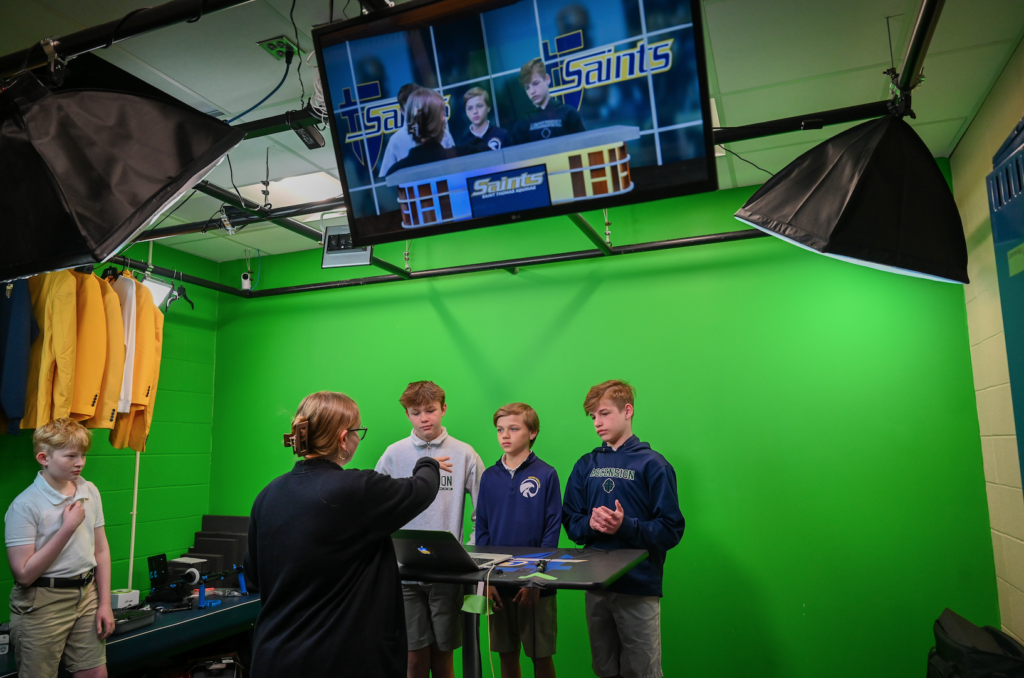 "Halo" initially began as a student-led broadcasting and video news club in 2018 but transitioned to a for-credit class during the 2021-22 school year.
Around 30 students are involved this year. A handful of them meet daily before school to brainstorm and prepare daily announcements, while others earn hours by livestreaming sporting events.
"We've got some specialists that love to do the directing [and] the producing," said Miner, and other students who thrive in front of the camera.
Miner said the class teaches many valuable lessons.
"It's a huge confidence booster to the kids who aren't sure they can be on camera and then find their voice," he said. "It's project-based learning.
"There's writing for scripts [and] the video editing tech piece is in there as well."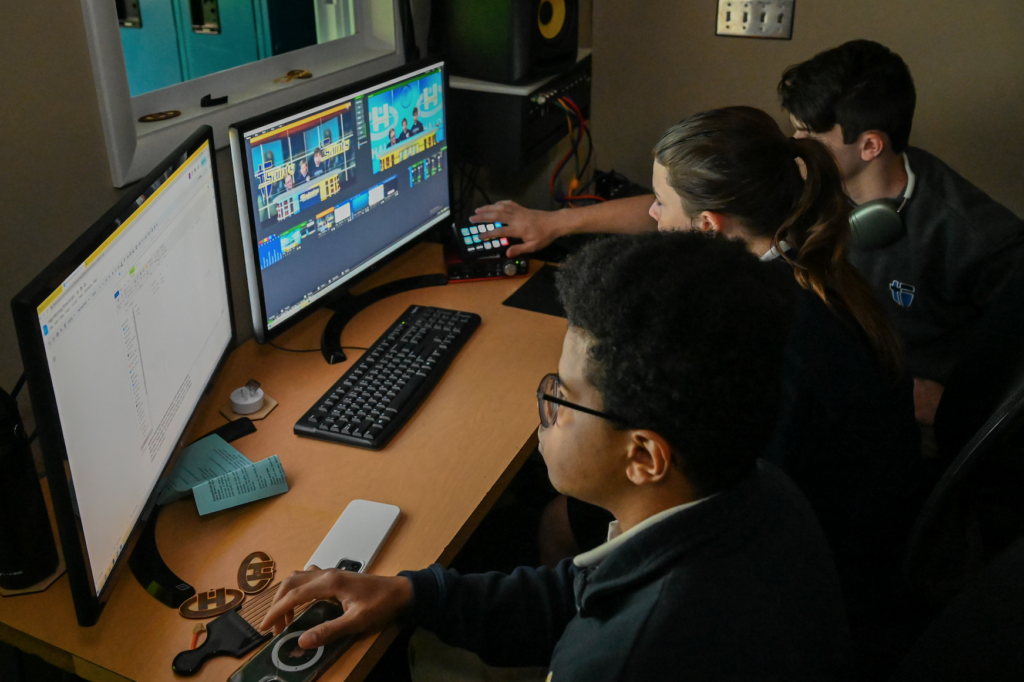 Students like junior Anna Rhodus are grateful for the experience. Her work with "Halo" prepared her for a social media internship at Aquinas.
"I've been doing campaigns for different events," she said. "It's been a great environment to learn how to do social media marketing.
"'Halo' has really given me the tools — and just to have time to work on it and get to know these amazing people who will help you film and help you get stuff done."
Set up for success
The group of students from Ascension were intrigued by the ins and outs of "Halo." This is the first year their school has implemented its own morning broadcast, "Eagle Insider."
The elective started out with around 10 students and has since grown to nearly 30, with students now having to be turned away.
"They see that it's a more hands-on elective that we have," said Ascension math teacher Isabel Burnett, "and they get to participate in something the whole school gets to see.
"I think they enjoy getting to make [content] for other people."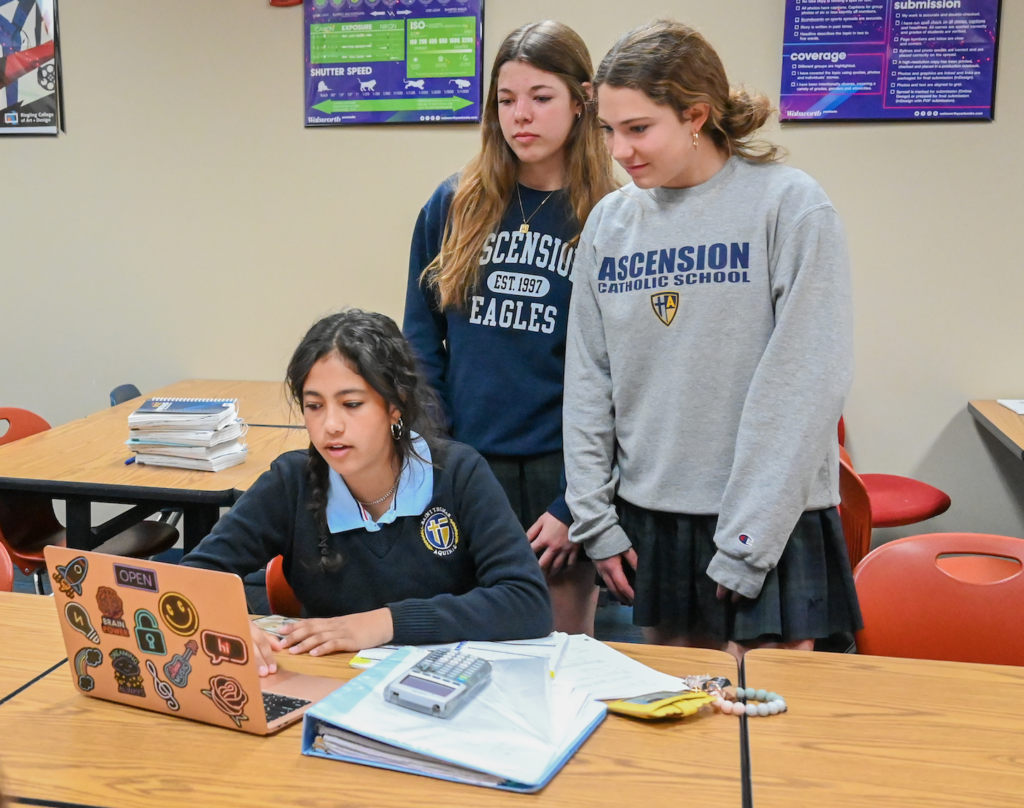 Burnett works with computer teacher Tara Masek, who put the elective together last summer with help from Broomfield, an Ascension alum.
"He came and showed us what lighting we would need, the green screen, how to set it up," said Masek. "He knows everything about filming. He was a great source of information."
For Broomfield, helping to organize the elective for his alma mater was meaningful.
"It was really nice because I always wished for something like this when I was there," he said.
Masek said "Eagle Insider" has given her students invaluable experience.
"The other thing that's really exciting for Isabel and me is when we get a student in the class that will start off by saying they do not want to be on screen," said Masek.
"And they say they don't want to do the announcements or anything," she continued, "but then by the end of the quarter, we usually get them to do it. It's amazing."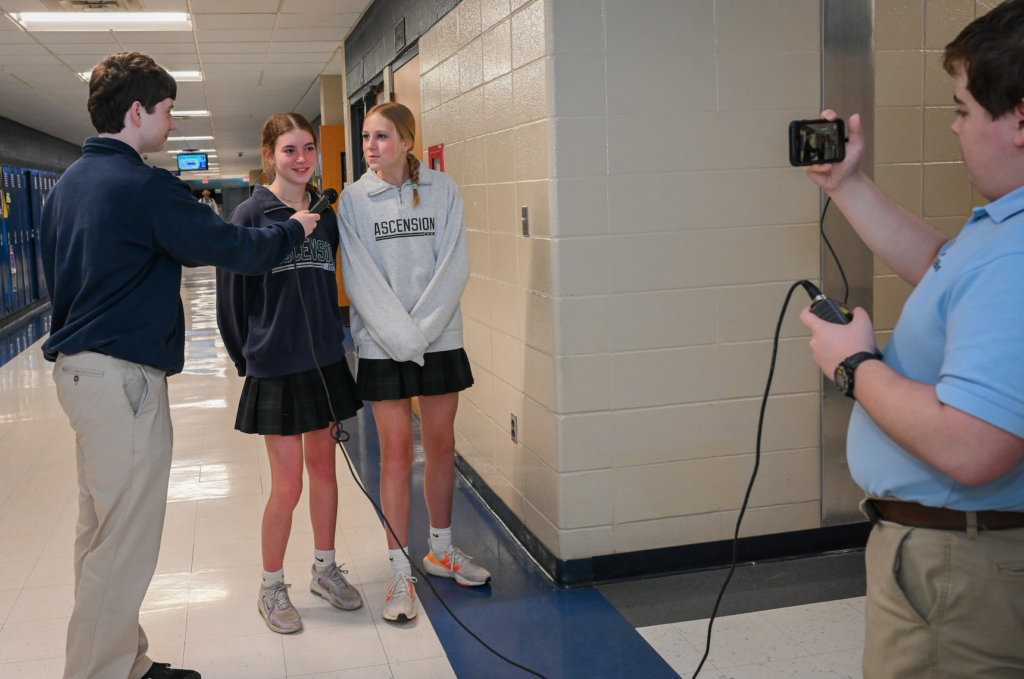 Burnett and Masek hope "Eagle Insider" will set their students up for success in high school.
"Maybe when they come to high school here [at Aquinas] or a different school, this is something that they actually want to keep doing and continue on because they enjoyed it," said Burnett.
"Doing it now in middle school is not as intimidating as when they get into high school [with no prior experience]," added Masek.
Miner hopes visiting "Halo" will inspire the next generation of student broadcasters.
"We try not to leave anybody out," he said. "If anybody is interested, bring your broadcast group. We'd love to show them what we do."