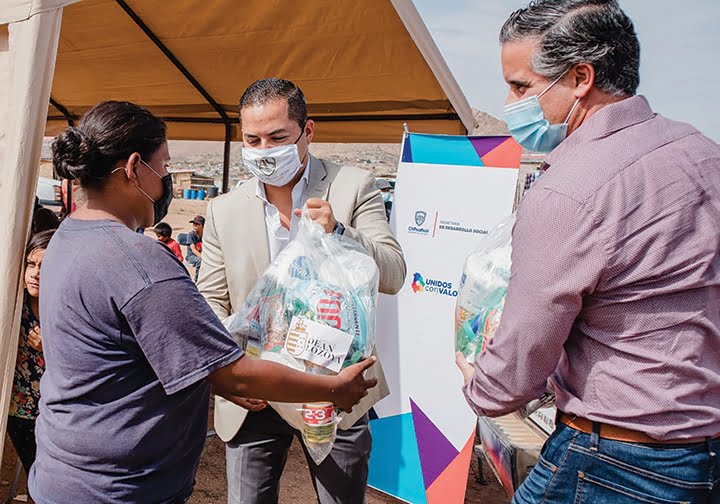 by Ellie Melero
@eleanor_melero
KANSAS CITY, Kan. — When Michael Dean Lozoya got a call one Friday morning in October asking him to help pay a woman's utility bills, he didn't hesitate to say yes.
The call came from a man in Los Angeles. The woman, a Mexican immigrant with five children, came to him for help. Her husband had been detained in an immigration facility in Wichita, and she had just been diagnosed with COVID-19.
As though she didn't have enough to worry about, she received a notice that her utilities would soon be shut off unless they were paid. Desperate for help, she went to the man, and he called Michael.
The utility bill was just under $1,000, he told Michael, and Michael readily agreed to pay it.
"That's the kind of help that people can't see that people need here in the United States," Michael said. "Those people need help."
Michael, a parishioner of St. Patrick Church in Kansas City, Kansas, and the owner of Mi Rancho Tequila, loves to help people, as does his wife, Guadalupe Angelica ("Geli"). That's why they founded La Familia Dean Lozoya Foundation in 2016: to help people.
"The best way to help the world is by trying to give everyone else a good life," said Geli. "Because we can't focus only on our own well-being because we're not the only ones in the world."
Setting the example
Michael grew up in the Kansas City, Kansas, area and graduated from J.C. Harmon High School in 1986. Geli grew up in a small town in Chihuahua, Mexico. Although they had different experiences growing up in different countries, they both knew what it was like to have to do without.
They worked hard to be successful, and that hard work paid off in an unexpected way early on. Michael met Geli through work.
"The moment that I met her and talked with her, I knew profoundly that she would be my wife," Michael said.
"We believe that God always has a companion for you," Geli agreed. "God created couples, and the day will come when you meet them. And I believe this happened with Michael and me."
Now, they've been married for over 20 years and have six children. Geli will be the first to admit that marriage is hard work. It tests you physically, morally, spiritually and mentally every day. There have been ups and downs over the past two decades, but Michael and Geli have always loved each other, supported each other and pushed each other to be better people.
Geli said the most important thing to them is making sure they're setting a good example for their kids.
According to their daughter Paloma, they've done a pretty good job.
Paloma, 19, their third oldest, said that her parents have always been charitable people. Looking back on her childhood, Paloma could think of several instances when her parents were giving to other people for no other reason than that they could afford to give.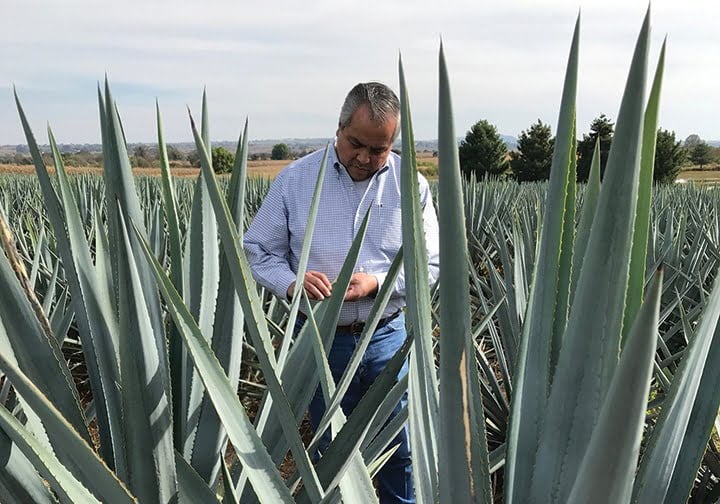 "My mom has this cleaning business of hers, and she would bring extra lunch for a guy that doesn't work for her but was working in the same building as they were," Paloma said. "She would bring extra lunch from our house to give him because he didn't have enough money to buy himself lunch.
"Every situation [my parents] are put in . . . they always want to help out others that they feel like they can help."
Paloma said that's just the type of people her parents are.
Throughout her childhood, Michael and Geli always included Paloma and her siblings in their volunteer work. They brought them to fundraisers and food drives, for example, and Paloma said those experiences helped her realize just how important the work her parents do for the community truly is.
Paloma tries to follow that example. She invites friends to go with her to volunteer at food distributions, and said they even end up having fun.
Paloma is grateful for everything her parents have done for her and hopes to be an example for others the way they've always been for her.
"I hope one day I can be just like them — or at least half of the people they are," she said.
In the business of helping
Michael and Geli are philanthropists, but before that, they were entrepreneurs. Over the years, they have started several businesses together, and one of their most successful endeavors is their tequila company, Mi Rancho Tequila.
The Dean Lozoyas founded Mi Rancho Tequila in 2008, and now export their tequila worldwide. It even has the Royal Warrant in Ethiopia, meaning it is the official tequila of the Ethiopian royal family.
The Dean Lozoyas used their success from Mi Rancho Tequila to help them start La Familia Dean Lozoya Foundation, but they had some other help as well.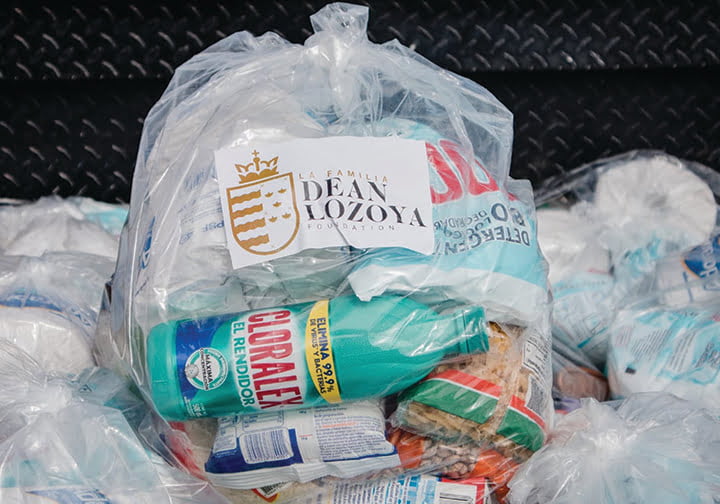 Carlos Gomez, the president of the Hispanic Chamber of Commerce of Greater Kansas City, was one of the people who encouraged the Dean Lozoyas to start their foundation. Although Gomez first heard of Michael and Geli seven years ago, he started to get to know them well about five years ago.
Michael reached out to Gomez to set up a meeting to discuss the ways the Hispanic Chamber of Commerce could help his business. But he also wanted to find more ways to get involved and give back to the community.
"When I first met them, they were telling me that they were helping people, but they were doing it anonymously," Gomez said. "I really respect that. They were helping a lot of people that needed help, and that really, really impressed me. So, I'm the one who encouraged them that, 'Hey, you're doing great things for the community. People need to know about this.'"
The foundation followed not long after and has enabled the Dean Lozoyas to help on a much larger scale than they had before.
Supporting students
One of their most recent endeavors was a $10,000 donation to Kansas City, Kansas Public Schools in May. The money provided internet for a year for the families of about 125 students across 13 schools in the J.C. Harmon and Wyandotte high school clusters.
"We have a number of families who live at or below the poverty line," said Stephen Linkous, the KCKPS chief of staff. "That impacted roughly 125 students from our district who normally wouldn't have had internet. As we know, moving into virtual learning, pretty much everything was going online. So, that was their access to education."
But the Dean Lozoyas don't just give money; they give their time, too. They are both involved with local schools and colleges. Michael was invited to participate on the Kansas City Kansas Community College president's Downtown Advisory Council to help the school prepare to open a downtown location, and Geli serves on Donnelly College's board of directors.
"Guadalupe and Michael have been closely involved in Donnelly's mission for the last three years, both philanthropically and through Guadalupe's service on our board of directors," said Msgr. Stuart Swetland, the president of Donnelly. "I am proud and grateful to partner with such an inspiring couple that share a passion for providing access and opportunity to help others in their respective home communities."
"But their biggest impact is the example they set for the communities that they hail from and love dearly," he continued. "They are an example of entrepreneurial success despite enduring hardships and disadvantages.
"Through their business and their hands-on philanthropy, they are focused on creating a family legacy that celebrates and supports their Mexican and Mexican-American roots. That desire to stay connected to their roots keeps the persistent needs of those communities clear in the Deans' sights. With their humble, dedicated spirit and sacrificial contributions in Mexico and across Kansas City, the Dean Lozoyas are making an impact far beyond Donnelly College."
International impact
Michael and Geli, while proud of their Mexican heritage, are only too aware of the struggles many in Mexico still face.
So among the other big projects the Dean Lozoyas hope to fund is the construction of a health clinic that's free of charge to patients and a library in an area of Mexico where there's not easy access to education and information. Both of these projects are on the drawing board, Michael said, but they don't yet know when they'll get to do them.
In the meantime, they've found other ways to help.
In June, Michael and Geli took a trip to Camargo, Chihuahua, to give out food and cleaning supplies to families who had been affected by the COVID-19 pandemic, and the experience isn't one they'll soon forget.
"In all my life, I've never felt like I've done something for humanity," Michael said. "But after this event, my wife and I did something huge, and I myself feel like something changed in me.
"My wife told me, 'You have already suffered. You were poor in the United States, but you don't know what poverty is.' And she's completely right."
Camargo is one of the poorest cities in Mexico, and many of the people live in extreme poverty. While they were there handing out relief packages, Michael had an experience that altered his outlook on the work they do.
Among the food items that they were giving people were little packages of cookies. When the children saw the packets of cookies, they got very excited because it was a treat they didn't often get. Michael said he was a little surprised at first, because it was a simple type of cookie, but the experience made him thankful for the blessings he has received and has motivated him to try to redouble his charitable efforts.
La Familia Dean Lozoya Foundation is still in its early years, but it's already impacted hundreds of people and will impact many more in the years ahead. As the Dean Lozoyas look to the future, they encourage others to see how rewarding a little philanthropy can be.
"What we do, we don't consider to be a grand thing," Michael said. "What would people do if we did something truly monumental?"