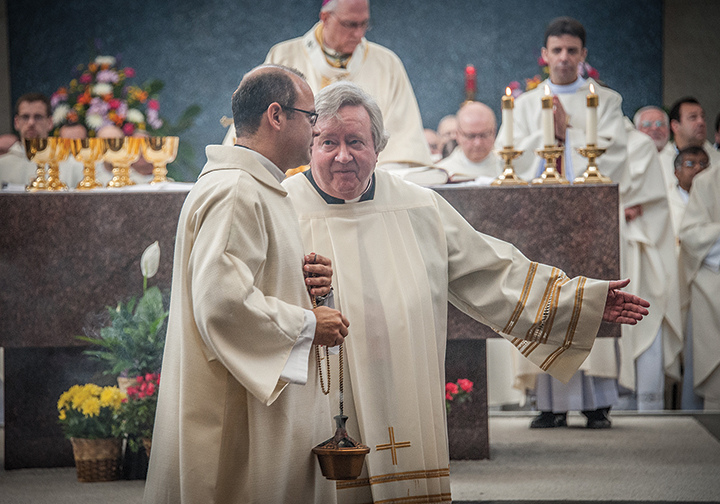 by Joe Bollig
joe.bollig@theleaven.org
KANSAS CITY, Kan. — Behind every man who becomes a priest is someone who was a friend, mentor and role model. For Father Anthony Saiki, that someone was Msgr. Gary Applegate.
Father Saiki met Msgr. Applegate when he was about 11 years old in St. Marys and again when his family moved to Topeka.
"He remembered me," said Father Saiki, rector of the Cathedral of St. Peter in Kansas City, Kansas, and a master of ceremonies. "He asked me if I ever thought about being a priest. I told him I had, and he was very excited and supportive. He told me to pray about it."
Msgr. Applegate encouraged him all the way through the seminary, but Father Saiki wasn't the only one. He did the same for all the seminarians.
"There will never be another Msgr. Applegate," said Father Saiki. "He was a unique man, so full of love for the church, so full of dedication to the archdiocese. . . . He was very dedicated and generous. He spent himself entirely as a priest to God and his people."
Msgr. Gary Paul Applegate, 70, died from Alzheimer's disease on Jan. 15 at Villa St. Francis in Olathe. He was a priest for 40 years.
He was born on May 11, 1951, in Macon, Missouri, the oldest of two children of Eleanor Augusta (Danner) Applegate and Bobby J. Applegate. The family moved to Sacramento, California, and then Chillicothe, Missouri, where they belonged to St. Columban Parish.
Gary and his sister Teresa attended Bishop Hogan Memorial School, and Gary graduated from Chillicothe High School in 1969. While growing up, Gary was an altar server at the parish, and that experience led to a lifelong interest in liturgy and early desire to become a priest. He was an avid reader of books about religion, history and science.
"Gary had a quick, fantastic wit," said his sister, Teresa Olney. "He enjoyed model trains and putting together any kind of model. He was meticulous about it."
He entered Benedictine College in Atchison and graduated with a bachelor's degree in 1973. In September 1976, he entered St. Thomas Seminary in Denver and received a master's of divinity degree in May 1981. His major field of study was canon law. He spent his pastoral internship at St. Joseph Parish in Shawnee.
Father Applegate was one of six men who were ordained to the priesthood in 1981 by Archbishop Ignatius J. Strecker. His ordination took place on May 25, 1981, at St. Joseph Parish in Shawnee. His first assignment was as associate pastor of St. Patrick Parish in Kansas City, Kansas.
Father Bruce Ansems, pastor of Immaculate Conception Parish in Louisburg, spent two summers with Msgr. Applegate as a seminarian. He's a former master of ceremonies and current coadjutant judicial vicar.
"Monsignor had a gruff way about him, but he genuinely wanted people to grow in and learn about their faith," he said.
Msgr. Applegate was a good preacher and was especially gifted with funeral homilies. He could tie in the saint of the day or a quote from the saint with the deceased's life and the Catholic faith.
Two things especially demonstrated the monsignor's intelligence and adaptability, said Father Ansems. The first was being a master of ceremonies. It was his job to makes sure things flowed smoothly during complicated liturgies and under varying conditions at different parishes. The second was how he filled in as a pastoral administrator at various parishes.
Moreover, he made history when Archbishop James P. Keleher asked him to establish the permanent diaconate program.
"Msgr. Applegate started the diaconate program from scratch with little more than a newly published guidebook, a brilliant mind and a lot of determination," said Deacon Jim Lavin, of the first group to be ordained in 2011. "He was under a lot of pressure to succeed. . . . If he didn't provide us with a strong formation . . . I'm convinced our first cohort would have been the last cohort."
"I considered him not only as a mentor, but as a man of faith, which he instilled in each of us. His contribution to the permanent diaconate will be appreciated for years to come," said Deacon George Karnaze, also of the first group.
In Msgr. Applegate's funeral homily, Father John Riley, archdiocesan chancellor and vicar general, quoted a friend of the monsignor who observed that his gruffness and efforts to play the curmudgeon were "a thin veneer to his warm heart and genuine love of others and the church."
"While he continued to rib people throughout his priestly ministry, though, sadly, many persons did not get that his antics in sharply saying this or that sprang from a desire to show that he did, indeed, notice you and like you . . . and you mattered," said Father Riley.
Msgr. Applegate was preceded in death by his parents, grandparents, aunts and uncles. He is survived by his sister Teresa, nephews, nieces and great-nephews and great-nieces.
A Mass of Christian Burial was celebrated on Jan. 22 at the Cathedral of St. Peter. Burial was at St. Columban Cemetery in Chillicothe, Missouri.
Funeral arrangements were by Porter Funeral Home in Kansas City, Kansas.
Pastoral assignments
• 1981: Associate pastor at St. Patrick Parish in Kansas City, Kansas
• 1984: Associate pastor at Holy Spirit Parish in Overland Park
• 1987: Associate pastor at St. Joseph Parish in Shawnee
• 1991: Chaplain at Providence-St. Margaret Hospital and Providence Place
• 1991: Pastor at Annunciation Parish in Frankfort, St. Elizabeth Parish in Blue Rapids and St. Monica Parish in Waterville
• 1993: Pastor of St. Joseph Parish in Nortonville and Immaculate Conception Parish in Valley Falls
• 1994: Studied at The Catholic University of America in Washington, D.C., and received a licentiate (JCL) in canon law
• 1996: Administrator of St. Paul Parish in Olathe
• 1997: Administrator of St. Casimir Parish and Sacred Heart Parish in Leavenworth
• 2001: Master of ceremonies for Archbishop James P. Keleher
• 2003: Rector of the Cathedral of St. Peter in Kansas City, Kansas
• 2004: Pastor of Sts. Cyril and Methodius Parish in Kansas City, Kansas
• 2005: Named Monsignor, Chaplain of His Holiness
• 2008: Judicial vicar of the archdiocesan tribunal, director of the office of the permanent diaconate, master of ceremonies and assisted at the Church of the Nativity in Leawood
• 2009: Parochial administrator of Good Shepherd Parish in Shawnee
• 2010: Administrator of Curé of Ars Parish in Leawood
• 2016: Parochial administrator of Holy Name Parish in Kansas City, Kansas
• 2018: Diocesan judge, sacramental assistance at Queen of the Holy Rosary Parish in Overland Park
• 2020: Retired