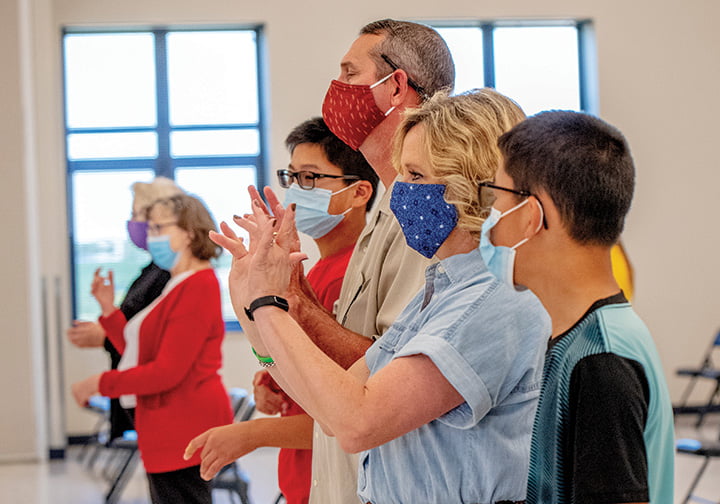 by Susan Fotovich McCabe
Special to The Leaven
KANSAS CITY, Kan. — Masking up during the COVID-19 pandemic might be great for public health. But for individuals who are deaf and hard of hearing, a mask simply makes a challenging time even harder.
Many in the deaf community support public health policies designed to limit the spread of the virus. However, traditional face coverings hide the mouth and significantly interfere with everyday communication.
Whether it's a trip to the grocery store, to work or getting on a plane, reading facial expressions and lips is essential to a person who is deaf or hard of hearing, especially when an interpreter is not present.
"I've noticed more anxiety with deaf people all over the country in doing the most mundane errands because of the possibility that someone will talk to them with their masks on," said Katie Locus, consultant for the archdiocesan office of deaf ministry.
"And there is literally no way to understand that person unless the person is willing to adjust communication, such as taking off his or her mask, writing back and forth, using a phone and so on," she added.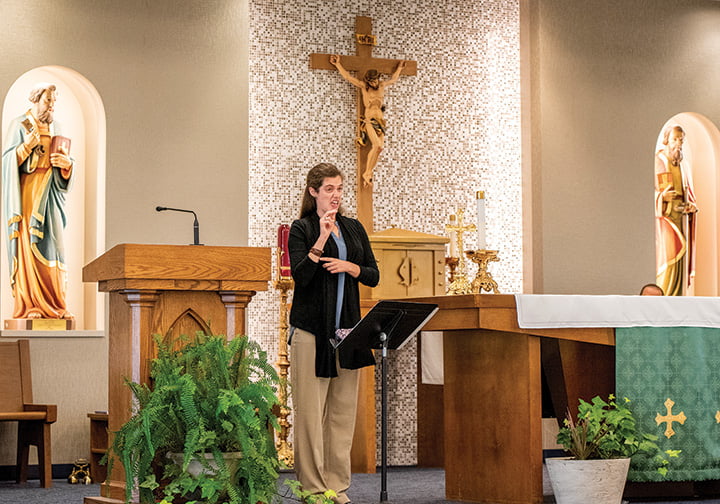 Guessing game
Locus, who was born deaf as a result of a virus she contracted while in utero, recently experienced her own challenges while flying during the pandemic. Despite having flown many times over the years, she said she thought she could anticipate what the TSA workers would say.
The real test came at the security line at the gate, where the TSA agents were wearing masks.
"When I was in the security line and about to give my ticket and driver's license to the TSA security guard, the guard kept bobbing his head as if he was talking to me," Locus said. "All I could see were his eyes. I had no idea what he could possibly be asking because I had already given him my ticket and driver's license. So I kept asking, 'What?'
"Finally, he gestured that I needed to take my mask off so he could match my face with the image on my driver's license! Who knew?"
The challenge continued at the airline's gate. Normally, Locus would lip-read to monitor boarding information. However, the gate agent was wearing a mask, so she couldn't access that information.
To remedy the situation, Locus went to the gate agent to show her ticket, which identified her as being deaf.
"It was a very surreal experience. I felt so cut off from everyone," Locus said.
Basic necessity
Mary Costello is deaf and attends Prince of Peace Parish in Olathe because it regularly offers an ASL interpreter at Mass. That's a luxury Costello has long enjoyed.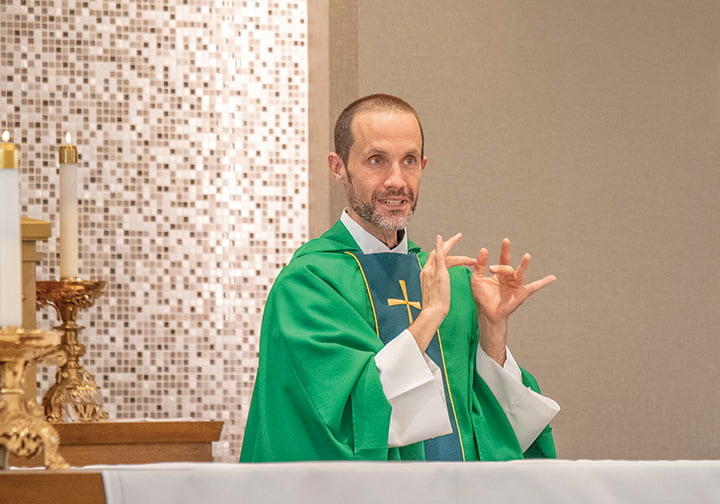 Yet, life outside her home and church during a time of masks has increased her frustration. Even Costello's best-laid plans require cooperation and compassion from the hearing community.
For example, in a recent trip to see her doctor, Costello brought her iPad and had planned to communicate with the Video Remote Interpreter (VRI) app. Unfortunately, her doctor didn't oblige and had his mask on the entire time, leaving Costello confused and without support.
According to Costello, even those who are experienced in the use of American Sign Language (ASL) rely heavily on facial expressions.
"Most of the time, I am using the text on my phone to communicate with hearing people from any grocery store, etc.," Costello said. "If it is not working, I will use body gestures or tend to point my index finger on the menu for what I order at any restaurant if I go out to eat or show the people the things and objects."
In her previous experience with doctors, Costello typically calls ahead to remind them to provide an interpreter. The cost of providing an interpreter is the responsibility of the medical provider, she said.
Unfortunately, most doctors don't take the time to write notes to communicate with her, Costello said.
It's awkward
Aside from the functional challenges of adhering to mask mandates, the deaf and hard of hearing community must navigate awkward social challenges, Locus said. Just being at work presents its own set of challenges that can't always be avoided.
"I've had several deaf people tell me about going into the workplace and just trying to avoid their co-workers because, well, they'll start talking with their masks on and all they can do is nod as if they know what's going on and try to tactfully escape without unknowingly insulting anyone," Locus said.