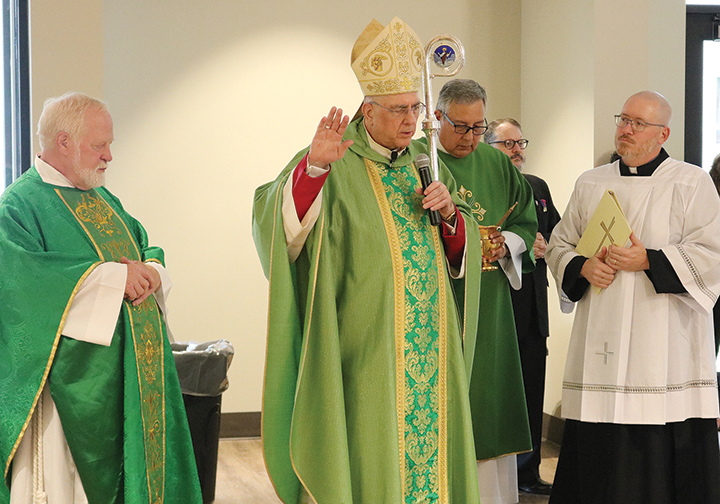 by Marc and Julie Anderson
mjanderson@theleaven.org
TOPEKA — It was a long time coming, but downtown Topeka's Mater Dei Parish now has a parish hall that is open and ready for business.
Archbishop Joseph F. Naumann blessed the building on July 31 immediately following the 5 p.m. Mass. Afterward, an estimated 150 parishioners enjoyed a lasagna dinner provided by LaRocca's, a restaurant owned by parishioners Ted and Cindi Valdivia.
"It took a long time," admitted parish pastor Father John Pilcher. But he's happy with the outcome.
"It's got a nice atmosphere to it," he said. "It's a place we've needed for a long time."
The new structure sits next door to Holy Name Church, one of two churches in use by the parish which was formed in 2005 with the consolidation of Holy Name and Assumption parishes.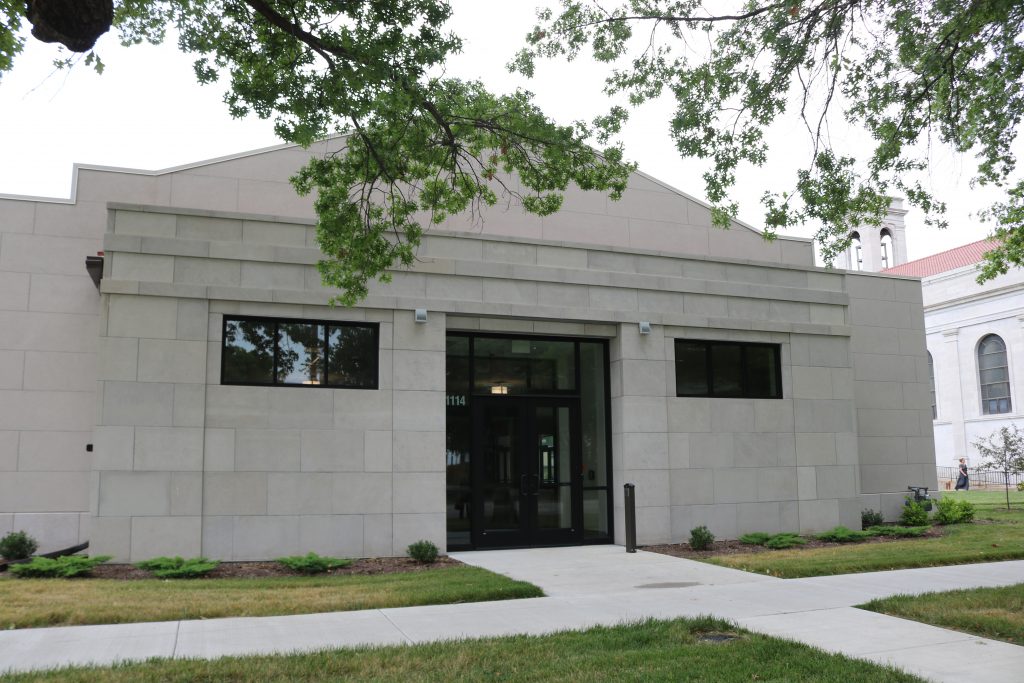 Located at the intersection of 10th and Clay, Holy Name faces 10th St., a major thoroughfare leading in and out of downtown Topeka. Due to both the church's visibility and its status as a historic place, members of the project committee, including Dan Spindler, the committee's chair, said continuity of design was of utmost importance.
Their attention to that detail definitely didn't go unnoticed.
"I just congratulate you on this accomplishment," the archbishop said, just prior to blessing the facility. "I was telling Father Pilcher I love the way it matches the other buildings. It seems like it's been part of this campus forever."
Besides continuity of design, other considerations included accessibility as well as parking for people of all abilities. Some of the parish's other event spaces are smaller in size and are located below ground.
Additionally, the parish's other church, Assumption, while extremely visible in its location right across the street from the Kansas Capitol, does not offer a lot of parking during the week due to its downtown Topeka location.
The new 15,000-square-foot facility, complete with a commercial grade kitchen and enough seating capacity for up to 340 people, was completed in July 2020 at a cost of $1.8 million. Also, it has a zero grade, meaning there is no incline whatsoever to walk into it, making it accessible for anyone.
Plus, its location allows for continued parking behind the church, beside it or across the street in Holy Family School's parking lot.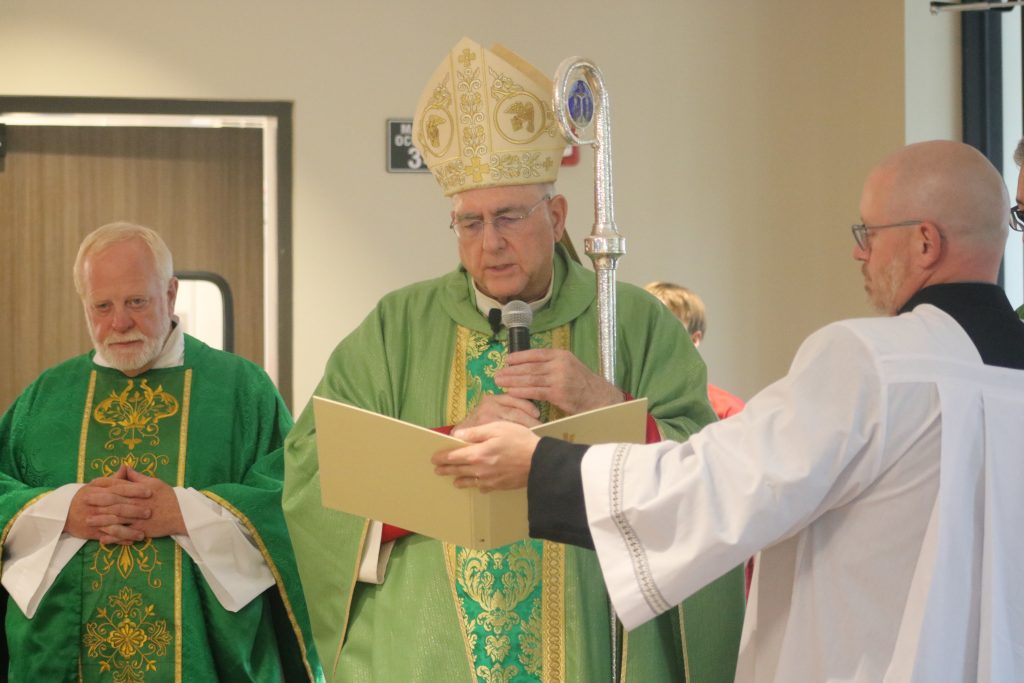 With the project complete, Father Pilcher said the entire parish is looking forward to its use both by the parish and the Topeka community at large.
"It's exciting to be able to open ourselves up. We want to be able to rent [the space] out," said Father Pilcher. Spindler agreed.
While the parish plans to use it for funeral dinners, first Communion receptions and graduation parties as well as other functions, Spindler said the parish also plans to rent it out to groups within the Topeka community.
"We're open for business, and if anybody wants a really nice, cool venue for any event whatsoever, we're open to parishioners and non-parishioners. So, just call our office," Spindler said.
All in all, Father Pilcher said, the new space allows the parish to practice hospitality.
"If you don't have any room for somebody to come, how can you be hospitable?" he asked.