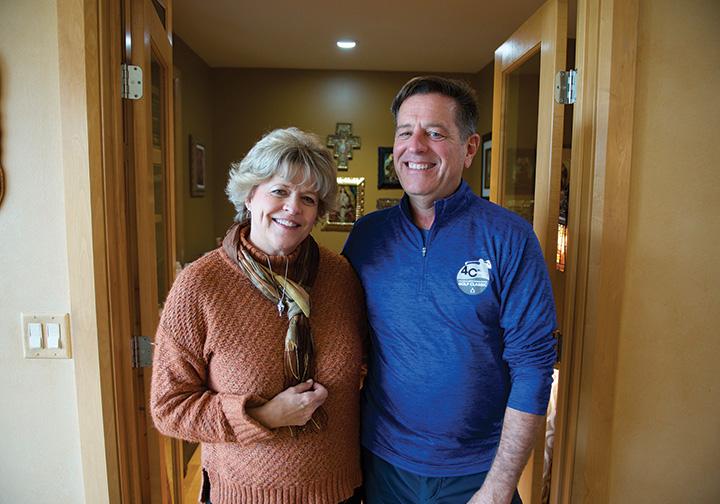 by Joe Bollig
joe.bollig@theleaven.org
KANSAS CITY, Kan. — If the McAnany family had to be described in one word, it could be "generations."
The grandchildren of Pat and Melodi "Mel" McAnany (two granddaughters so far — another child on the way) are sixth-generation Kansans. McAnany Construction, Inc., from which Pat retired recently, is a third-generation family business.
And as far as their Christian roots — those extend so deep that they are lost in the mists of time, albeit in two branches.
Pat is a cradle Catholic. His great-grandfather was among the founders of St. Joseph Parish in Shawnee, to which he and Mel belong. He was educated at St. Joseph Grade School and Rockhurst High School in Kansas City, Missouri.
Mel was raised in a devout Southern Baptist family in Stilwell.
"My parents were very faith-filled Baptists — my mother still is, and still goes to the First Baptist Church of Stilwell," said Mel.
Mel's family went to church three times a week. There was a priest at their wedding in 1984 — but it was held in a Baptist church.
"I think both of us have examples growing up of the importance of our faith," she said. "[Going to church] was just normal."
Mel became a Catholic on Easter 1998. What took her so long? She had always taken her faith seriously, and she had many serious questions that had to be answered before she would "swim the Tiber." It was not only getting the answers, though. She got tired of "waiting on the bench" while her family received the Eucharist.
"I love my Catholic faith now," said Mel. "I love the fullness of it."
"She's a typical convert," said Pat. "She's a better Catholic than a cradle Catholic."
"I'm a little overzealous, some think," said Mel.
"Oh, not at all," said Pat.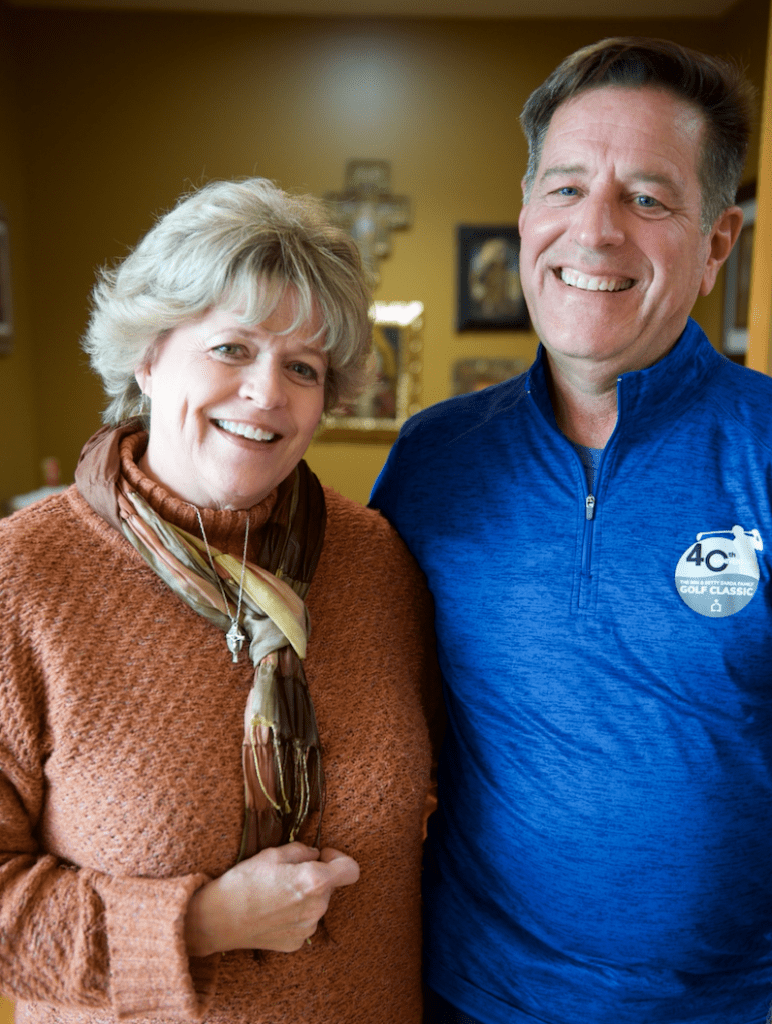 They have been blessed with three children — all married now.
Daughter Katie is married to Jared Rottinghaus, with daughter Mary Rose and another on the way. Son Benjamin is married to Susan. And son Ryan is married to Moira and they have a daughter Beatriz.
On Nov. 11, the Catholic Foundation of Northeast Kansas will present Pat and Mel — and Donnelly College in Kansas City, Kansas — the Deo Gratias Award (Latin for "Thanks be to God") at a dinner in the Keleher Conference Center at Savior Pastoral Center in Kansas City, Kansas.
The award is given annually to a couple and a Catholic institution in recognition of outstanding achievement, service and support of Catholic institutions that are CFNEK fund holders, as well as Catholic Legacy Society members.
"The CFNEK seeks to honor those who have made significant contributions to the church in northeast Kansas through their stewardship of time, talent and treasure, and who are exemplary examples of legacy giving," said Bill Maloney, executive director of the CFNEK.
An example of legacy giving by the McAnanys is through their use of the instrument of Donor Advised Funds.
"I am struck by their generosity to many different causes in the Catholic community, ranging from vocations to Catholic Charities, support of Catholic education and more," said Maloney. "I am also impressed not only by their financial support, but their willingness to give their time and talent to the Catholic Foundation. They're always willing to be a witness to their faith."
The McAnanys have given of their time, talent and treasure on both the parish and archdiocesan level. They have volunteered and given in both the spiritual and temporal senses.
The list would be very long, but among many things, they have been co-chairpersons for Archbishop's Call to Share and presidents of the Catholic Charities Snow Ball. They are members of the Equestrian Order of the Holy Sepulcher of Jerusalem and are lay members of the Community of the Lamb. They collect food for and work at a Catholic Charities food pantry.
Pat has served on various boards and committees, including for Rockhurst High School, St. Joseph Parish and St. Paul's Outreach. Mel was on the CFNEK board and helped start the Catholic Fine Arts Council. They've both worked with the Catholic Education Foundation.
Both were trained in the Spiritual Mentorship Program and led respective groups in spiritual formation.
Yet for all they've done and are doing, they don't think that they are exceptional.
"We are an example of many parishioners who love God and give back to the church in many ways," said Pat. "We're don't think we're unusual in that. A lot of people do so many things quietly for the church for years and years."
Mel hopes they are setting an example for the next generations.
"I hope and pray that my children and grandchildren will get from this that it's not their money; you didn't make it," she said. "It's a gift God gave to us, and to you, and it's what you choose to do with that money, how you choose to be a good steward of the gifts God has given you in the time he's given you to do it . . . it's how you hand on that legacy of the gifts you've been given that is most important to your children."