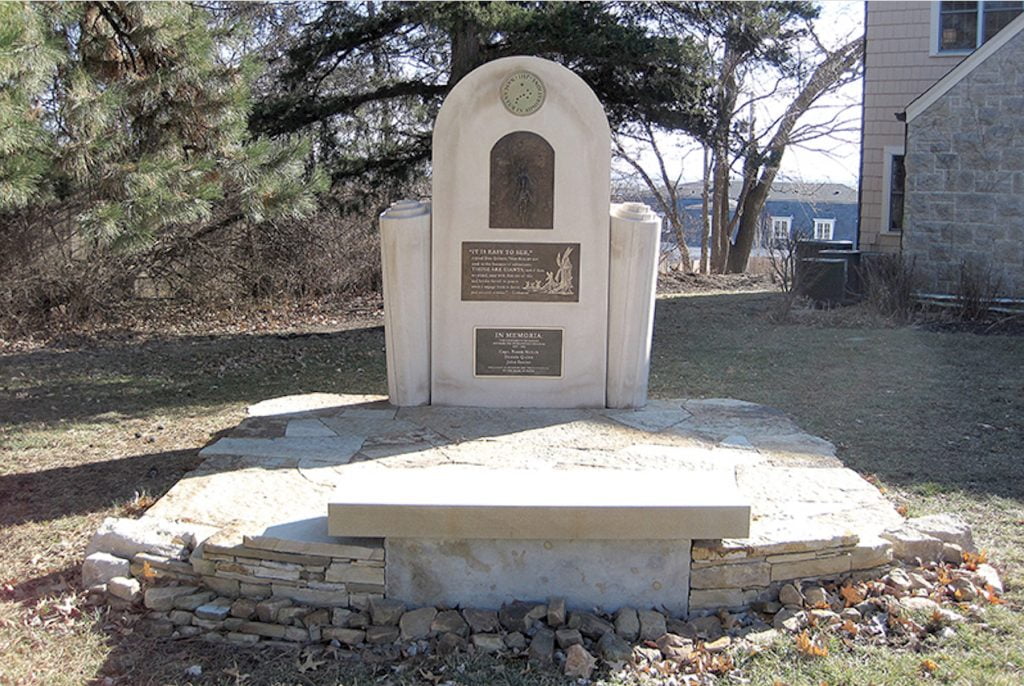 by Bob Hart
Special to The Leaven
LAWRENCE — It began as a college-within-a-college, a place for "the instilling of wonder and pursuit of truth" for underclassmen. Nearly 40 years after it was formally disbanded, the Pearson Integrated Humanities Program at the University of Kansas has been memorialized with a monument on the grounds of the St. Lawrence Catholic Campus Center here.
Founded in 1971 with a grant from the National Endowment for the Humanities by three professors — Dr. Dennis Quinn, Dr. Frank Nelick and Dr. John Senior — the program was designed as a four-semester sequence of six credit hour courses for freshmen and sophomores attending KU. Much of the focus was on reading the "Great Books," although students also studied theology and were encouraged to stargaze and appreciate the beauty of poetry through memorization.
"It provided a classical kind of education that I wanted," said Scott Bloch, an alumnus of the program and an attorney in Washington, D.C. "They took us seriously as people and helped bring all the college subjects into a cohesive whole."
Bloch said the timing of the program, beginning just as the turbulent 1960s had come to an end, was key to its importance.
"The program hit at a seminal time of confusion and throwing off the past," he said. "Some students were in search of something truly meaningful, not trendy. It was an experiment in tradition."
A motto of the program was "Nascantur in admiratione," which roughly translates in English to "Let them be born in wonder."
Terry Sercer, a CPA in Fort Scott, is also an alumnus of the program. Both he and Bloch met their future wives in the program. In Sercer's case, it was Monica Quinn, the daughter of one of the co-founders.
"Many long-lasting friendships were formed in the program," Sercer said. "And many of us met our spouses there. It refocused us on the good and the beautiful. And what's that? That's God."
Iconographer Peggy Shopen, a resident of Lawrence, was a key figure in fundraising for the memorial as a means of "honoring three men who meant so much to us," she said. She is also organizing a dedication to be held in September.
"We want to get the word out now," she said. "Everyone is welcome. We have a website for people to register."
The website can be found here. 
Among the distinguished alumni of the Pearson Integrated Humanities Program are: Archbishop Paul Coakley, of the Archdiocese of Oklahoma City; Bishop James Conley, of the Diocese of Lincoln, Nebraska; Dr. Robert Carlson, co-founder and first academic dean of Wyoming Catholic College in Lander, Wyoming; and Dom Philip Anderson, abbot of Our Lady of Clear Creek Abbey in Hulbert, Oklahoma.