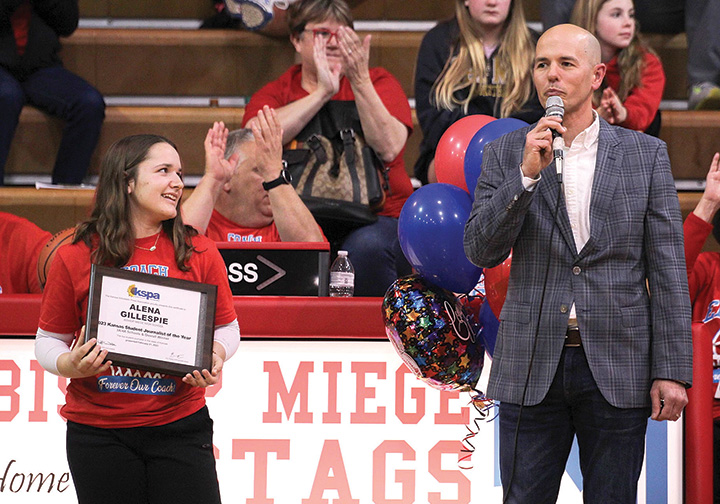 by Claire Wicker
Special to The Leaven
ROELAND PARK — As the students took their seats for halftime at the boys basketball game between Bishop Miege High School here and St. Thomas Aquinas High School, Overland Park, Miege senior Alena Gillespie prepared from her front-row seat to cover the upcoming story for the school newspaper.
She discovered, instead, that she was the story. She had won the Kansas Student Journalist of the Year award.
Each year, the Kansas Scholastic Press Association (KSPA) holds a contest for student journalists. The competition is split between 1-2A, 3-4A and 5-6A schools, with one of those three winners named the overall winner.
Gillespie's victory was the first time in 29 years that a student outside of 5-6A received the all-around award.
"When I first submitted my portfolio, I was comparing them to past winners and I was thinking, 'Does mine compare, could mine win?' and then it did," Gillespie said. "I did not expect it to win the whole Journalist of the Year, but I maybe thought there was a chance for the 3-4A."
During halftime on Feb. 21, KSPA executive director Eric Thomas surprised Gillespie with her award. According to Miege journalism teacher Sarah McCambridge, it took extensive coordination between herself, Gillespie's mother and Gillespie's friends to keep the surprise.
"When they said my name, I was shocked," Gillespie said. "I didn't think it would be announced at a basketball game, but when I saw Mr. Thomas walking in, I thought it might actually be happening."
Since starting high school, Gillespie has been involved with the journalism department. She took journalism her freshman year and joined The Miegian, the student-run newspaper, and eventually became web editor-in-chief her senior year.
"The story that stands out to me about Alena [comes from] her freshman year; we were sheltering in place and she found out she was on staff while we were in lockdown," McCambridge said. "I was sending out emails because that summer there were some different camps, and I sent it hoping my editors would go.
"I was just so impressed because I got an email back from this little freshman saying, 'I'm going to this one and this one and this one.'"
According to Gillespie, these camps, along with other workshops and conventions, have helped her improve her journalistic skills. These skills benefited her when creating her portfolio, which included creating a website with her resume, a personal narrative about her journalism experience and nine different categories.
"It took a lot of hours to make my portfolio," Gillespie said. "In the end, I felt like it was all worth it because it was a lot of work."
These categories covered various fields of journalism, ranging from writing and reporting to commitment to diversity. While not all nine categories were required, Gillespie completed them all, which may have set her apart from other contestants.
"Maybe just me taking the time to fill out the categories even if they weren't something that was easy — like commitment to diversity, which made me think about how we apply that in our journalism program and how we fulfill that during newspaper class — helped me to win," Gillespie said.
According to Miege principal Maureen Engen, something that stood out about Gillespie was her ability to highlight a diverse group of students.
"Her stories are representative of every athlete, every academic and every person that does something outside school," Engen said. "She is a quiet team builder, and I thought that is somebody so great and so humble."
Gillespie, who is a member of St. Joseph Parish in Shawnee, will be attending St. Louis University next fall and plans to study speech pathology. Although she will not be pursuing journalism, she plans to use the skills she has learned and the $1,250 scholarship from her award toward college.
Her portfolio will be advancing to nationals this spring at the National Scholastic Press Association/Journalism Education Association convention in San Francisco.
"I feel like journalism has even helped me with life skills like how to communicate with others, how to be clear with that communication, how to stay organized and how to make sure tasks are in the right order," Gillespie said.