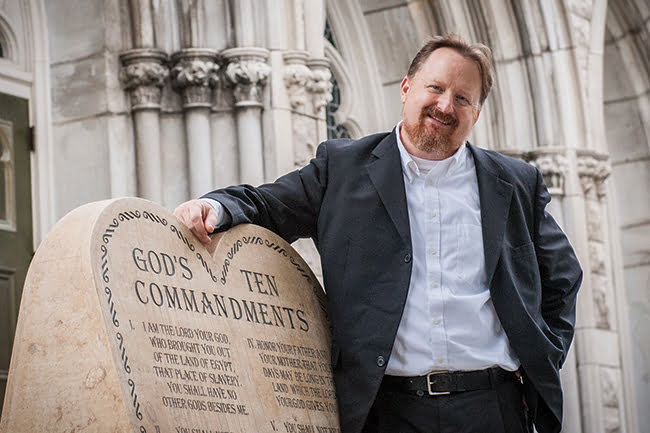 by Bill Scholl
To be a baptized and confirmed Catholic is to be on a mission from God.
It is not just to someday go to heaven, but to bring heaven here today: "Thy kingdom come, thy will be done, on earth as it is in heaven."
However, it follows that if we are to bring heaven here, we must be fully prepared to contend with and combat the hell in our midst.
We must have eyes opened to some terrible things that lurk in the shadows of our communities.
Recently, the office for social justice shared an important documentary with Benedictine College students that models just how Christians are called to look at and contend with the gates of hell in our own neighborhoods.
The film is appropriately named "Blind Eyes Opened: The Truth about Sex Trafficking in America."
In the world today, there are more people living in slavery than in any time in human history. This slavery — human trafficking — takes several forms: forced labor, debt bondage and sex trafficking.
Many Americans today think trafficking is something that happens overseas, or if on U.S. soil, simply involves foreigners. While trafficking of foreign nationals does happen, the reality is that most sex-trafficked victims in the U.S. are American-born, and the tragic majority are children.
A recent report by the American Bar Association notes: "Current estimates suggest up to 100,000 U.S. citizen children are trafficked in the Unites States each year."
"Blind Eyes Opened" examines this human crisis by interviews with survivors, law enforcement and policy advocates.
The survivor stories are both heartbreaking and horrific. We behold true evil when we hear what they endured as children and are terrorized by how any man could do such a thing.
Pornography conditions some men to do the unthinkable and fuels the demand to sexually exploit girls and boys.
"Blind Eyes Opened" brings light on this dark subject by showing the healing power of Christ's love. All of the survivors share how, by grace and faith in Jesus, they were able to become whole, which is miraculous given the abuse they had to overcome.
Also, stories of Christian outreach to strip clubs, truck stops and shelters model what the church can do to attack these portals of hell by offering selfless love and prayer.
In the Gospel, Jesus tells Peter that "the gates of hell" shall not prevail against the church.
Help to open your own eyes to these gates by learning the signs of human trafficking online at: www.archkck.org/htm.
To arrange a screening of "Blind Eyes Opened" at your parish, send an email to: socialjustice@archkck.org, or the pro-life office at: dniesen@archkck.org.