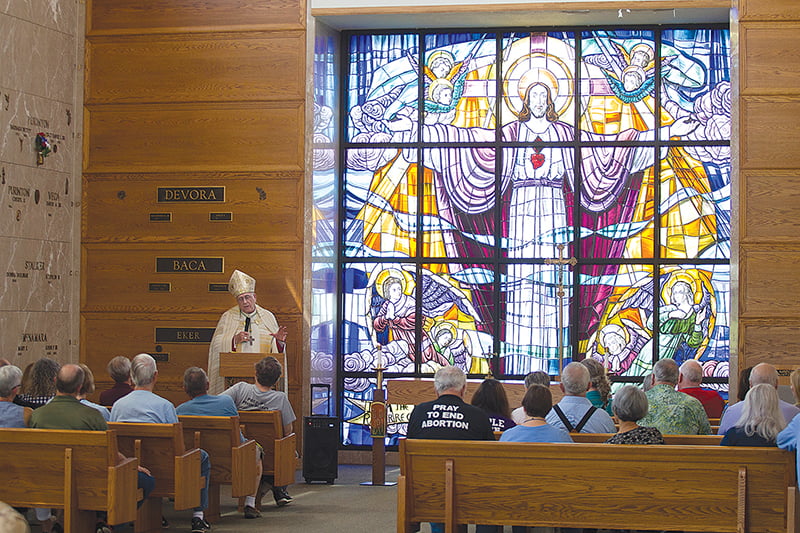 by The Leaven
Catholic Cemeteries of Northeast Kansas began 2020 with a new president and a renewed commitment to its mission and ministry of serving individuals and families as they make end-of-life preparations.
Two months into her executive leadership position, Sharon Vallejo shares her perspectives on the value and distinction of Catholic cemeteries.
Q. What is the mission of Catholic Cemeteries of Northeast Kansas?
A. Our mission statement captures and conveys what we do and why we do it. It reads: "As a ministry of the Catholic Church, we bury the dead with dignity and respect; we comfort the living with compassion and concern; and we provide sacred space for remembering."
We do all of this in the context of our role as a ministry of the archdiocesan church, and an extension of the parish communities we serve.
Q. What's the difference between a Catholic cemetery and the Catholic section of a cemetery that is not Catholic?
A. Our Catholic cemeteries are blessed or consecrated, and they have the sacred function of signifying our belief in the communion of all saints (living and deceased), the resurrection of the body and life everlasting.
When we pass by a Catholic cemetery or attend a burial in one, we share a link and a connection — just as we do in our parishes — with the extended community of believers, a community unbroken by death and hopeful of resurrection.
Father Ken Kelly, longtime Catholic Cemeteries board member and past board chair, explains it this way: "In life, we worship together; in death, we await the resurrection together."
Catholic Cemeteries of Northeast Kansas hosts special observances year-round, including memorial Masses and prayer services, to remember the faithful departed.
In addition, our cemeteries feature statuary, memorials and mausoleum chapels that reflect our Catholic identity.
Q. What is the Catholic Church's teaching about burial in a Catholic cemetery versus a cemetery that is not Catholic?
A. The U.S. bishops state a preference that Catholics be buried in a Catholic cemetery or columbarium (for cremated remains). They describe this as consistent with the sacramental life of a person who has been baptized, received the Eucharist and been anointed with the sacrament of the sick.
Burial in sacred ground reflects continuity with this tradition. Father Jerry Volz, our current board chair, sums it up this way: "Throughout our faith journey, the church is present to celebrate significant moments in our lives. Since death is also a part of the human journey, it is only right that the church should also be present when we confront this reality."
There are exceptions to the church's preference for burial in a Catholic cemetery, such as the request for a military funeral in a national cemetery and other circumstances that parishioners can discuss with their pastors.
Q. Where are the properties located that are operated and managed by Catholic Cemeteries of Northeast Kansas?
A. Catholic Cemeteries of Northeast Kansas provides perpetual care for seven cemeteries in Wyandotte and Johnson counties and for Mt. Calvary Cemetery, Topeka, and Mt. Calvary Cemetery, Lansing. We offer a variety of interment/entombment options unique to each location.
Q. How does the expense of burial in one of these cemeteries compare with funeral arrangements in other cemeteries?
A. We strive to be competitive and transparent in our pricing. Prices for various services are posted on our website at: www.cathcemks.org. We work to ensure that personal or family preferences are central to burial plans.
Pre-arrangement of burial services is always available by calling our office 24/7. Family service advisers will explain options and requirements, and discuss our popular no-interest payment plan.
Q. How do persons in areas served by Catholic Cemeteries learn more about services offered?
A. We have recently reorganized our Family Service Advisers Team under the leadership of Bryan Alonzo, our new sales and marketing manager. Bryan oversees the newly formed team that currently has nine members, several of whom will be familiar to families we have served over the years.
These family service advisers are available to meet with families 365 days of the year to arrange services at the time of a death and to assist with planning pre-arrangements.
Q. How does Catholic Cemeteries coordinate its outreach to parishioners in northeast Kansas?
A. We coordinate this very closely with pastors who grant Catholic Cemeteries the authorization to contact parishioners to discuss their end-of-life arrangements.
Then, Catholic Cemeteries authorizes our Family Service Advisers Team members to conduct this outreach. Names and photos of our authorized family service advisers are posted on our website.
Our team members are very respectful of the privacy of the information related to the individuals and families we serve. Unfortunately, we have received reports recently that unauthorized salespersons formerly associated with Catholic Cemeteries may be using information they previously had access to and continuing to make contacts on behalf of other cemeteries.
If parishioners have any concerns or questions about calls they receive about end-of-life arrangements, we encourage them to call our office at (913) 344-7501, or email us at: information@cathcemks.org.
Q. Catholic Cemeteries has had an extensive program of beautifying and maintaining its cemeteries. Are there any projects we can anticipate being completed or announced this year?
A. In May, we will bless the new Our Lady of the Rosary Memorial at Resurrection Cemetery, Lenexa. We are also restoring and refurbishing the priests' monument in Mt. Calvary Cemetery, Lansing. Our board of directors and staff have an eye to the future as we consider other opportunities while sustaining the perpetual care of the cemeteries and being good stewards of the resources entrusted to us.
Q. What are your priorities during your first year as president of Catholic Cemeteries of Northeast Kansas?
A. Catholic Cemeteries has always held excellent customer service as our number one priority when providing burial arrangements for members of the Catholic community. One of my main goals is to continue to build and strengthen relationships with parish priests, parishioners, funeral homes, parish staff and, above all, the families we have the privilege to serve.