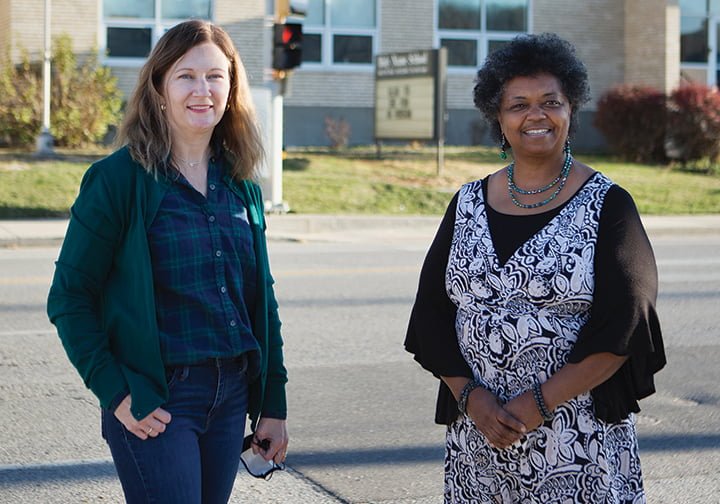 by Moira Cullings
moira.cullings@theleaven.org
KANSAS CITY, Kan. — They've spent more than 15 years working to end and prevent child and vulnerable adult abuse in the Archdiocese of Kansas City in Kansas.
Now, Monica Lane and Franchiel Nyakatura are stepping up even more.
The women are "Virtus — Protecting God's Children" volunteer facilitators.
They lead Virtus sessions at their respective parishes and others throughout the year for people in the archdiocese who teach, volunteer or work with children in some capacity.
These sessions are designed to educate people about the warning signs of abuse and what to do when someone poses a threat to children and vulnerable adults.
For Nyakatura, a parishioner at Our Lady & St. Rose in Kansas City, Kansas, the work has been deeply rewarding.
"I know that once a person attends a session," she said, "they're equipped with skills they can walk off [with] immediately and be ready to protect children and vulnerable adults from abuse instantaneously.
"When you walk out of that session, you are ready. The plan to protect is so clear that you're ready to do it that moment."
Because of their passion and talent for this work, Lane, a parishioner at St. Michael the Archangel Parish in Leawood, and Nyakatura were chosen to help train a new batch of Virtus volunteer facilitators next summer.
"We were looking for seasoned Virtus facilitators who also demonstrated strong leadership and mentoring skills, and we found that and more in Monica and Franchiel," said Jenifer Valenti, director of the office for protection and care.
Both facilitators are eager to help the cause.
"It's a way for me to be a part of the solution and to help other people see that they, too, can be a part of the solution," said Lane.
The pair recently underwent thorough training with the national Virtus office via Zoom and had the chance to practice training new facilitators.
Since then, they've met with the archdiocesan office for protection and care for a few hours every four to six weeks to prepare a two-day training session for the new facilitators.
"The pandemic has . . . given us time to put together a training session that will be meaningful and will help equip the new facilitators to go and be facilitators themselves," said Lane.
The work has been strenuous, but it's worth it for both women, who said "yes" when they were recommended to be facilitators more than a decade ago.
At the time, Lane was a Catholic school counselor. She was intrigued by Virtus from the time she first heard about it.
"I was interested in what the program was about," she said. "Then, I went to the [facilitator] training and really loved the message."
Nyakatura is a teacher and was eager to volunteer as a facilitator when she attended her first Virtus session and recognized how vital the content was.
"There are clear-cut things that you can do in your homes, your communities and in the work that you do [to prevent abuse]," she said. "That inspires me."
Valenti said the efforts of the two women have been "a blessing."
"Our prevention efforts in the archdiocese will not succeed without the work of local leaders serving as ambassadors for the program," she said.
"We all owe them a debt of gratitude for helping to keep our vulnerable [persons] safe," she added.
Nyakatura looks forward to training the new group of facilitators and emphasized how critical their work will be.
"There's a phrase they use [at Virtus]: 'You might be the one person who can help a child,'" she said.
"I just want people to know you might be the one person who could save a child or vulnerable adult from some type of an abuse," she continued. "By being a facilitator, you're touching so many lives."
To learn more about Virtus, visit the website at: virtusonline.org/virtus.