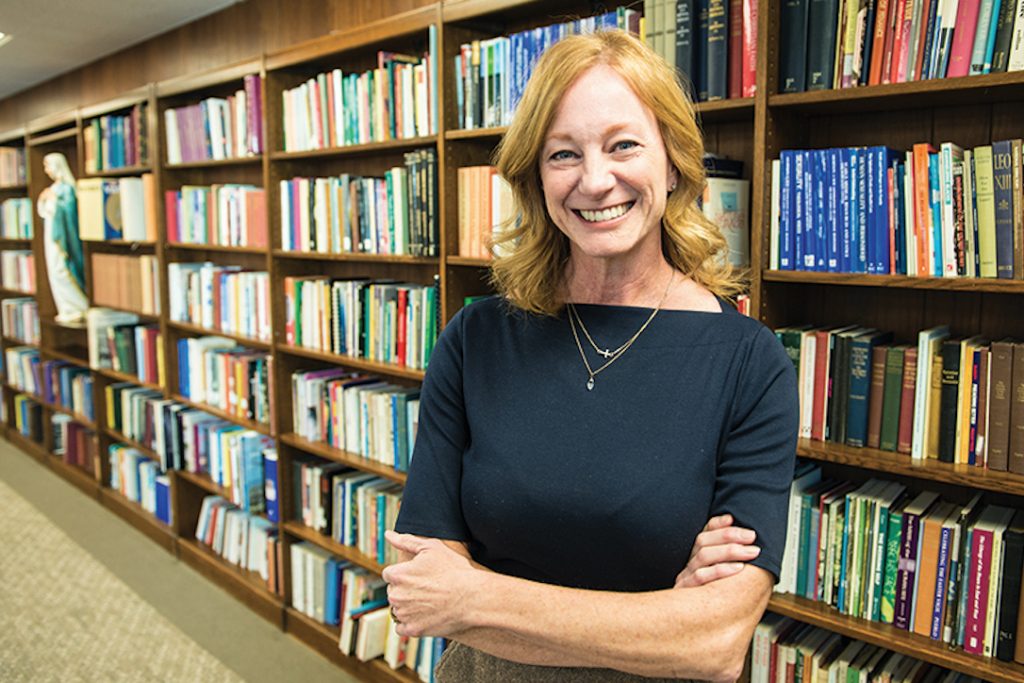 by Joe Bollig
joe.bollig@theleaven.org
KANSAS CITY, Kan. — Now more than ever, the pro-life ministries of the Archdiocese of Kansas City will set the pace for the rest of the nation.
That's because Archbishop Joseph F. Naumann has become the chairman of the U.S. Conference of Catholic Bishops Committee on Pro-Life Activities.
He'll need an effective pro-life leader in the archdiocese, of course, and he has one in Debra Niesen. She became the lead consultant for the archdiocesan pro-life ministry on Dec. 3.
"We're extremely blessed to be led by Archbishop Naumann in his role now as chair of the USCCB Pro-Life Activities [committee]," said Niesen. "There is going to be an opportunity for our archdiocese to be a leader and great example for other dioceses across the country, to look to us to see what we're doing.
"Under his leadership, I think the movement in our own archdiocese is strong and has good support."
Niesen, her husband Gil and their five children moved to Olathe in 2008 and are members of Holy Trinity Parish in Lenexa. She has been involved in pro-life volunteer work in her parish, but her activism goes back years earlier.
Niesen was born and raised in a Catholic family from Whitewater, Wisconsin. As a young adult, she set her sights on a career in business.
In 1992, she earned a bachelor's degree in international business from St. Norbert College in De Pere, Wisconsin. Upon graduation, she worked as a product manager for a company. While employed in 1997, she earned an MBA from the University of Wisconsin in Whitewater.
She and Gil moved to Green Bay, Wisconsin, in 1998, where she worked for Johnson & Johnson. There, they began their family.
The foundation of her pro-life activism began in her parish in Green Bay.
"I wanted to get involved in our new parish, so I decided to join the Respect Life committee," said Niesen. "There were some really great women on that committee who taught me so much and put me on fire for the pro-life cause and ministry.
"I worked with that committee for 10 years, doing everything from sidewalk prayer, keeping parishioners informed about legislative issues, collecting supplies for pregnancy centers — you name it; everything pro-life related. We had a very active committee in our parish."
After the family moved to Olathe, she continued to participate in pro-life activities in her parish, but most of her time and energies were devoted to her family.
As her kids got older, she encouraged them to participate in pro-life activities. Today, one daughter is a sophomore and chair of the pro-life ministry at the Newman Center at the University of Nebraska, Lincoln.
"The most profound impact all my pro-life work had on me and my husband was our family," she said. "Because of our love for life and recognition of what a gift every child is, we were blessed to continue our family, and had five children."
Niesen also kept her professional skills up by doing some freelance marketing and research, and running a business out of the home. In 2016, she became a real estate agent with ReeceNichols.
She learned about the opening for the position with pro-life ministry by reading The Leaven.
"I was excited about this opportunity," she said. "I felt this would be a great way for me to use my professional skills for something I was extremely passionate about. It was an opportunity to serve the church and change people's lives."
It's much too early for her to discuss her plans for the archdiocesan pro-life ministries, but she is grateful for the work of previous directors and lead consultants.
"I think there is a great foundation here," Niesen said. "We're focusing on youth involvement. . . . They're the ones who will help us change to a pro-life culture.
"Something else I'm excited about is the hiring of Ann Marie Alvey as coordinator of Project Joseph, Project Rachel and Project Gabriel. I'm excited to help build those up. . . . I'm happy the archdiocese is putting such a good effort behind these ministries."