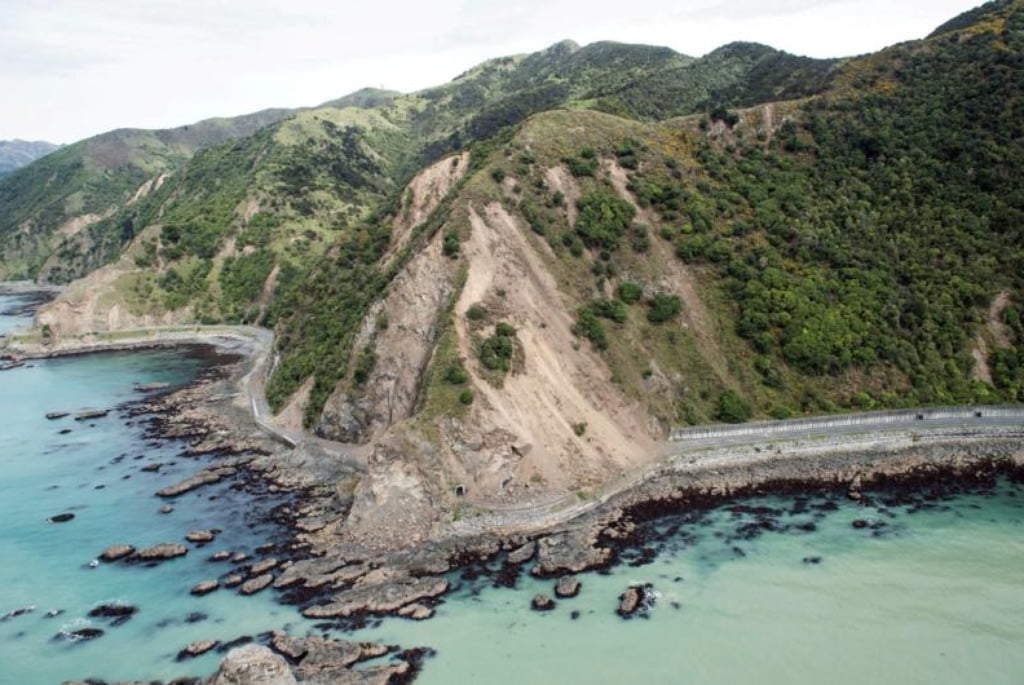 by Michael Otto
AUCKLAND, New Zealand (CNS) — The seaside town of Kaikoura on the east coast of New Zealand's South Island might have had its road and rail links with the outside world cut off after a magnitude 7.8 earthquake, but its Catholic priest found a way to get into the town to celebrate Sunday Mass and be with his people.
Passionist Father Pat McIndoe of Marlborough planned to "hitch a ride" on a flight into Kaikoura Nov. 18, said parish administrator Ginetta Petersen.
Father McIndoe, who is based in Blenheim at the top of the South Island, is scheduled to stay in Kaikoura for 10 days. Petersen said he will assess what sort of help people there most need.
She added that the priest's hoped-for place on the flight came about as a result of a conversation with a parishioner, a teacher at a Blenheim preschool. Father McIndoe expressed his desire to get to Kaikoura.
"She knew somebody, who knew somebody, who said there was a flight going . . . [from] Marlborough Aero Club." So the plan is to "squeeze him in."
The earthquake, which struck at 12:02 a.m. Nov. 14, caused large land slips, which blocked road and rail access to Kaikoura, a popular tourist venue. Power and communications were interrupted. Two fatalities were linked with the earthquake. More than 2,000 aftershocks were reported, including one of 6.5 magnitude.
Father John O'Connor, a parish priest in Hurunui district, lives in North Canterbury, close to the epicenter of the earthquake. He said it "caused huge physical and emotional distress, surfacing again reminders of the trauma of the earlier quakes."
In 2011, an earthquake in Christchurch killed 185 people and caused widespread damage.
Father O'Connor said that, immediately after the initial quake, "Many people along the coastal areas of the parish were evacuated to higher ground. . . . Others, particularly in the north of the parish, escaped as their homes fell around them. Some were stranded on roads that opened up in front of and behind them."
"The people of rural areas are especially resilient and resourceful and immediately have ensured that all are cared for and provided for," he added.
Father O'Connor said a major issue for some parts of his community going forward would be the potential loss of tourist income.
He said weekend Masses would be celebrated in "the communities that are suffering most."
Catholic churches in the area appear to have survived well, but with considerable damage to contents in two of them, he said, noting he hoped to know results of building inspections by Nov. 18.
After the quake, Kaikoura residents, churches and community groups opened their homes, halls and marae — Maori meeting grounds — to those with nowhere to stay. One of those who extended hospitality was Patsy Buttle, a former lay pastoral leader in Kaikoura parish. She is based in Christchurch, but still owns a house in Kaikoura.
Buttle told NZ Catholic that a neighbor whose house was destroyed in the quake is staying at her residence. She said some cellphone communication with Kaikoura was possible, but people there have to go to higher ground to get reception.
But Buttle was concerned for the long-term economic prospects for Kaikoura, a town dependent on the tourist trade.
"Kaikoura is so seasonal, we rely on the [upcoming] summer and weather being good for tourists. That's what gets people through the winter."
Susan Howan, a Ministry of Education official for the region, said engineers and staff were assessing buildings and hoped to reopen St Joseph's School in Kaikoura soon.
"Staff have been offered support through the Employee Assistance Program, and we are available to provide advice and support wherever we can," she said.
"Water tankers and portaloos are being sent to the school, and we are continuing to work with other agencies to ensure a coordinated longer-term plan of support is provided for the school," she told NZ Catholic.
Catholic agency efforts to assist affected communities have already started elsewhere in New Zealand.
Archbishop Martin Krebs, apostolic nuncio to New Zealand, said he was phoned by Archbishop Paul Gallagher, the Vatican's secretary for relations with states, Nov. 14. He said Archbishop Gallagher asked for information about the damages caused by the earthquake, in order to convey it to Pope Francis.
Copyright ©2016 Catholic News Service / U.S. Conference of Catholic Bishops.