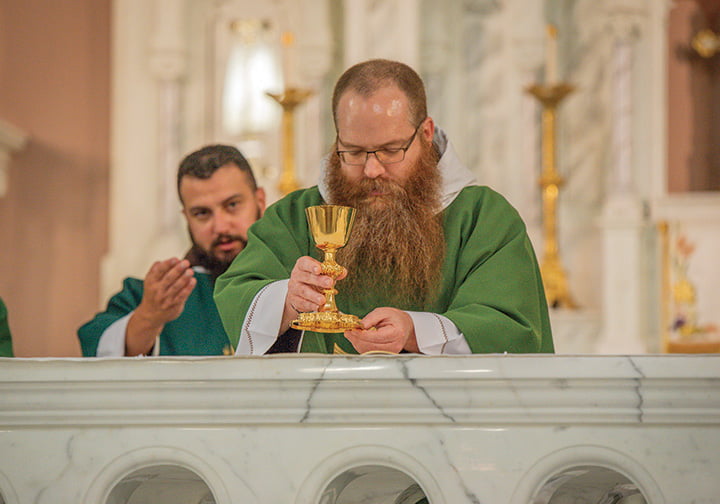 by Katie Peterson
Special to The Leaven
VICTORIA — Father Brandon Berg, newly ordained to the Order of Friars Minor Capuchin, is beginning his priesthood with a special vessel that is not only a family heirloom, but also formerly owned by an important figure in the history of the Archdiocese of Kansas City in Kansas.
Father Brandon was ordained Aug. 15 at the Basilica of St. Fidelis in Victoria. And the chalice and paten presented to him were the ordination chalice and paten of his great-great-uncle Bishop George Donnelly.
Bishop Donnelly was the sixth ordinary of the Diocese of Leavenworth, having been installed on Jan. 9, 1947. He remained in the position until his death in 1950.
The proof of the chalice's and paten's former owner was confirmed by the inscription on the bottom stating it as a gift to then-Father Donnelly from his parents on the day of his ordination: June 12, 1921.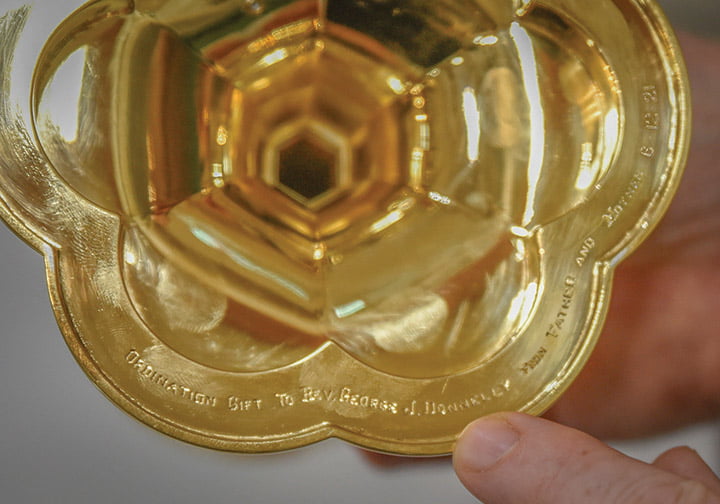 "I was surprised how exact the inscription was," Father Brandon said. "Just seeing that, yes, this was not only his, but it was the one that his parents specifically gifted to him at his ordination — that was impressive."
He described the chalice as simple but beautiful, saying it has six lobes — a cross, one for each of the four Gospels and a pelican, which represents the blood of Christ — and small diamonds embedded in it.
"It's humbling to have something that is 100 years old and so precious and given with love by his parents to him, who are also my relatives," Father Brandon said. "To know that they (the chalice and paten) are handed on in the same family — it just gives me a great sense of connection to my family."
"It shows the way that we all stand on the shoulders of those who came before us for our faith and our family experience, and to come to know the love of God," he said.
Father Brandon's mother is Barbara Berg, a parishioner of St. Dominic Church in Holton. She is also the director of religious education for St. Dominic and St. Francis Xavier Church in Mayetta. She's excited that her son will be using such a precious vessel.
"The chalice will be 100 years old in a year. So, as it begins its 100th year, it will be back being used for what it was created for: as a sacred cup to hold the precious blood of Jesus," she said. "It is someone in our family that will be using it, and we just feel really blessed. It is a special treasure to us."