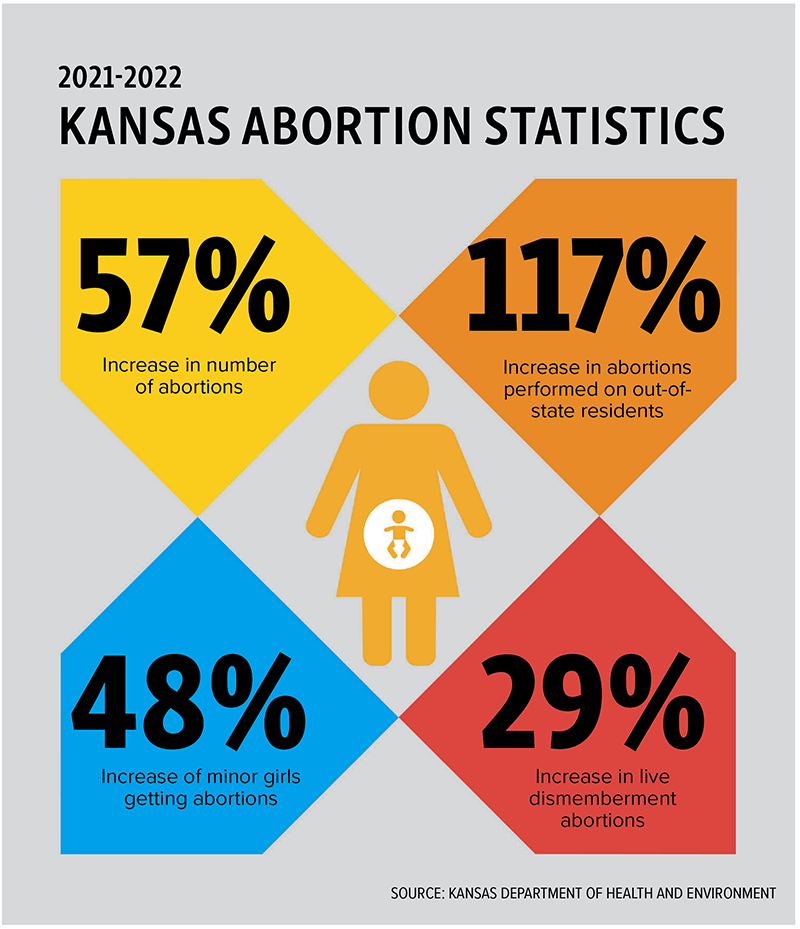 by Marc and Julie Anderson
mjanderson@theleaven.org
TOPEKA — Staggering but not surprising.
That's the consensus among state pro-life leaders about the recently released abortion statistics for last year.
Usually published by the Kansas Department of Health and Environment in early spring, the preliminary report released on June 23 shows that from 2021 to 2022, the number of reported abortions performed in Kansas increased 57% from 7,849 to 12,317.
Also, the number of abortions performed on out-of-state residents increased 117%.
Other statistics show increases in the number of live dismemberment abortions (29%), the number of minor girls getting abortions (48.5%) and the number of chemical abortions (38%).
While it's easy to be angry about the statistics, Debra Niesen, consultant in the archdiocesan pro-life office, advises Catholics to take a different approach.
"We need to turn our anger into positive action because there are just so many women needing our help. There are many lives that we need to save, and the numbers are most likely going to increase because the abortion industry has plans to expand in Kansas. Our work is needed now more than ever."
Niesen, along with Lucrecia Nold, a public policy specialist for the Kansas Catholic Conference, recommends five steps Catholics can take to help create a culture of life in the archdiocese and state.
Pray.
The first and most important step, according to both Niesen and Nold, is to pray.
"We need to use this information to motivate us to continue our prayers for the defense of preborn children, as well as the protection and dignity and safety of all women," Niesen said.
Nold agreed.
"Don't give up hope. Continue to pray. Honestly, pray without ceasing," she said.
She encourages Catholics to pray the rosary on their own or outside abortion facilities because the power of prayer cannot be overemphasized.
Stay informed.
A second action step Nold suggested was for Catholics to stay informed.
"Kansas has become a destination for abortion in the Midwest. The sad reality is that these numbers don't lie, and that's the battle we're fighting now," Nold said.
As a lobbyist for the Catholic Church, Nold said she's often surprised that even some of her own family members and friends don't seem to understand the situation here in Kansas. She encourages others to not only study the numbers, but to also share the facts with others among their own circles of influence.
"I think it's really important that Catholics understand and really take some time to read these numbers and learn about them and understand them because knowledge is so critical in this area," she added. "Part of the reason the abortion industry can do what it does is because too many people don't understand this industry and how it operates."
Get involved in the legislative process.
Part of staying informed, Nold said, is getting involved in the legislative process. She recommends all archdiocesan Catholics to sign up for news alerts from the Kansas Catholic Conference.
"Get on our mailing list because we're often giving updates and action items," Nold said.
Like Nold, Danielle Underwood, director of communications for Kansans for Life, agreed that Catholics need to get involved in the legislative process.
"We have to keep the profit-driven abortion industry accountable because it has built-in incentives to increase the number of abortions and also to remove as many limitations on its action as possible," Underwood said. "We're the watchdog for holding the abortion industry accountable. We're watching every move it makes, making sure that we speak up and speak out and keep the pro-life movement in Kansas and ready to activate when we need to."
Support your local parish's pro-life activities.
Every parish in the archdiocese, Niesen said, is engaged in pro-life ministry. Catholics, especially those who don't know what to do, can start there.
"We've got to work even more to reach people, to educate them on the gospel of life and the dignity of the human being, but also to be meeting women where they're at and to be serving them so that they don't believe abortion is their only choice," Niesen said.
She added that archdiocesan-wide pro-life ministries including the Walking with Moms parish-based initiative, Gabriel Project and post-abortive healing ministries of Project Rachel and Project Joseph can always use volunteers.
Give to your local pregnancy resource center.
Of the state's five abortion clinics, three are in the archdiocese. At the same time, Kansas has at least 50 pregnancy resource centers. This past legislative session, Kansans for Life worked alongside other pro-life organizations to obtain $2 million in state funding for pregnancy resource centers and maternity homes. All three pro-life leaders said they'd encourage all Catholics to support the local pregnancy resource center(s) in their area by answering the phone, serving as a counselor or offering donations of diapers.
"If we cannot protect these women and babies by law, we can at least protect them with love," Nold said.
For more information about abortion numbers in Kansas, see the report online at: www.kdhe.ks.gov/1400/Fetal-Infant- Maternal-Mortality.