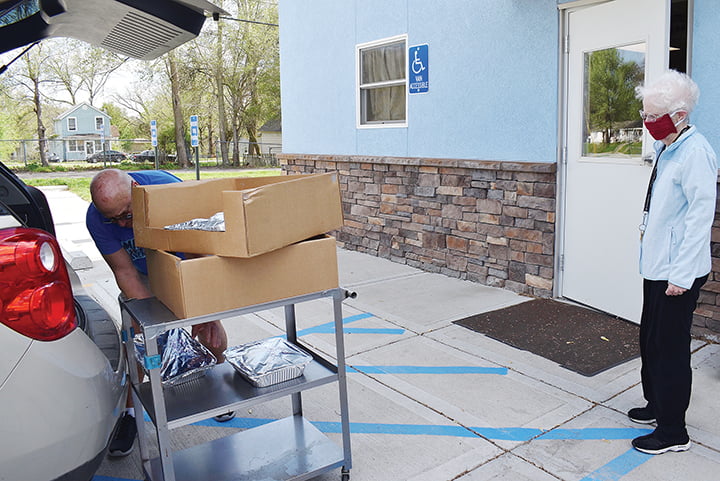 by Katie Peterson
Special to The Leaven
LEAVENWORTH — "I've never bought cigarettes in my life," admits Sister Vickie Perkins, SCL, director of the Leavenworth Interfaith Community of Hope.
"And now I'm a pro at it," she said.
Sister Vickie's newfound expertise proves just how far she will go to care for those in her charge — 13 individuals who have "stayed at home" at the Interfaith Community of Hope these last six weeks.
The building, which is usually open from 7 a.m. to 3 p.m. as a day shelter and from 9 p.m. to 7 a.m. as a night shelter for those with no place to sleep, has been operating 24/7 since the "stay at home" order was issued by Gov. Laura Kelly.
"They stay the entire time," said Sister Vickie. "If they leave, they can't come back."
It has presented the operation with some new challenges, for sure. But she doesn't regret a moment of it.
"All 13 of them are safe," she said, "so it's worth it!"
To help make the whole thing work, Sister Vickie said, the shelter is providing its residents all three meals a day, instead of the regular two when under normal operations.
Everyone is allowed limited time outside, including smoking time, a chance for fresh air for 15 minutes every hour and 30 minutes for a daily walk.
The decision to keep the shelter open 24/7 was made with the help and guidance of the Leavenworth County Health Department and Leavenworth County Emergency Management.
"In the onset of this incident, it became apparent that we had to deal with all our very vulnerable populations," said Kim Buchanan, Emergency Management deputy director, "and the homeless were identified at the get-go.
"We decided the best plan was to go ahead and see if Sister Vickie and her crew could accommodate a 24/7 operation, and we would make sure that they had all the things they needed."
"For a month and a half now, she has been doing a wonderful job at doing just that," added Buchanan. "It has made all the difference in the world."
Sister Vickie said it wouldn't have been possible without the support of the community. Several area churches and Leavenworth residents have continued to volunteer for their regular night shifts throughout the week, and many have provided food for dinner by cooking in their homes or ordering food from local restaurants.
"That helps that restaurant and then, obviously, feeds the hungry," said Sister Vickie.
The First United Methodist Church of Leavenworth has provided meals twice a week on Wednesdays and Saturdays in lieu of the normal community meals.
"We have four to five people cooking meals from home or church and taking them up to the shelter," said Jim Walley, FUMC's shelter coordinator. "I think the guests are one of the safest populations in the community because they are not intermingling with the local population except for volunteers that come in and the staff. The only way they're going to get [COVID-19] is if one of us brings it in to them."
Ruth Kenton, First Christian Church shelter coordinator, said helping Sister Vickie and those in the shelter is even more important now.
"It is an important thing for the churches to get together and do," Kenton said. "It is so amazing the cooperation between the different denominations and stuff in town."
"I just hope [the people who are homeless] can continue to stay there and stay well until people can get out once again," she added.
Sister Vickie said the outpouring of support has only confirmed what she already knew.
"Leavenworth is one of the most generous towns I've ever been part of. We've had people even give us part of their stimulus check or just send us money," said Sister Vickie. "People have really responded because they know there is a need for people who don't have options.
"Leavenworth does that," she concluded. "I have found that here since the day I moved in, and they really do work hard to try to respond to the people that are in need."