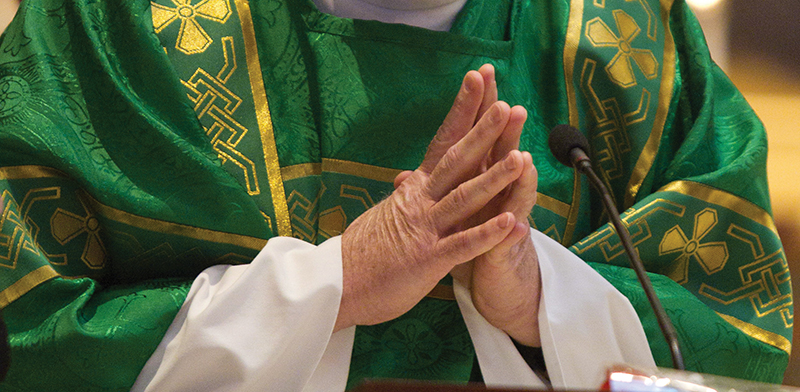 by Joe Bollig
joe.bollig@theleaven.org
KANSAS CITY, Kan. — The Catholic Church's liturgical year has wonderful seasons that fill the hearts of Catholics with awe, joy and anticipation. And each season has marvelous symbols.
Advent has a wreath with colored candles and a countdown calendar.
Christmas has the star, the tree and the creche.
Lent and the Triduum have ashes, the crown of thorns, palms and white candles.
Easter has the empty tomb and lilies.
And Ordinary Time has . . . uh . . . hold on.
Nothing in particular, to be honest.
People get excited about Christmas. People even get engaged with Lent. But when was the last time you met someone who was pumped about Ordinary Time?
Ordinary Time has its own color — green — but other than that, most Catholics would be hard-pressed to think of a symbol for Ordinary Time and may not even be sure what it is. Could it be that Ordinary Time is the Rodney Dangerfield of the liturgical calendar?
Perhaps that's not quite right — Ordinary Time does get respect, but it may have a "branding" problem, beginning with the name.
"'Ordinary' is a term that most people associate with nonessential, common or perhaps even uninteresting. But the real meaning behind that term Ordinary Time actually comes from the Latin word 'list' or 'ordo,'" said Michael Podrebarac, archdiocesan consultant for liturgy and sacramental life. "It simply means they are the numbered Sundays of the year."
Ordinary Time is a relatively recent invention.
For most of church history, the weeks known as Ordinary Time were known as the "Time after Epiphany" and the "Time after Pentecost."
That changed in 1969, when the Lectionary for Mass was revised into a three-year cycle of readings and St. Pope Paul VI issued a new General Roman Calendar to go with the new order of the Mass. Those "after" weeks were renamed Ordinary Time.
This year, Ordinary Time consists of a smaller eight-week slice consisting of most of January and February, and a larger slice of 25 weeks from early June to almost the end of November.
Draw a mental picture of the church year, if you will, as a pie. The biggest slice — half the year — is Ordinary Time. Add the little slice, and most of the church year is Ordinary Time.
Taken as a whole, Ordinary Time is in some ways the most instructive part of the church year — and that's what makes it special.
"The calendar reformers in the 1960s decided that . . . the so-called period of Ordinary Time would be not a focus on a particular aspect of the work of Christ in our salvation but would take his ministry as a whole and present it in its various recordings in the Gospels," said Podrebarac.
"Ordinary Time does not commemorate one particular aspect of the ministry of Christ, but rather the ministry of Christ altogether. That is why on any given Sunday during the 'green season,' as it is often called, we can hear anything from Jesus healing someone, teaching parables to arguing with Pharisees."
"You might call it 'a day in the life of Jesus' in terms of the Gospel focus," he added.
Catholics can and should observe Ordinary Time, said Father Carter Zielinski, pastor of Sacred Heart Parish in Emporia.
"It's a blessed time when we can deepen our life in virtue," he said. "We can grow closer to God through sanctifying grace in the sacraments, as in every other season as well."
Catholics can profitably live Ordinary Time by frequenting the sacraments and growing in a life of discipleship of Christ by prayer, fasting, almsgiving and living a life of service to others, he said.
As a rural pastor, Father Mike Peterson appreciates how Ordinary Time echoes the rhythms of agriculture and the life cycle of the seasons. Green, the color of Ordinary Time, reminds him of "newness of life," new growth that will someday be harvested — analogous to our own human lives and ultimate destiny.
"We can't live our entire lives in an energetic or excited state," said Father Peterson, pastor of St. Bernard Parish in Wamego and St. Joseph Parish in Flush. "Life has to have its slower times, and that's part of the reality of life. We need that as people."
Most of our lives, said Father Peterson, are lived in the ordinary events of everyday life. Even so, our ordinary lives have special events that are meaningful — birthdays, anniversaries, weddings, deaths and various achievements to be celebrated. These, too, are holy times.
Ordinary Time is just the Catholic Church going about its business and doing the work of proclaiming the Gospel, said Podrebarac. And if the pope ever asks him to give Ordinary Time a new name, he's ready. "If I had to name the time, maybe I'd call it 'Sundays of the Kingdom,'" he said. "Because it's really about us doing everything we can to ready the kingdom of God, which is what Jesus was proclaiming."