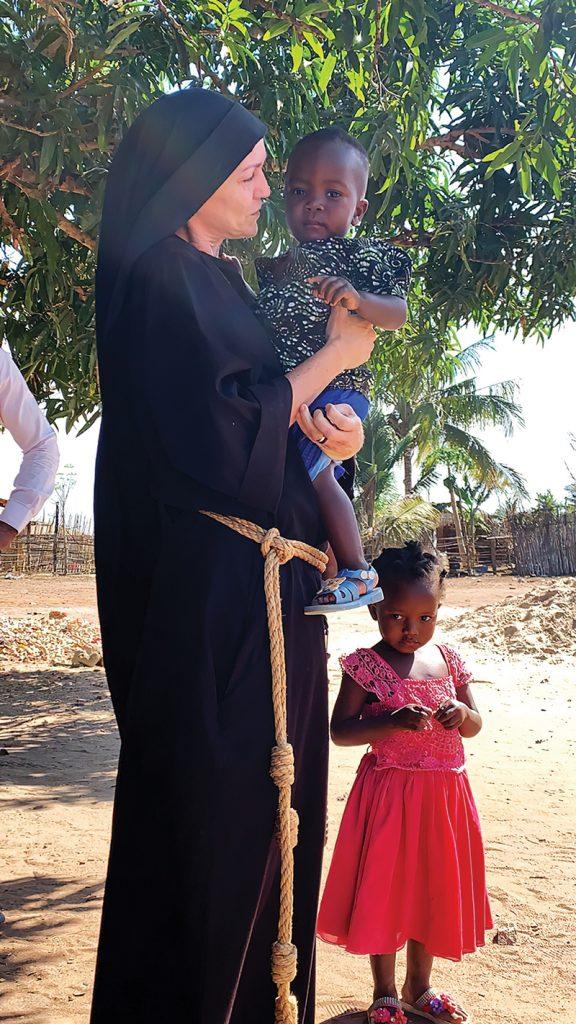 by Joe Bollig
joe.bollig@theleaven.org
WAMEGO — Every child who comes into the care of P.R.A.Y. has a story, and there are so many to tell.
Sister Magdalena of the Sacred Heart of Jesus, PJC, will never forget the story of Patricia, who was born in Jacunda in the state of Para, in the Amazon region of Brazil.
Children's services in the city received a report of an abused and neglected child. When the authorities investigated, they found a traumatized, bruised 8-year-old girl chained in a man's yard. No one knew how long she had been there, her name or who her parents were.
There was no one to take the child, except for P.R.A.Y. — Project Rescue of Amazon Youth.
"When she got [to P.R.A.Y.], she was very fearful and wouldn't speak," said Sister Magdalena. "It took her two months to be able to speak. She now has become a wonderful young woman."
Since its founding in 1997, P.R.A.Y. has saved the lives of abandoned, abused and neglected children in Para, Brazil. In recent years, P.R.A.Y. has partnered with the Brazilian-based religious order the Fraternity the Poor of Jesus Christ, to which Sister Magdalena belongs, to help children and families in Pemba, a city in the African nation of Mozambique. There, they help rehabilitate children discharged from a hospital and provide nutritional aid.
But it all began with a three-woman prayer group in Wamego.
Maria Kientz is one of the founders of P.R.A.Y. and a member of its board of directors. She is a Brazilian who came to the United States in 1989 and became a citizen. She and two of her friends — Jeannie Dieball (now deceased) and Sally Savery (now Sister Magdalena) -— would get together three times a week to P.R.A.Y.
"From that prayer group, Sally (Sister Magdalena) wanted very badly to go to Brazil with me," said Kientz.
Savery went to see the Amazon rain forest. But when she got to Brazil, she saw instead the heartbreaking situations of poor, abused and neglected children who had no one to help them.
"She felt that desire [to do something for children]," said Kientz. "She felt that desire immediately. So, I was very surprised when I came home, and she wanted to stay.
"I was very worried leaving her in Brazil. So, I left her with friends because she did not speak the language. She wanted to know more about the people and the language. . . . By the time she came back, she was ready for us to start to think about what we wanted to do."
So, the little three-woman prayer group prayed, planned and gathered support. They founded P.R.A.Y. as a 501(c) (3) not-for-profit charity and began to raise finds. They garnered support from individuals and an interdenominational coalition of a Presbyterian church, independent Christian congregations and St. Bernard Parish in Wamego.
There is no end to the tragic situations P.R.A.Y. deals with.
"They're very dirty, malnourished, sometimes on the brink of death," said Sister Magdalena of the children P.R.A.Y. receives. "They're very much neglected and abused."
In one instance, a 5-year-old girl was taking care of her 1-year-old brother because their alcoholic mother frequently abandoned them for long periods of time.
In another situation, a woman found a baby that had been abandoned on a trash pile near a river. If the woman hadn't felt a powerful impulse to go out in the rain that night, the baby would have died.
In still another situation, four girls were left orphans after their father murdered their mother. He went to prison — but no one wanted the girls.
Except for P.R.A.Y.
It's especially difficult to place children 13 years and older, so the girls become foster children in the households of P.R.A.Y. families, relatives of Kientz, in Tocantinopolis in the nearby state of Tocantins.
The social safety net has been improved since P.R.A.Y. was founded. The county government has established a health post, with a doctor and a dentist, at the children's shelter in Jacunda. The towns offer more support, too, through social workers.
Right now, P.R.A.Y. needs more funds to pay for medications, food, a new water well and van repairs. Although the needs continue, support for P.R.A.Y. has declined.
"We've lost donors," explained Sister Magdalena. "The people on the board have been there for a very long time. It's been difficult to get the word out. At one time, there was a story in the local paper that P.R.A.Y. was closing, and that was completely wrong. We lost a lot of supporters because people thought P.R.A.Y. wasn't functioning anymore."
"But I believe this is God's work and P.R.A.Y. has been helping God's children," she added. "It has continued because God is supporting us, even though we've been barely getting by."
How to help
For information about the work of P.R.A.Y., send an email to Sister Magadalena at: Magdalenapjc@gmail.com.
Donations to P.R.A.Y. can be sent to: P.R.A.Y. c/o Brenda Patterson, treasurer, 601 Elm St., Wamego, KS 66547.