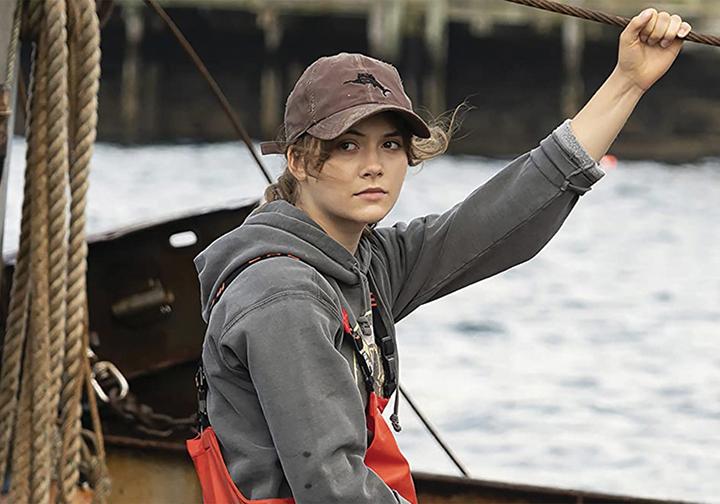 by Joe Bollig
joe.bollig@theleaven.org
KANSAS CITY, Kan. — History was made at the 94th Academy of Motion Picture Arts and Sciences awards on March 27, and it had nothing to do with a slap.
The film "CODA" surpassed the big name, big budget films to win in the categories of Best Picture, Best Supporting Actor (Troy Kotsur) and Best Adapted Screenplay (Sian Heder). The film was by Apple streaming service.
But the reason it made history was because it was the first film with a predominantly deaf cast to win Best Picture — and the hearts of so many film fans.
"CODA" is the story of 17-year-old Ruby Rossi and her family — father, mother and brother. She is the only hearing member of her family, which has a fishing business in Gloucester, Massachusetts. She plays a key role in her family — being the interface between her family and the hearing world. In fact, the family fishing business depends on her.
But of course, there are complications, which are alluded to in the film's title, "CODA."
It has a double meaning. A coda is a musical notation signaling the end of a piece of music. "CODA" is also an acronym: Children of Deaf Adults. In a majority-hearing world that doesn't understand the Deaf, CODAs often play a vital role of communication and bridging the two cultures of the Deaf and hearing.
Ruby has a love of singing and chooses choir in her senior year. She shows some real talent and is paired for a duet with a boy she has been secretly attracted to. Their musical collaboration grows into a romantic relationship.
The tensions come from Ruby being pulled by two forces — the family that needs her and cannot fully appreciate her talent and her chance to go to a prestigious music college.
Should she stay or should she go? Duty or personal fulfillment?
The film has caused some excitement in the Deaf community.
David and Roberta Westerman, deaf members of St. Paul Parish in Olathe, have seen "CODA." To them, it's a film about family and the expectations that a "CODA" child faces within their family. They wanted to see the movie because of the deaf actors and actresses, and their use of American Sign Language.
The film showed some realities deaf people face.
"It's accurate," said David. "It showed how frustrated [deaf family members] were, especially with no hearing child nor the interpreter around while working at the fishing area. The hearing people were talking and the deaf felt left out."
This is a film for both the Deaf and the hearing communities.
"I think it helps the hearing people understand how the deaf people live with frustration," said David. "The deaf people can do anything the hearing people can do, except hear.
"['CODA'] means a lot to we deaf people and the whole Deaf community," he continued. "It shows a lot of barriers with hearing people — especially the communication, and a lot of misunderstandings."
Such as music appreciation.
"Deaf people like music because of the feeling of the beats and vibration, but we don't know the words until we have the hearing child interpret or interpreters," said Roberta.
Naturally, a realistic film includes a few gritty things.
"Yes, even dirty words and language," said Roberta. "Why? The deaf people [in the film] were so frustrated. We, David and I, don't swear. We have a better life. Bless the videophone used to communicate. The interpreters are the number one key."
Sister Hosea Rupprecht, a Daughter of St. Paul who reviewed the film for Catholic News Service, said there are no explicit, overt references to God, faith or religion in the film. Nevertheless, the divine is present, albeit subtly.
"I think when you have an example of a loving family, of a married couple that obviously loves each other as Ruby's parents did, then God is there, because God is love," said Sister Hosea.
"I think there was a lot of love in this family. They had fun," she added. "You know the banter that goes on between people who sincerely care for each other? That was really evident in this film. I would say God was there in that you had a family that sincerely worked out their difficulties without personal attacks."
Although her family couldn't understand her music, they wanted Ruby to follow her dream. And by Ruby following her dream, the family — providentially — integrated within the community in ways it hadn't before.
There was also a scene where Ruby brought her duet partner home, and they walked into an embarrassing situation for Ruby. But the classmate, whose parents were divorced, was impressed by how much Ruby's parents loved each other.
"It was a beautiful example of married love and going through the struggles of a family trying to make it financially and being able to give up Ruby, who is one of the linchpins of the family, to follow her dream," said Sister Hosea.
The Catholic News Service classification for "CODA" is A-III — adults. The Motion Picture Association rating is PG-13 — parents strongly cautioned. Some material may be inappropriate for children under age 13.