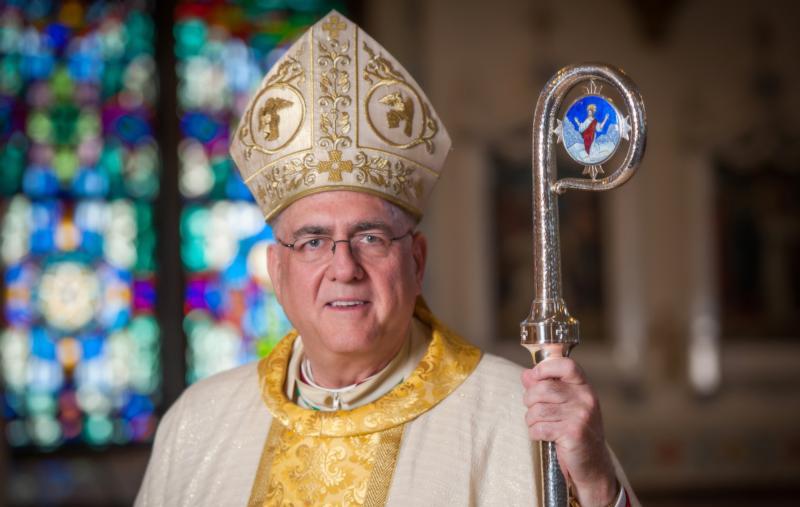 by Archbishop Joseph F. Naumann
In this past Sunday's Gospel, after inviting "Doubting Thomas" to touch the wounds of his hands and to put his hand into the gash in his side caused by the soldier's spear, Jesus declared: "Blessed are those who have not seen and have believed" (Jn 20:29). In the second reading, Peter wrote to the early Christians: "Although you have not seen Him you love Him; even though you do not see Him now yet believe in Him" (1 Pet 1; 8).
In a sense, Thomas is every man, every would-be disciple.  We can all identify with the fear of Thomas not wanting to appear foolish by believing in what is humanly impossible. Thomas refuses to accept the incredulous testimony of his friends. He is afraid that what they have told him is too good to be true.
The disillusionment of Good Friday still clouds his heart. Thomas does not want to experience again the despair of crushed hope. Thomas finds his cynicism more secure than believing in the appearance of a dead man. Thomas places what he believes to be an impossible condition upon his faith: "Unless I see the mark of the nails in his hands and put my finger into the nail marks and put my hand into his side, I will not believe" (Jn 20:25).
On Sunday, I celebrated Mass at St. Benedict's Abbey Church in Atchison and had the privilege to baptize and receive into the church several Benedictine College students. The baptism and reception into the church of new members is a key sign of the vitality of a Catholic community.
If we are living our faith well, it should be attractive to others. The authentic living of the Gospel is contagious. If our faith is real, others should see in us a joy, a peace, a generosity, a compassion and a love that is striking, even startling.
In Sunday's first reading from the Acts of the Apostles, St. Luke describes the early Christian community gathering frequently to be taught by the Apostles, to pray and to participate in the "breaking of the bread" — what we call today the Eucharist or the Mass. St. Luke also reports that none of the Christians were in need, because they shared their material blessings with one another. 
St. Luke comments that the Christians "ate their meals with exultation." In other words, they enjoyed being together. Christians radiated a sincere joy and — as a consequence — "every day the Lord added to their number those who were being saved."
It is true that many came to believe in Jesus without ever seeing Our Lord with their own eyes. However, they did see the effect Jesus had upon those who knew him and did see him. In a sense, those joining the Christian community in the Acts of the Apostles did see the living Jesus alive within his disciples. This is true in every age. The church continues to grow because others see in Catholics a peace, a love and a joy that they desire.
St. Luke speaks about wonders happening in the early Christian community. It is true that there were healings that happened as a result of the prayers of Christians asking the Lord to cure the sick. However, what was even more powerful in the attraction of new disciples was the joy and peace evident in Christians in the midst of suffering and even persecution.  Our capacity to manifest joy even in time of adversity continues to be both stunning and attractive to others.
In a culture that offers many opportunities for pleasure, material comfort and forms of entertainment but also is plagued with epidemics of anxiety, loneliness and depression, the sincere and authentic joy of living our Catholic faith, the fruit of true friendship with Jesus and being part of a community that cares about us, remains alluring and attractive.
In truth, I do not think anyone becomes a disciple of Jesus without seeing him. Though we may not have seen the God-man Jesus who dwelt upon this earth 2,000 years ago, we do see Jesus alive in his disciples. We touch the wounds of Jesus when we experience the selfless love and compassion of his modern-day followers. 
The Christian life well-lived is what every human heart desires. Do others recognize Jesus Christ alive within us? Do others experience being touched by Our Lord's wounds of love when they encounter us? Think about it!