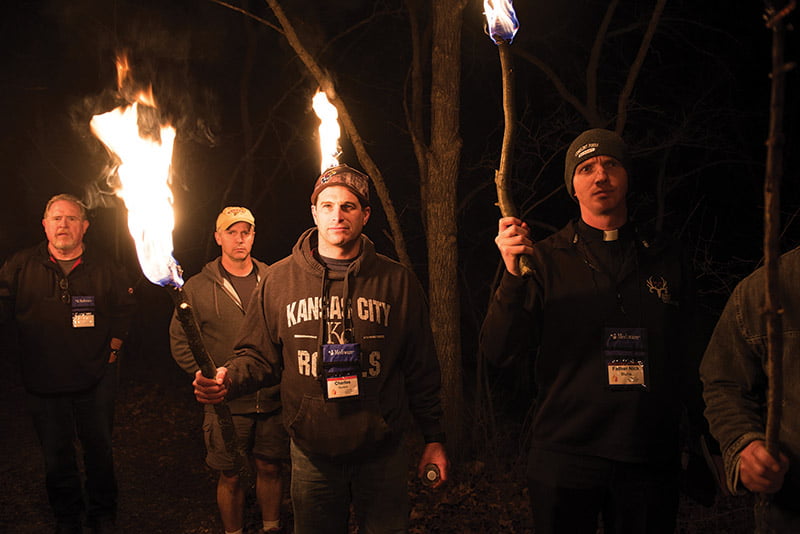 by Joe Bollig
joe.bollig@theleaven.org
WILLIAMSBURG — Don't look down. Stand up straight and look out to the horizon. Don't try to climb down. Just leap out — and trust the guys on the ground holding the safety ropes.
"You'll never be trapped up there," said Greg Wellnitz, director of the archdiocesan Prairie Star Ranch in Williamsburg. "We always find a way to bring you down safely."
Wellnitz wrapped up his instructions to the small group of men by leading them in prayer.
The Power Pole was the first activity for a group of men attending the annual F.I.R.E. men's retreat on Feb. 20-21.
This particular feat of derring-do required two men to climb a 25-foot telephone pole, stand on a small platform and simultaneously leap out to catch a trapeze bar. Afterward, they'd be gently lowered to the ground.
It was something more than a little out of the comfort zone of the majority, but a surprising number were game for the effort.
First to volunteer were Chad Babcock from Prince of Peace Parish in Olathe and Russ Engel from Church of the Ascension Parish in Overland Park.
The first guy would have to help the second guy up so they could both stand on the platform.
"There's not much space up there, so you're going to have to get really close to each other," said Wellnitz. "It's Philadelphia — brotherly love up there."
The men on the ground yelled encouragement and did a lot of "whoo-whoos" as Babcock and Engel both made it up on the platform and then leapt off.  Because of their height difference, Engel took the bar and Babcock flailed around like a piñata.
Later, on the ground, Engel checked his mouth.
"I chipped my teeth when I banged my face against his helmet," he said with a shrug. "I'll call the dentist Monday."
Men on fire
Now in its second year, F.I.R.E. began as a small group of men from Prince of Peace Parish who had been through the Christ Renews His Parish program.
The retreat was awesome — and got them fired up, according to Tony Collins, one of the F.I.R.E. organizers. But what could they do for an encore?
Slowly, after getting together to drink coffee and talk with each other many times, their informal group began to gel.
They began to call themselves a "council," and brainstormed ideas for the kind of retreat they wanted: something in the outdoors, with challenging physical activities and deeply rooted in Catholic spirituality. Something that appealed to masculine sensibilities.
Eventually, they built their own retreat program from scratch and called it F.I.R.E., an acronym for "Fellowship, Inspire, Renew and Engage."
The first F.I.R.E. retreat drew 50 men, but this year there were 100. Not only did the program grow in attendance, but it evolved, offering new activities and greater spiritual richness.
The day began with an opening session, which featured praise music led by Mikey Needleman, followed by short talks and the "Call to Battle" video produced by the Diocese of Phoenix.
The video set the tone for the weekend with its themes of masculinity, marriage, sacrifice, faith, fatherhood and brotherhood.
After the indoor welcoming session, the men were divided into small groups. For most of the day and late into the night, they spent their time outdoors.
Bonding
Each group was led by a F.I.R.E. guide responsible for getting his group to the various physical activities, leading discussions and offering reflections.
In addition to the Power Pole, the men did team-building exercises like helping each other over a wall, carrying a person through a rope "spider web" and inching across wire cables in tandem with another man.
No man, however fit, could do any of these activities alone — and that was the point.  Despite an abundance of "dad bods" and some physical disabilities, all the men did the challenging tasks. It was "no man left behind."
When the activities were over, the guides and men retired to their individual fire pit areas. They made torches for the night, banners and banner holders, and prepared their fire pit. They also held a "get to know you" circle and talked about why they were there.
"I really needed something to get my spiritual life back on track," said David Tout, a member of Prince of Peace Parish. "I just felt a calling to come here."
Pat Coyle, also a member of Prince of Peace Parish, had gone through Christ Renews His Parish and was eager to try out F.I.R.E.
"For me, it's about keeping my faith alive, keeping it in the forefront of my life and being around men of faith," Coyle said. "I just want faith to be the focus of my relationships."
For the most part, the men talked about their kids and their wives, and their desire to be better husbands and fathers.
Many of them had been indifferent about their Catholic faith until lightning struck while they were attending a retreat or renewal program. These whetted their spiritual appetites.
"The cool thing is when a lot of us came here, we were strangers. But now, when you walk through the room, you have so many loving brothers," said Tout. "We've become friends."
Walk with me
Much of the afternoon was taken up by a long "Amazing Grace Rosary Walk" that took them up and down hills, through trees and around lakes.
They stopped at the final sorrowful mystery to nail "man cards" to wooden beams they carried while meditating on Christ carrying the cross. At the top of a hill, they left the beams in a large fire pit, visited the "Healing Tree" and then went to eucharistic adoration with lectio divina (scriptural meditation) led by Father Vince Huber, AVI.
"The way F.I.R.E. did adoration — with the music and the priest involved sharing the word — added so much to it," said Tout.
After supper, the men gathered in a large space called the "Hanger." It was a time for some fun (a spirited dance off) and a serious talk about the spiritual and corporal works of mercy by surprise guest Archbishop Joseph F. Naumann.
When it was done, the men went on a torchlit Stations of the Cross and then to a reflection around a bonfire. The evening closed out with the sacrament of reconciliation — outdoors and under a full moon.
"I've been to many retreats before, but this has got to be one of the top retreats I've ever experienced," said Tout. "I'd encourage my fellow men, my brothers, to seriously give it consideration. It really will change your life."
In the coming months, the F.I.R.E. council will host a number of "Mercy Missions" where retreat participants will have opportunities to meet and do spiritual and corporal works of mercy.