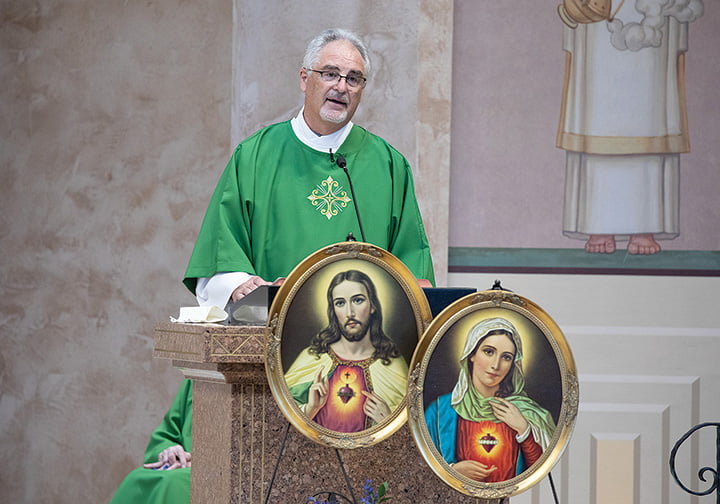 by Joe Bollig
joe.bollig@theleaven.org
KANSAS CITY, Kan. — Deacon Jim Mullin's first Mass after ordination was memorable in many ways — some, he'd just as soon forget.
His microphone battery pack fell off when he reverenced the altar. He got tangled in his alb. He didn't notice that the lector mistakenly put the Lectionary away until he arrived at the ambo to read the Gospel — and then he grabbed the one used for weekday Mass. His face mask strings got tangled up with his hearing aid.
Twenty men were ordained permanent deacons on June 20, and their first Mass was only the first of many challenges during this first year of diaconal ministry — a baptism by fire each new class of deacons face.
But unlike the previous two classes of deacons, this third cohort began their service during a worldwide pandemic — which complicated everything.
"Yes, it's certainly a challenge for them," said Leon Suprenant, co-director of the archdiocesan office of the permanent diaconate. "Aside from all the ordinary challenges — natural and supernatural — that come into play when one begins ordained ministry, they have the added difficulty of becoming a minister of Communion during a time of separation and social distance."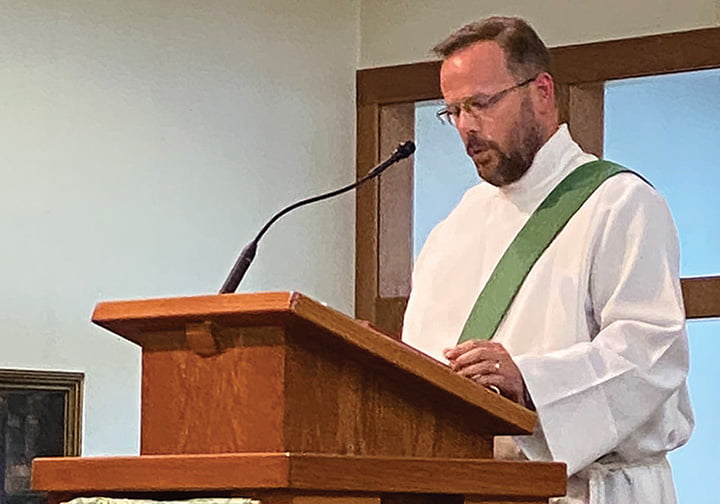 The challenge the new deacons face is how to bring people together in the church when Catholics are being called to stay physically away from each other. It's a challenge to their adaptivity and creativity.
"I have to be humble," said Deacon Mullin, both a member of and assigned to the Church of the Nativity in Leawood. "Things don't go right. There were a lot of things that we went through in five years of formation that [we face now] that we aren't prepared for."
There are a lot of things that are new to him and, with the modifications forced by the pandemic, that he's still getting used to.
Part of his ministry is working for a low-income housing project for the Diocese of Kansas City-St. Joseph. For Nativity, he's assisting at Mass, which sometimes involves preaching, working with couples for marriage preparation and working with the archdiocesan tribunal for marriage annulments. He's had to use video conferencing over the internet for his meetings.
Deacon Jason Imlay assists at three Masses a week at his assigned parish, Divine Mercy in Gardner. The summer was slow, he reported, but things will pick up in the fall. He's been asked by his pastor to assist with major parish events and with the Rite of Christian Initiation of Adults, conduct adult faith formation and help with youth formation.
"At this point, as the parish is still figuring out what its new normal will be, we haven't really hammered out all the details on how that looks with my involvement," said Deacon Imlay.
"We're all learning as we go," he continued. "We're all figuring out ministry in a time of COVID. . . . But it's been difficult to minister because there are these distancing guidelines. It's hard to get out and visit the homebound and visit hospitals."
Deacon Bob Ortiz has been assigned diaconal duties at his home parish of Mater Dei in Topeka. He's been writing the petitions for Sunday Mass, preaching occasionally, doing baptismal preparation, training altar servers, and serving on the parish evangelization and capital campaign committees.
"A lot of our council meetings and committee meetings are just starting to be done in person," said Deacon Ortiz. "We've been doing a lot of Zoom. We haven't stopped."
A big contrast with previous deacon classes is that the deacons of the third cohort don't know what it's like to be deacons under "normal" conditions, said Deacon Ortiz. The pandemic hit just as they were finishing their training. Ministering under pandemic conditions is all they've known.
"Obviously, [the pandemic] had been going on for the last few months of their formation, so they kind of knew things were going to be a little different," said Suprenant. "They're well-trained to support their pastors and the archbishop. They've been schooled in terms of being able to adjust their ministries to accommodate the various coronavirus restrictions."
But they have to remember that the role of the deacon isn't restricted just to doing things.
"The most important thing about a deacon is not what they do but who they are," said Suprenant. "As long as they have that vulnerability to allow Christ to work through them in prayer and form them to be his servant, it's not a question of doing a lot, but being more closely conformed to Christ the servant."