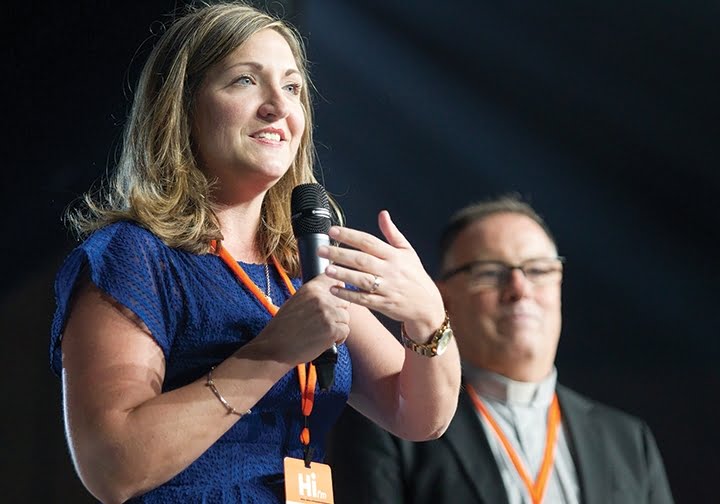 by Joe Bollig
joe.bollig@theleaven.org
KANSAS CITY, Kan. — When the archdiocesan Enflame convocation in October 2019 concluded, the 1,500 delegates returned home with plans to light a fire of evangelization in their homes, parishes and communities.
And then came COVID.
Parish life slowed to a crawl. Out of necessity, pastors innovated ways to provide the sacraments, and parish ministers adapted programs and ministries in a world of social disruption.
As with all other things, the "Enflame Our Hearts, Homes and Communities" initiative was also affected — but it did not stop.
The goal of Enflame is to train missionary disciples and create a culture of evangelization, so all archdiocesan Catholics will spread the Gospel.
"The plan hasn't changed," said Emily Lopez, lead consultant for the archdiocesan office of adult evangelization. "The plan has always been to encourage and equip individuals to take on the work of evangelization, and for our parish leadership groups to form evangelization plans for their parish communities."
What has changed is the need to be more creative, to "think outside the box" at a time when we have been denied the regular means of gathering and holding events, said Lopez.
"[The delegates] were to go back to their parishes and identified organizations and teach their people how to pray, care and share with their three, 12, 72 and crowds like Jesus did," said Deacon Dana Nearmyer, archdiocesan director of evangelization.
The three were Jesus' apostolic "core" of Peter, James and John; the 12 were the apostles; the 72 were the disciples sent out; and the crowds were the multitudes of people who Jesus taught. The idea is often referred to as "crowds to three."
During the pandemic, "the church kind of went underground," said Deacon Nearmyer, but delegates and pastors, along with the archdiocesan Enflame Task Force and archdiocesan evangelization office, found different ways of getting things done.
"In one way, we feel like COVID hijacked a lot of our large-scale plans, but the fact that we have this deep spinal cord through the body of Christ [enabled us to] communicate and help each other do some of the best things we've ever done — some of the most innovative, interesting and adaptive processes that the Catholic Church in northeast Kansas has ever done," said Deacon Nearmyer.
Those innovative efforts included:
• Archdiocesan-wide virtual "campfire" meetings over the internet were held in April, May and June with Archbishop Joseph F. Naumann, drawing 394 participants.
• An Enflame Facebook group was established in April, growing to more than 1,585 members.
• Monthly email newsletters are being sent to more than 2,162 subscribers, with a 58% open rate.
• Since the end of the 2019 Enflame convocation, six parishes have held their own "mini-convocations," using the downloadable tool "Convocation in a Box."
• An Enflame website was established, offering resources and tools.
• Archdiocesan elementary school teachers and administrators met over the internet for a daylong "Enflame Our Schools" event on Aug. 12, learning about the Enflame process. A similar event will be held in January for high school teachers and administrators.
• Some parishes are using existing programs like "Called and Gifted" from the Catherine of Siena Institute and the "Movement of the Holy Family" sponsored by the Holy Family School of Faith.
• Several parishes are creating small groups for prayer, Bible study and fellowship.
Many of the Enflame activities were mentioned in an "Enflame Year End Review" published in late October.
Delegates from his three parishes "hit the ground running," but "hit a brick wall" when the COVID-19 virus struck, said Father Jaime Zarse, pastor of Sacred Heart Parish in Sabetha, St. Augustine in Fidelity and St. James in Wetmore.
Nevertheless, 47 parishioners are participating in the "Called and Gifted" program. Additionally, between eight and 12 small groups have been formed for men, women and families. Some are Bible study groups, while others focus on the Sunday Scripture readings, video studies or the rosary.
"Our goal is to bring people together in ongoing, faith-filled relationships," said Father Zarse.
Christ the King Parish in Topeka did three things for Enflame, said pastor Father Matthew Schiffelbein.
"I take my hat off to our delegation, which has taken charge in implementing and keeping this going," said Father Schiffelbein. "It has made my life easier as a pastor, so I don't have to be the driving force."
The first thing was to have a pre-Lent parish mission led by Emily Lopez from the archdiocesan evangelization office. She taught parishioners the basic components of Enflame. Parishioners were also invited to prayer, personal relationships, acts of hospitality and works of mercy.
The second thing accomplished was to begin small group discipleship. From April to June, the delegation met by Zoom to work out a plan for small groups. Two pilot groups were formed in July, focusing on fellowship, discussion of upcoming Sunday Scripture readings and prayer. Next year, the parish will add two to four groups, adding more groups annually.
Christ the King's final achievement was to establish weekly "Rosary Prayer Partner" groups this Advent, which pairs families.
"To my mind, the pandemic has changed the direction and emphasis some," said Father Schiffelbein. "We've slowed down our process of implementing small groups just because some people are ready and [some aren't].
"In my mind it's going to stretch [Enflame's three-year] timeline to four years. I think there's going to be a time I call 'recovering from COVID.'"