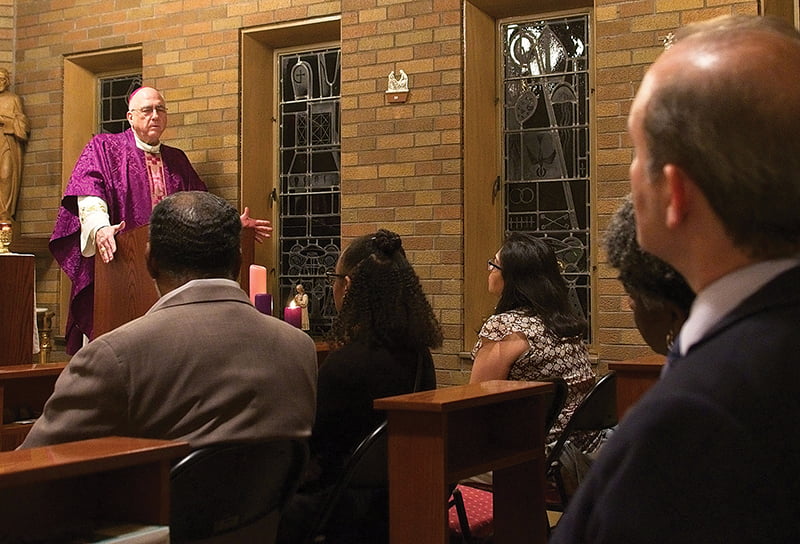 by Jill Ragar Esfeld
jill.esfeld@theleaven.org
KANSAS CITY, Kan. — It happens every year.
And Archbishop Joseph F. Naumann loves it.
Every year about this time, he hosts an evening at which all of his dinner guests wind up sitting around his table, wiping tears from their eyes.
The event is the annual Catholic Education Foundation (CEF) parent dinner with the archbishop, held this year on Dec. 4.
And the tears flow from hearing firsthand the stories of parents whose lives, though filled with hardships, were also filled with an overwhelming determination to see their children in a Catholic school.
The CEF makes that possible.
Each Advent, a number of parents whose children benefit from CEF scholarships are invited to join the archbishop for Mass in his chapel and to have dinner with him afterwards.
Invariably, the dinner conversation leads to accounts of the many difficulties these parents have overcome, the value they place on their Catholic faith and the gratitude they have for CEF scholarships that help them send their children to Catholic schools.
This year, Jeremina Ree recounted the many years her family spent in the horrendous conditions of a refugee camp in Burma, their difficult journey to America and their adjustment to a new world.
Ree's children now attend Resurrection Catholic School in Kansas City, Kansas, where they feel safe and supported.
Alejundra Arevalo, who is from Mexico, told the group that her English was learned out of necessity. She grew more fluent in hospitals, as she struggled to understand doctors treating her infant daughter in need of a kidney transplant.
Arevalo's other children were so affected by her sadness that she promised God that she would "smile during the day and cry at night."
Arevalo now finds comfort in the Catholic community she's a part of through her children's school, Our Lady of Unity, also in Kansas City, Kansas.
There were more stories from parents whose life circumstances made it impossible for them to afford a Catholic education for their children, until the CEF stepped in with scholarship assistance.
And Archbishop Naumann pointed out that these were only a few of the stories from hundreds of families throughout the archdiocese.
This school year alone, 805 families were served by CEF; almost 400 students, though, are on the waiting list for scholarships.
The evening included moments of laughter, too.
Tina Alvarez told of her son's experience in a public school, where mentions of Christ and Christmas were prohibited and he played the part of a mosquito in the school's "winter" program.
He came home complaining to his mother: "I don't want to play a mosquito at Christmas! I want to go to a school where I can talk about Christ."
Thanks to CEF scholarships, the Alvarez children talk about Christ every day at Holy Name School in Kansas City, Kansas.
During his homily at Mass, Archbishop Naumann said that in addition to high-quality academics, Catholic schools strive to teach children they have a friend in Jesus.
Jesus can be their best friend and, though other relationships may disappoint them, they can always count on their relationship with the Lord.
"If we can give our young people that," he said, "if they leave our schools with that friendship in Jesus, then whatever life throws at them, they're going to have the strength to not just endure it but to overcome it — and to triumph."