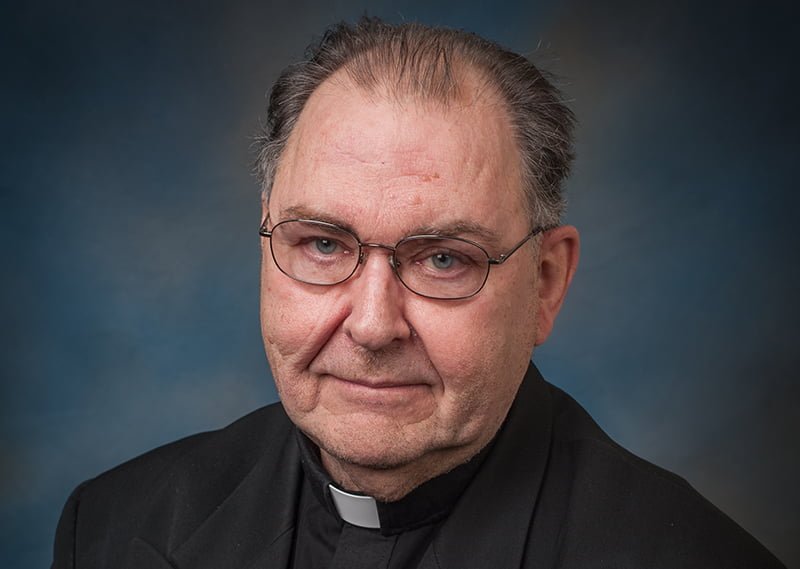 by Joe Bollig
joe.bollig@theleaven.org
KANSAS CITY, Kan. — Many people know that Father Thomas H. Dolezal loved rural communities, rural parishes and rural Catholic schools — especially the schools.
It's difficult to keep a Catholic school going in a rural area and, as longtime pastor of St. Michael Parish in Axtell, he encouraged parishioners to make sacrifices for their school.
But many don't know that he, too, made sacrifices.
"Father Dolezal was a humble, caring person," said Father Francis Burger, a retired priest who knew Father Dolezal for more than 50 years.
"He gave back a lot of his salary to keep St. Michael's School open. And even in his will, [he made a bequest] for St. Michael's, if it was still open. And if not, then something for the benefit of rural Catholic schools in the archdiocese. He was very proud of St. Michael's in Axtell," added Father Burger.
Sadly, St. Michael School was closed due to declining enrollment in May 2015.
Father Dolezal, 75, died of aplastic anemia on Jan. 1 at Kansas City Hospice House in Kansas City, Missouri. He had arrived there on New Year's Eve.
The funeral Mass was celebrated by Archbishop Joseph F. Naumann — with Father Burger as the homilist — on Jan. 4 at Holy Trinity Parish in Lenexa.
Father Dolezal was buried at St. Michael Cemetery in Axtell.
Father Dolezal was born on Nov. 19, 1944, at Fort Lewis, Washington, the second son of Joseph and Ana Marie (Henrich) Dolezal. His father was a U.S. Army doctor at the time.
After the war ended, the Dolezal family moved to Omaha, Nebraska, where Tom — he preferred to be called Tom — attended St. Bridget School for grades one to seven, and then Christ the King School for eighth grade.
It was in eighth grade when he first thought about the priesthood, influenced by one of his heroes, Msgr. Joseph Aughney.
The Dolezal family moved to the Kansas City area in 1958 and joined Queen of the Holy Rosary Parish in Overland Park. Tom graduated from Bishop Miege High School in 1962.
He still thought about the priesthood, but he had other interests, too.
"He'd studied architecture, and Tom entered several model homes in architecture contests," said Bill Dolezal, his brother. "But he got the calling for the priesthood."
Tom became a seminarian for the Archdiocese of Omaha and graduated from Conception Seminary College in Conception, Missouri, in 1966.
In 1967, he became a seminarian for the Archdiocese of Kansas City in Kansas. Archbishop Edward J. Hunkeler allowed him to continue his studies at Mount St. Bernard Seminary in Dubuque, Iowa, until it closed in 1969. He completed his final year at the Aquinas Institute in Dubuque in 1970.
He was ordained a deacon by Archbishop Hunkeler on May 29, 1969, at Savior of the World Seminary. He was ordained a priest by Archbishop Ignatius J. Strecker on May 22, 1970, at Queen of the Holy Rosary Church in Overland Park.
His first assignment was as associate pastor at Christ the King Parish on Aug. 18, 1970. During the ensuing years, he served in both rural parishes and suburban ones. He retired twice — coming out of his first retirement to help Archbishop Joseph F. Naumann by serving at a parish going through a difficult period. He was known as an able administrator and manager.
He had a long convalescence after he broke his hip in Naples, Italy, in 2006.
His last assignment was in 2015, as parochial administrator of Holy Spirit Parish in Overland Park. Father Dolezal retired in 2016, but continued to assist with sacramental duties at Holy Trinity Parish in Lenexa until his death.
"He died with his boots on," said Father Burger. "He was somewhat a cross between Grizzly Adams and St. John the Baptist, with that full beard on his face."
"I don't know how many cards [of condolence] I'll have to answer," mused Bill Dolezal. "He was truly loved and respected by many at the parishes he was at."
Father Dolezal was a fun-loving, outgoing kind of guy, said Bill. He loved the rural areas, Catholic education, the Knights of Columbus (twice serving as state chaplain), and "wounded warriors" — former military people who had been hurt in combat.
He was an early tinkerer with computers and created and maintained the first website for The Leaven. And like his father and brothers, he loved railroading. He would take vacations on old steam engines still operating and built large model train sets.
Father Reginald Saldanha, pastor of Sacred Heart Parish in Baileyville, knew Father Dolezal from the first day he arrived in the archdiocese 15 years ago. Father Saldanha, a native of India, had served in New Guinea.
"My first assignment was under him," said Father Saldanha. "He was my mentor, my guide, my big brother. He was everything that America is for me.
"He made me welcome, coming into a new culture from another country. He made me feel at home and taught me about the history of our country. He taught me a lot about America, its history and culture."
"Thanks to him," he continued, "it was easy to assimilate into this culture. As a priest, he was always there for me."
Father Dolezal taught him how to love rural Kansas, how to meet and greet people the American way, and how to love the weather, "which changes every time," said Father Saldanha.
"Whenever it snowed, Father Tom would give me a call and say, 'It's snowing, go make a snow angel or snowman,'" he added.
He took Father Saldanha to Indian food stores and restaurants to make him feel at home until he became used to American food.
"He looked like a giant figure, but he was very gentle at heart," said Father Saldanha. "He loved the poor, the weak, the sick, the elderly, the home-bound and the minorities.
"He always had a very soft corner for those who were in need.
"That's the one thing I liked about Father Tom — he'd go out of his way to help others."
Father Dolezal was preceded in death by his parents. He is survived by his brothers — John from Evanston, Indiana; Robert from Manhattan, Illinois; and William from Ankeny, Iowa — as well as nephews and nieces.The family suggests memorial contributions to either the Catholic Education Foundation of the archdiocese and/or the Wounded Warrior Project®.