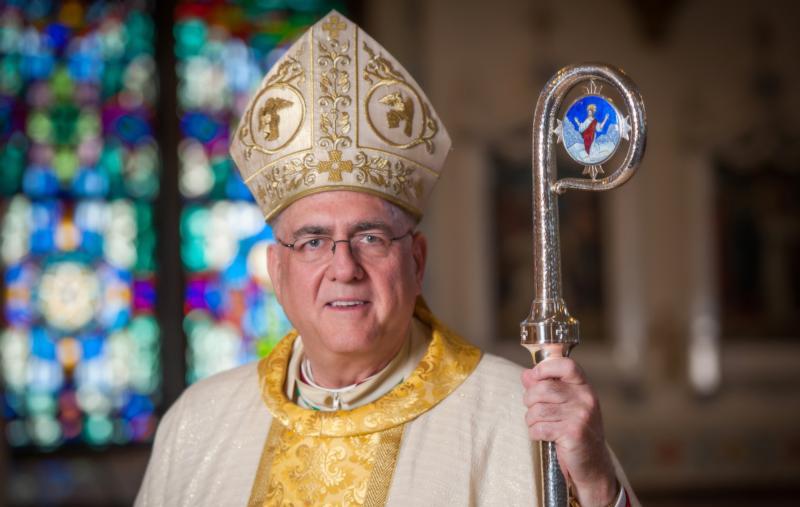 by Archbishop Joseph F. Naumann
This past Wednesday (April 27), I designated as a Day of Prayer in Atonement and for the Healing of All Those Harmed by Sexual Abuse.
This was a day for the entire faith family of the Archdioceses of Kansas City in Kansas to unite in prayer for all those who have been harmed by someone who should have been a trusted mentor and caregiver. This was a day that we asked Our Lord to bless and make fruitful our efforts to care for those members of our family who have been harmed by sexual abuse.
Having a day devoted to prayer in atonement and for healing for those harmed by sexual abuse is important, but our prayers for victim/survivors of sexual abuse must not be confined to this one day. As a Catholic community, we need to pray throughout the year for healing for victim/survivors, for strength and compassion for those who accompany them and for healing of families who have been wounded by the abuse of a loved one.
April has been designated as National Child Abuse Prevention Month. I am committed to striving to do our very best as an archdiocese to prevent sexual abuse from occurring in our ministries and institutions, as well as to respond with humility and care when our prevention efforts have failed. An essential component of the mission of the church is to promote and protect the dignity of every human being, especially children and those who are vulnerable.
During April, we especially seek to increase awareness about the evil of sexual abuse, to continue to educate ourselves on the best practices for prevention, and to recommit and increase our efforts to work for the healing of those who have been harmed. It goes without saying, however, that our efforts to address this grave evil and injustice must be year-round, not restricted to one day or one month.
Those who have been wounded by sexual abuse have a special claim on our hearts.
When sexual abuse occurs within the church, there is another dimension to the harm inflicted, because it can alienate the victims/survivors from the church — the very place where they should be able to come for help, comfort and healing.
Prayer is the foundation for every aspect of the church's ministry. Authentic prayer also opens our hearts in ways that lead to action. We all have a role in protecting youth and the vulnerable from harm and making our parishes, schools and ministries safe havens.
Virtus: Protecting God's Children® is an essential training tool utilized by our archdiocesan office for protection and care in fostering a safe environment in our parish and school communities.
Since its inception in the archdiocese, over 50,000 caring adults at more than 1,400 sessions have been trained to be vigilant in protecting children, youth and vulnerable adults. One opportunity to assist our office for protection and care is to become a volunteer Virtus facilitator. This summer, we will be training and certifying many new facilitators to join the team that helps us strengthen our safety net in the prevention of abuse. For more information and to apply, email Sandy Vielhauer (compliance administrator) at: svielhauer@archkck.org. I am grateful to Sandy Vielhauer for overseeing our prevention efforts with vigilance and dedication.
I am grateful for the many years of service from those who are already serving as Virtus facilitators and Virtus safety curriculum instructors in teaching about child safety and promoting awareness of child sexual abuse. Your dedication and work as facilitators and educators have helped to ensure the safety of many children and vulnerable adults.
I am also grateful to Jenifer Valenti, the director of our office for protection and care, as well as Kathleen Chastain, who assists and supports Jenifer with the leadership of this essential ministry.
I also wish to thank Jan Saylor (report investigator) as well as Amy Stork (victim assistance coordinator) for the key roles that they play in the investigation of accusations and the care of victims. We have an excellent team of dedicated professionals who are spearheading this vital ministry for the archdiocese.
With God's grace, we can become more and more the church Jesus calls us to be. I am determined to make our parishes, schools and ministries the safest places in our communities for children, youth and vulnerable adults.
If we fail in protecting God's children, it impairs the church's efforts to proclaim the truth, beauty and hope of the Gospel of Jesus. Failure is not an option. Please pray for the church's efforts to protect and to care for all those in our community.