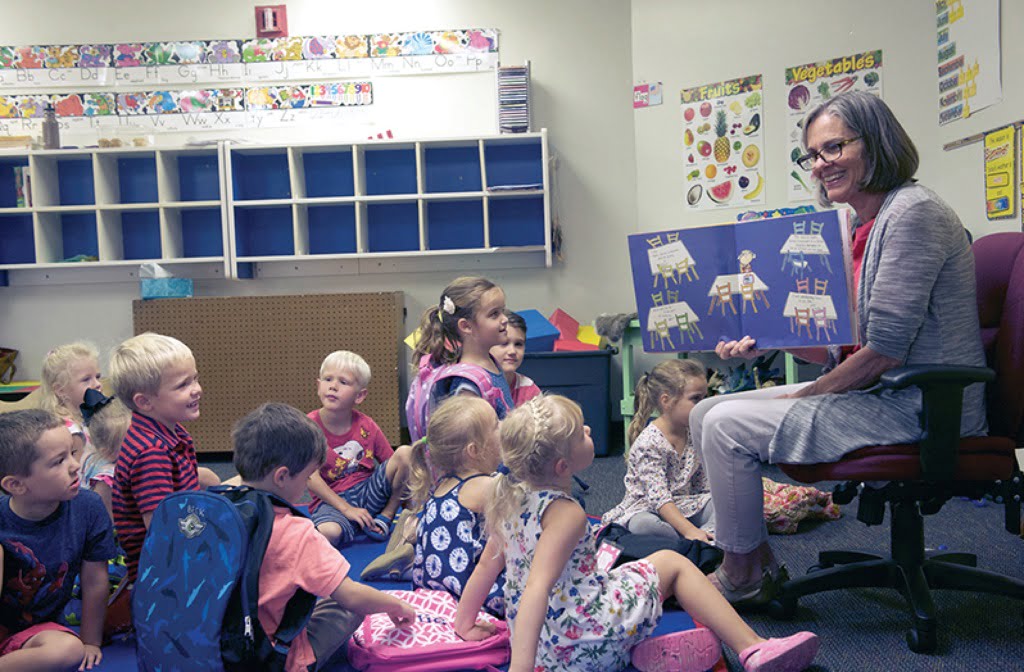 By Moira Cullings
moira.cullings@theleaven.org
PRAIRIE VILLAGE — You know a teacher is special when she can captivate 14 rambunctious 4-year-olds on their second day of preschool.
And you know it's not a fluke when you learn she's been doing it for 23 years.
Ann Reynolds, preschool teacher at the St. Ann Catholic School Young Child Center (YCC) in Prairie Village, fell in love with the center the moment she joined its staff.
"The children, parents, director and staff are the things that have kept me at the YCC," said Reynolds. "The children are a joy to teach and a reflection of great parents."
If you asked the families and staff at St. Ann's about Reynolds, they'd have a similarly positive opinion.
"She is a sweet, dedicated teacher who you can tell loves her job," said Tati Needleman, director of St. Ann's YCC. "And she has this way about her that's so calming.
"She's very, very much loved by the kids and the parents."
A lot has changed since Reynolds herself grew up in St. Ann Parish. At that time, what eventually became the YCC building was then a convent.
But once the YCC was founded by Needleman 28 years ago, it grew rapidly from a one-classroom program within St. Ann School, its enrollment practically doubling each year during its early stages.
"We went from 26 [kids] to about 45 the next year . . . and then, by the third year, we were up to 95," said Needleman.
The room they were using was simply not large enough to contain the influx of students.
That's when it was decided that the convent next door would be revamped and used for the YCC. This allowed Needleman to expand the center to include five programs, including full-time preschool geared for parents who needed to drop their children off for the entire day.
"I absolutely loved [watching the program take off]," said Needleman.
"This has been my home away from home," she added.
Reynolds has also enjoyed watching the program develop over the years and credits the program's success to a strong staff and Needleman's energetic leadership.
"Tati gives the teachers the freedom to try new activities, while guiding us in the right direction," said Reynolds.
"Many of the teachers have worked together for a number of years and are like family members," she continued, "always willing to help each other.
"The new staff members are readily accepted and bring a new perspective to the school."
Staying at St. Ann's for so many years has given Reynolds a rare opportunity to watch her students flourish — some, even adults now.
"It is so exciting to see former students from the YCC come back to look at their preschool room and say hello to their first teachers," she said. "Many will remember the favorite area they used to play in and what they liked most about preschool.
"It's fun to see how they've grown and matured."
Kids in preschool, said Reynolds, are some of the most energetic students to work with, but that is one of the things that has kept her at the YCC all these years.
"As an educator," she said, "I have taught in several Catholic grade schools in the archdiocese.
"I have found that teaching at the preschool level is rewarding because we are establishing learning skills and tools that they can develop and use throughout their lives."
The bubbly atmosphere inside her classroom keeps Reynolds on her toes and reminds her why she loves to teach.
"The children are fun, full of life and have an energetic attitude toward school," she said. "Every day brings something new."