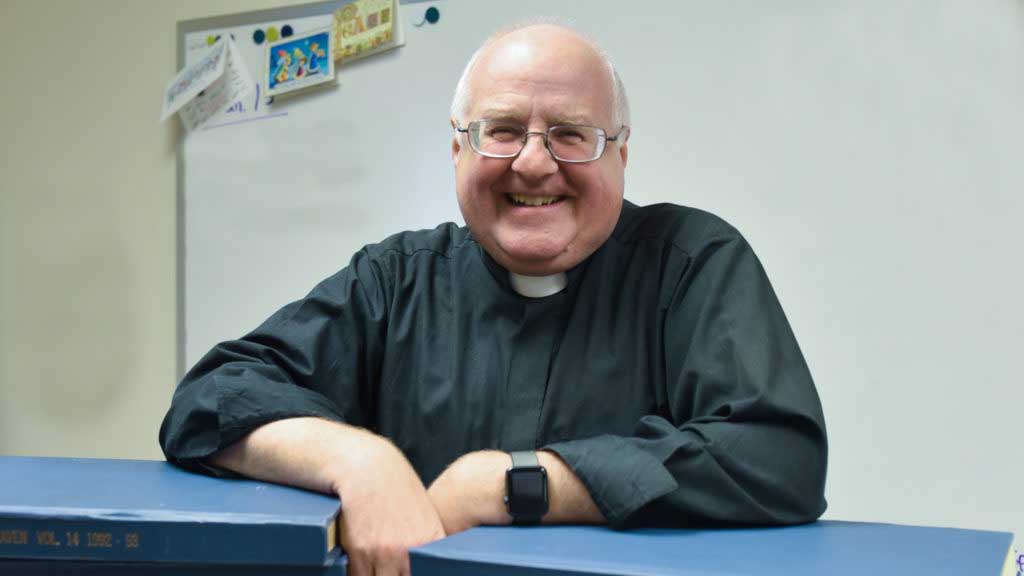 by Father Mark Goldasich
A few months ago, I was given a beautiful, handmade quilt from a parishioner. The older I get, the more I appreciate not only for the gift itself, but for all that comes with it.
I'll let this story from Gerald Horton Bath clarify what I mean:
A missionary was visiting several islands in the South Pacific before Christmas. He'd been telling his native students how Christians, as an expression of their joy, gave one another presents on Christ's birthday.
On Christmas morning, one of the natives brought the missionary a seashell of lustrous beauty. When asked where he had discovered such an extraordinary shell, the native said he walked many miles to a certain bay — the only location where such shells could be found.
"I think," exclaimed the missionary with gratitude, "it was wonderful of you to travel so far to get this lovely gift for me!"
His eyes brightening, the native answered, "Long walk part of gift!" (Adapted from "The Christmas Shell," a story in Brian Cavanaugh's "Sower's Seeds Aplenty: Fourth Planting.")
Now, back to that quilt. I was grateful, above all, that this parishioner wanted to give me a gift. Then, I was thankful for the thought she put into the design of the quilt. Knowing that I love reading, this quilt has individual book pages around its outside, surrounding a bookcase with 80-plus strips of fabric representing different shapes of books. There's a cat nestled on one book (representing the cats I've had and loved as pets) and a coffee pot (symbolizing all the nights I've spent reading way past my bedtime).
Naturally, I was appreciative of her time sewing the quilt together, then tying a bow around it to give it to me. So, the gift itself comes with so much more to be aware of and thankful for.
This final week of Advent can either be incredibly stressful
or a time of abundant blessings. For the latter to be true, a change of mindset is in order.
For example, I always feel that my Christmas card writing is pretty much finished by this time. Then, inevitably, some cards from people I'd forgot- ten about come in and I want to send greetings in return. I could grumble about the time it will take to get those cards out, the amount of postage it will take and the trips to the post office involved.
Instead, I choose to take a different attitude. First, I consider myself blessed that people sent cards. Next, I write a personal note in each as a prayer the outside of the card with some stickers to add a little art and humor to the envelope. The card — and all that goes into it — becomes the gift.
Perhaps thinking in this way can make these remaining days of Advent holier for you. See the standing in lines, the baking, the cleaning, the wrapping of presents, the writing of last-minute cards and the visiting as all part of your gift to others. And expand your sense of gratitude this Christmas — for the gifts themselves that you receive, but also for all that went into getting them for you.
Thinking in this way can transform this time of year from a dreaded burden into a time of joyful gratitude.