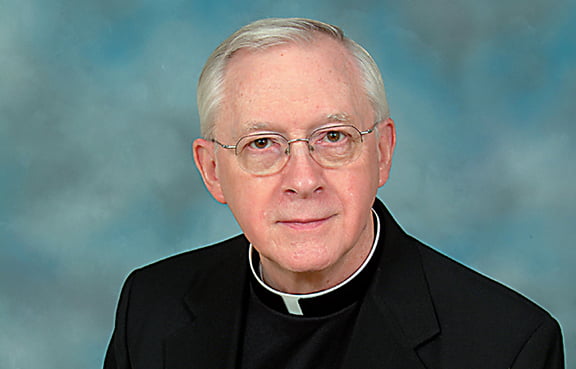 By Joe Bollig
joe.bollig@theleaven.org
OLATHE — You can't retire from who you are, so it makes sense that there is no official retirement date on record for Father John Patrick Dunnivan III.
Even at the end, he was working.
When he moved to Aberdeen Village retirement community in Olathe for hospice care, in fact, he met another resident who had left the church 70 years ago. After visiting with Father Dunnivan, the man expressed a desire to return to the faith.
Father Dunnivan helped make it happen, and now that man is overjoyed to be a practicing Catholic, said Peggy Dunnivan, who is married to Gary Dunnivan, a nephew of the priest.
"He was passionate about being a priest," said Peggy Dunnivan. "It defined him as a person. It was his life and, believe me, he lived it. He was such a good man."
Father Dunnivan, 84, of Overland Park, died from cancer on June 7 at Aberdeen Village.
Father Jack, as he preferred to be called, was born on June 12, 1928, to John Patrick and Bertha Rachel (Guillaume) Dunnivan in Olpe and, along with a brother and sister, he grew up in St. Joseph Parish there.
Father Jack attended public schools in Garnett and upon graduation entered St. Benedict's College in Atchison, where he studied philosophy. Next, he studied theology at Kenrick Seminary in St. Louis.
"I asked him when he decided he wanted to be a priest, and he said since he was about 13 or 14 years old," said Peggy Dunnivan.
Father Dunnivan was ordained to the priesthood by Archbishop Edward J. Hunkeler on Feb. 28, 1953, at St. Peter Cathedral in Kansas City, Kan. Also ordained with him were Father John Stitz and Father Carl Dekat.
His first assignment was as assistant pastor at St. Agnes Parish, which at that time was located in Kansas City, Kan. Soon, however, Father Dunnivan was selected to study canon law at The Catholic University of America in Washington, D.C. After receiving his doctorate, he published a book on a topic of canon law in 1960 called "Prejudicial Attempts in Pending Legislation."
Father Dunnivan returned to the archdiocese and served in the tribunal office full time until he became pastor of Immaculate Conception Parish in Louisburg in 1963.
He served as pastor in small-town parishes and continued part-time tribunal work, until he took a leave of absence from active archdiocesan ministry in 1979. After a stint in secular work, he returned to archdiocesan ministry in 1998.
Helping other priests became his ministry. Father Dunnivan often celebrated Mass, conducted funerals and administered the sacrament of reconciliation at parishes in Wyandotte and Johnson counties. He only recently ceased his ministry upon the advent and advance of his terminal illness.
"I got to know him when I was in the seventh grade, and he came as an assistant pastor," said Msgr. Thomas Tank, pastor of Ascension Parish in Overland Park. "I was an altar server for him."
"He was a great help to us at Ascension,"  he said. "He really wanted to help other priests. He had a love for the Eucharist and the sacrament of reconciliation. He was a very humble, very simple individual."
Father Dunnivan knew several languages — including Gaelic, Latin, Greek, German, Italian and French. He enjoyed tinkering with computers and even built some. He tutored children and adults in foreign languages and occasionally celebrated the Mass in Latin. Father Dunnivan made, and donated, lots of rosaries. He had a terrific sense of humor, loved to read the Bible, and constantly ministered to people, said Peggy Dunnivan.
He was "a giver," she said.
"He was everything to me, that's what I always told him," said Gary Dunnivan, a nephew. "He'd come and get my brother and me [at boarding school] and he'd take us to movies and dinner. He was always there for us."
It meant a lot to the two fatherless boys that they could depend on "Uncle Jack."
"He was the best influence in my entire life," said Gary Dunnivan. "He was the father that I didn't have."
Father Dunnivan was preceded in death by his mother, father and brother James Richard Dunnivan. He is survived by his sister, Sister Rose Maureen Dunnivan; nephews Michael Dunnivan and Gary Dunnivan; and four generations of great-nephews and nieces.
A Mass of Christian Burial was celebrated on June 11 at the Church of the Ascension, followed by burial at Queen of the Holy Rosary Cemetery in Wea. Funeral arrangements were by Porter Funeral Homes and Crematory in Lenexa.