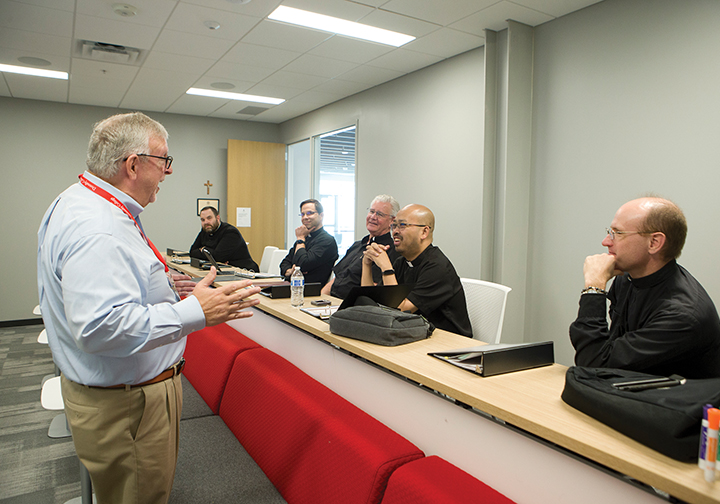 by Joe Bollig
joe.bollig@theleaven.org
KANSAS CITY, Kan. — This may be news to most Catholics, but not everything a priest needs to know is taught in the seminary.
Seminaries do not — and indeed, cannot — teach a man all the practical things that go along with being a pastor.
Things like the financial aspects of operating a parish.
A pastor simply must know what's going on, financially speaking, with his parish — even if he has a great bookkeeper, a wonderful parish finance council or an awesome parish business manager — because the parish is ultimately his responsibility.
Father Nick Blaha, pastor of Blessed Sacrament and Christ the King parishes in Kansas City, Kansas, knew this — and knew he needed help.
"[In 2020,] I was taking on large, new responsibilities," said Father Blaha. "I realized I had been looking at balance sheets and accounting reports, but I didn't know if I was looking at them correctly. I felt very much like I was faking it, and I wanted to know the things I needed to look at and pay attention to."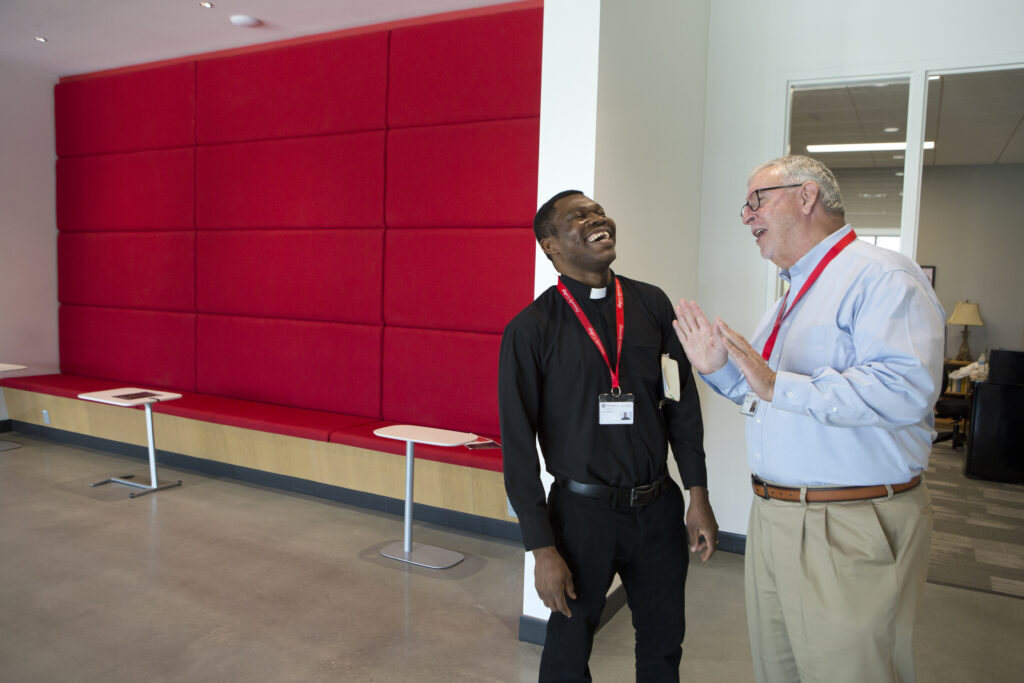 Fortunately, he had connections, and was able to hook up with a guru.
The guru was John Gillcrist, a member of Holy Spirit Parish in Overland Park. Gillcrist worked for 35 years for Bartlett and Company in Kansas City, Missouri. When he retired from Bartlett as president in 2018, he became an adjunct faculty member at Donnelly College in Kansas City, Kansas, teaching leadership in the business program.
But he also had a bachelor's degree in accounting from the University of Tennessee. For seven years before going to Bartlett, he worked as an accountant, accounting manager and comptroller.
"Father Blaha went to Holy Spirit School with my oldest daughter Kate," said Gillcrist. "During the pandemic, I got a call from Father Blaha, and he asked, 'Can you teach me some accounting? I've got three parishes and we have finance committees and look at financial statements. I don't know what I'm looking at. Can you help me with this?'"
Gillcrist put together a syllabus and a 180-slide PowerPoint presentation for an overview of accounting principles. He taught the course one day a week for five weeks to Father Blaha and one other person at Christ the King School.
Thus, the Basic Accounting Tutorial course was born. It's not about teaching priests how to be accountants, rather to just provide them with a basic understanding of what they are dealing with.
When Father Blaha enthused about the class to other priests, Gillcrist realized that here was an unmet need. He met with Msgr. Stuart Swetland, president of Donnelly College, to get permission to develop a short Accounting Tutorial for Priests. Msgr. Swetland, eager to do something for the priests in the surrounding area, gave Gillcrist permission.
Since that first unofficial class in 2021, Gillcrist has held courses in 2022 and this year, too.
The current Accounting Tutorial for Priests class, open to priests and seminarians from the Archdiocese of Kansas City in Kansas and the Diocese of Kansas City-St. Joseph, is two hours every Wednesday, Oct. 11 to Nov. 8, at Donnelly College. The cost is $50 per student. Seven priests are in this year's class.
Is it a difficult class? Not at all, said Father Kent O'Connor, pastor of Good Shepherd Parish in Shawnee.
"It's a class in the loosest sense," said Father O'Connor. "There are no grades, tests or homework. Mr. Gillcrist is a pretty engaging speaker. It's not like going back to school by any means, no more than the yearly workshops [for priests] at Conception Abbey. I would not compare this to going back to school at all."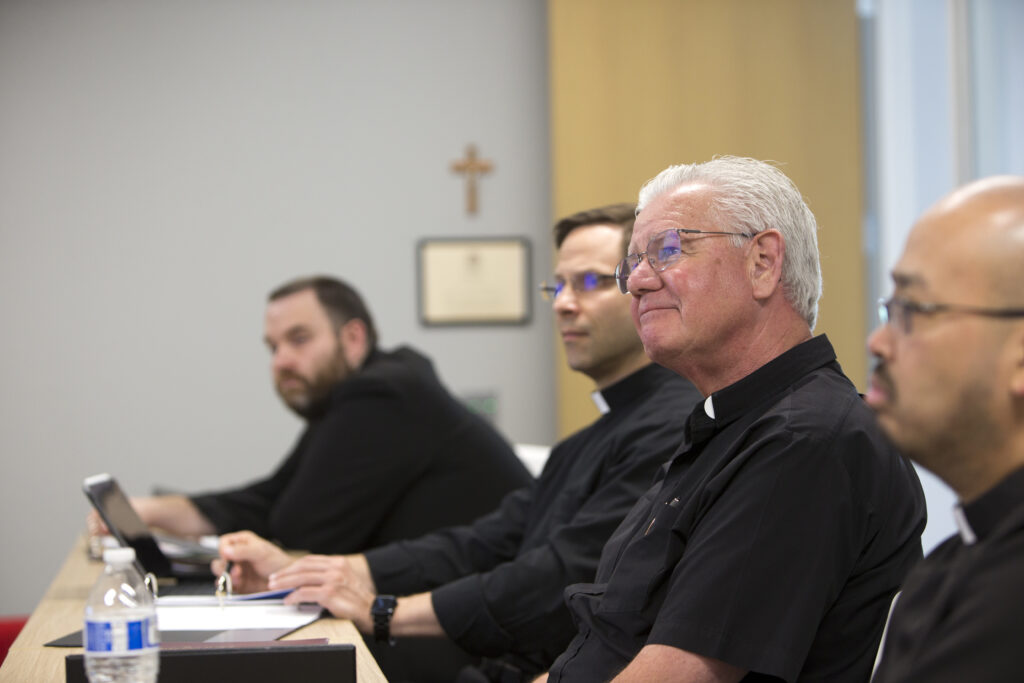 He believes the class will help him in practical ways in the future.
"I think it will help me to understand more of what our parish finance council is saying, and what my accountant is saying — making the words coming out of their mouths make more sense for me, and give me a better grasp of the terminology," said Father O'Connor.
"I can apply that [knowledge] and talk about the bigger picture from a pastor's perspective," he added. "The parish financials don't tell the entire story of the parish but applying them to the bigger picture will be helpful for me to have a better understanding of the concepts and language of the financial pieces of the parish."
Like most other priests, Father Daniel Stover didn't have any accounting or finance experience or education before becoming a pastor. He took the course in 2022.
Father Stover went to the University of St. Mary of the Lake Mundelein Seminary in the Archdiocese of Chicago. Many of his classmates went on to big Chicago parishes that have business managers. Other classmates, like himself, have gone to smaller parishes with limited to no staff support.
"I wanted to have a more systematic approach to viewing the parish financials," said Father Stover, pastor of Holy Angels Parish in Garnett and St. John the Baptist Parish in Greeley. "I had an accountant I know walk me through them when I first got here . . . what numbers tied in from different documents."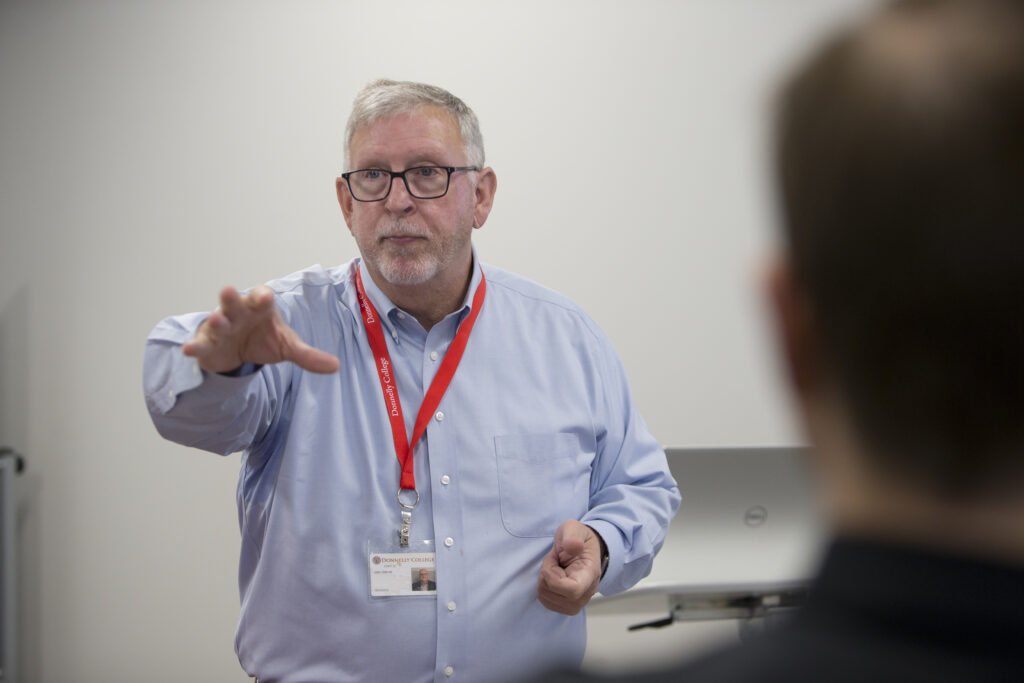 He found Gillcrist an engaging, well-prepared teacher who often used anecdotes from his real-world experience.
"When I brought actual copies of my parish financials, he was more than happy to teach using our real examples and documents as things we were looking at," said Father Stover. "It was really practical in that way."
Father Jonathan Dizon, pastor of St. Dominic Parish in Holton and St. Francis Xavier Parish in Mayetta, is taking the class this fall. The reason is simple: He wants to be a more effective pastor.
He admits that, in the past, he'd attend parish finance council meetings and try not to "look like a deer in the headlights," and pretended knowing what they were talking about.
"Over the years, I'd look at the numbers, and as long as we weren't in debt I thought [the parish] was OK," said Father Dizon. "I wanted to really understand more how our finances worked, what to look for and just basic knowledge so I wasn't at a loss when I looked at the reports.
"I want to do things well and fulfill my duty as a pastor well. Part of it is managing and making sure we are good stewards. For me to do that well, I need to know some things so I can make better decisions and have insights as to how well the parish is doing."
Father Blaha recommends that other priests take Gillcrist's course — but with a qualification: Take it when you're ready.
"They should take it when they actually need it," he said. "In general, it's the kind of thing that needs to be applied immediately. It would not have had the same value for me until I was actually a pastor trying to understand how things worked and [encountering] things that should have attention paid to."