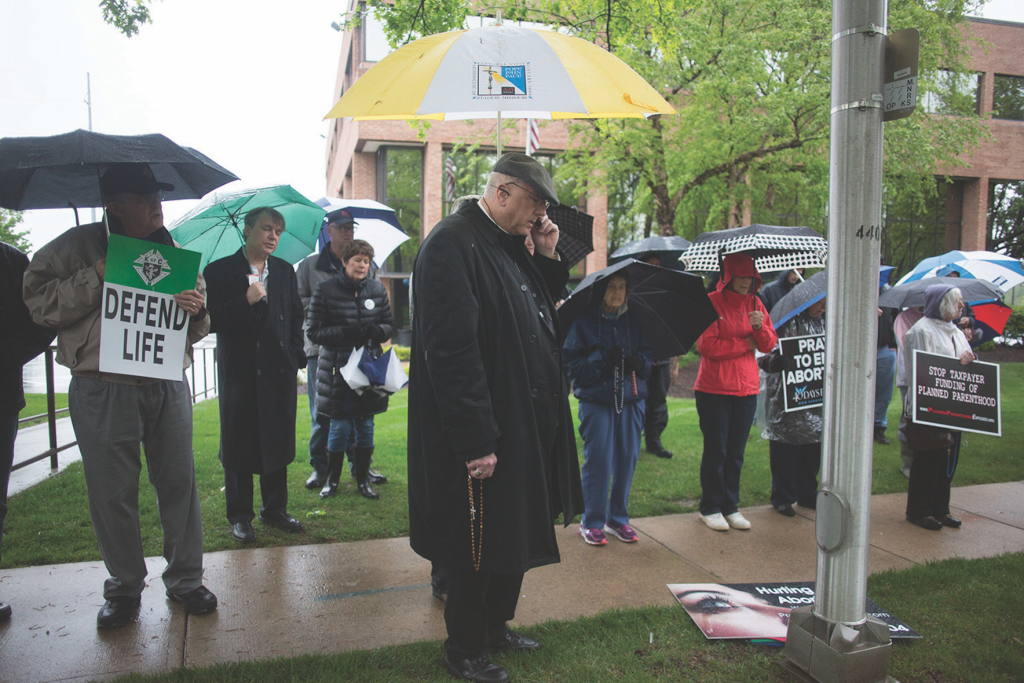 by Joe Bollig
joe.bollig@theleaven.org
KANSAS CITY, Kan. — Alarm bells went off in Ron Kelsey's head when he learned about the renovation of a medical office building here at 6013 Leavenworth Road.
It matches the approach used by Planned Parenthood to establish facilities in communities where there is opposition.
Kelsey, president of the pro-life organization Planned Parenthood Exposed, has been monitoring Planned Parenthood's efforts to establish facilities in Fairview Heights, Illinois, east of St. Louis; Visalia, California; and Edmond, Oklahoma.
In each case, the future use and owner of the facility was hidden from the public and city governments by using another entity.
In Edmond, Oklahoma, the public face used to establish the clinic was HealthTec Initiatives LLC. It was only later that Planned Parenthood revealed itself as the true owner. Planned Parenthood Great Plains operates in Arkansas, Kansas, Missouri and Oklahoma.
HealthTec Initiatives LLC bought and is renovating the building on Leavenworth Road. Kelsey fears that this, too, is a stealth effort to establish a Planned Parenthood Great Plains facility, he wrote in a March 16 letter to officials of the Unified Government of Wyandotte County and Kansas City, Kansas.
Kevin Braun, former Kansas state senator from District 5 and a member of St. Patrick Parish in Kansas City, Kansas, shares Kelsey's concerns.
"The deed document I researched revealed that the Planned Parenthood property located in Edmond, Oklahoma, received renovations while under the ownership of a company named HealthTec Initiatives LLC, who then transferred the property, at no cost, to Planned Parenthood just before opening," said Braun.
"Regardless of the intent of HealthTec Initiatives LLC in Kansas City, Kansas, we can all agree that concealing the intended use of a property and transferring ownership just prior to opening is a clear violation of public trust," he continued.
HealthTec Initiatives LLC was incorporated in Kansas on Dec. 17, 2019, weeks after Planned Parenthood Great Plains' effort to establish a facility in Kansas City, Kansas, was prevented. Protests and appeals led the property owners to cancel Planned Parenthood's lease of a building.
"Was that a coincidence? I think not," said Kelsey.
The Leaven reached out to HealthTec for comment but had received no response by the time the paper went to press.
The concern is so great that Archbishop Joseph F. Naumann will lead a rosary at 10 a.m. on April 9 at or near the site.
Kelsey is organizing a Stop Planned Parenthood in KCK rally at the Unified Government city hall. (For information, see website below.)
The fact that 6013 Leavenworth Road is located near residential areas and Washington High School should concern property owners and parents, he said.
Kelsey believes that officials of the Unified Government were unaware of who is really behind the facility and how it will be used.
The time is now for people who care for unborn children and their mothers to contact the Unified Government and voice their opposition, said Kelsey.
Those interested in more information on the Stop Planned Parenthood in KCK campaign, visit the website: plannedparenthoodexposed.org.