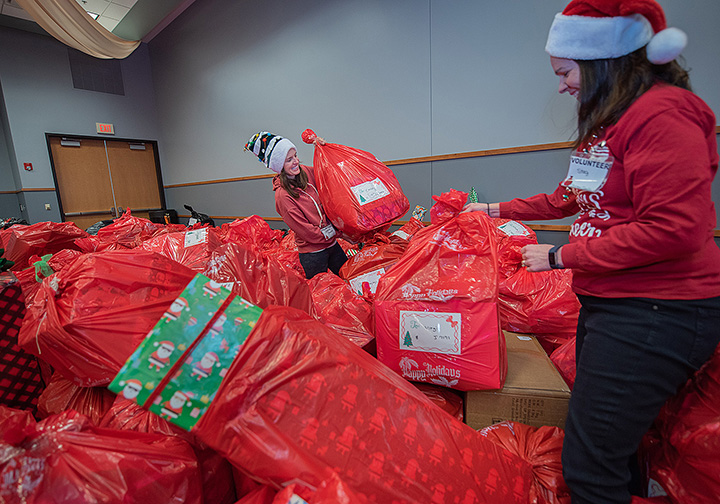 by Moira Cullings
moira.cullings@theleaven.org
OLATHE — Each year, the owner of a motorcycle bar receives a list of items needed by the Red Bag organization.
And without fail, a group of bikers provides the gifts that will be opened by children in need on Christmas.
Meanwhile, a women's exercise group is busy gathering items for the same cause.
"It's unbelievable the variety of people that come together," said Red Bag family coordinator Bill Gray. "It is miraculous."
It all started with a home visit 38 years ago.
Daniel Jacobs, who worked for Kansas City Power and Light, was tasked with checking on a family in Edgerton whose electricity would be shut off due to unpaid bills.
"He noticed the family was struggling," said Oliver Jacobs, Daniel's son. "It was a family with young children that were sleeping on a dirt floor inside.
"They had a tree for Christmas. It was like a little, itty-bitty Charlie Brown Christmas tree in a pot."
Daniel went home and gathered his five children.
"He said, 'I'm thinking about doing Christmas for another family, and we would have a little less for our family this year. What do you think about doing that?'" recalled Jacobs.
The children agreed, and with additional help from friends and colleagues, they were able to gather gifts and put together an abundant Christmas for the family.
"Here we are 38 years later," said Jacobs. "It started with one family, and now we're [helping] 1,721 foster kids today.
"It's just wonderful."
Community effort
Daniel founded Christmas Families, a 501(c)(3) organization, shortly after helping that initial family. It continued to grow, and eventually the Red Bag program was launched.
Red Bag has since provided tens of thousands of children with Christmas gifts.
It remains a living legacy for Daniel, who was a longtime parishioner of St. Ann Parish in Prairie Village before he passed away in 2017.
Each year, businesses, churches, families, schools and other groups purchase and wrap gifts for children and families in need and place them inside large red bags.
On Red Bag Saturday, held this year on Dec. 3 at the Ball Event Center in Olathe, participants delivered the red bags, and volunteers sorted through them before loading them onto trucks.
The bags will eventually be distributed to foster children and families across the Kansas City Metro area.
"We'll do rural families, inner-city families," said Gray. "There's not a county in the metro area that we haven't been in at one time or another."
This year, along with the 1,721 foster children, 55 families were chosen as Red Bag recipients.
"We try to get families that are trying hard, they're working, but probably wouldn't have a Christmas without us," said Gray.
Among the plethora of gifts collected were 110 bicycles.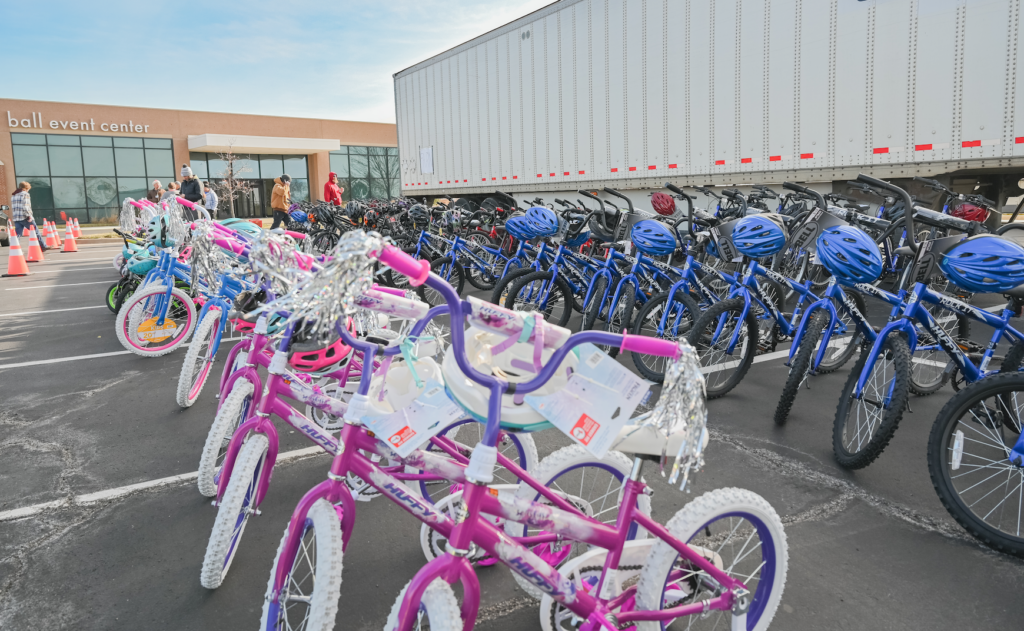 A handful of archdiocesan schools participate in Red Bag each year, including St. Ann School in Prairie Village, a key contributor since the program's early years.
This year, St. Ann collected more than 225 red bags for 154 children.
'The best medicine possible'
"A lot of [volunteers] say this is the beginning of their Christmas," said treasurer and overall coordinator Ed Weiser about Red Bag Saturday.
Weiser and Daniel were longtime friends, and one instance in particular stands out when Weiser thinks about Daniel's dedication to Red Bag.
Daniel was receiving treatment at a rehabilitation facility for his health, but that didn't stop him from attending Red Bag Saturday.
Daniel sat outside in a motorized chair so he could be mobile while he welcomed each car dropping off their presents.
"The day was bitterly cold," said Weiser, "but that did not deter Daniel one bit.
"Blankets were located to wrap him. Hot drinks and soup were brought to him as he refused to go inside and leave his [post where he was] greeting each and every person."
Afterward, Daniel returned to the rehab facility and resumed IV therapy.
"He was so happy," said Weiser, "and we all firmly believe he definitely received a dose of the best medicine possible."
Michelle Myers was also deeply moved by Daniel's selfless spirit over the years.
Myers and her husband Steve are parishioners of Sacred Heart Parish in Tonganoxie. They've been involved with the Red Bag program for some 25 years and provide food for all the volunteers on Red Bag Saturday.
"I was always so surprised by how long Daniel would talk to me on the phone," said Myers on their work together. "I would think, 'You've got to have 100 phone calls to make, don't you, Daniel?'"
"He would talk to me for an hour," she continued. "Whoever was in front of him was the most important person. That's just how Daniel was."
'Santa remembers all these kids'
Red Bag wouldn't be possible without its volunteers, especially the Red Bag Ladies.
Lauren Johnson has been involved with the organization since she was a child. Her mother was a friend of Daniel's and an original Red Bag Lady. She retired last year and passed the torch to her daughter.
The role of a Red Bag Lady is not for the faint of heart.
The handful of women are responsible for working with social workers from eight local agencies who provide the list of children in need, said Johnson.
They then divide the children among themselves and find sponsors for each one.
On Red Bag Saturday, the women are busy checking the bags and making sure each one goes to the right place.
"No one is paid and no one wants to be paid," said Johnson. "We all do it because we love the program. We believe in it."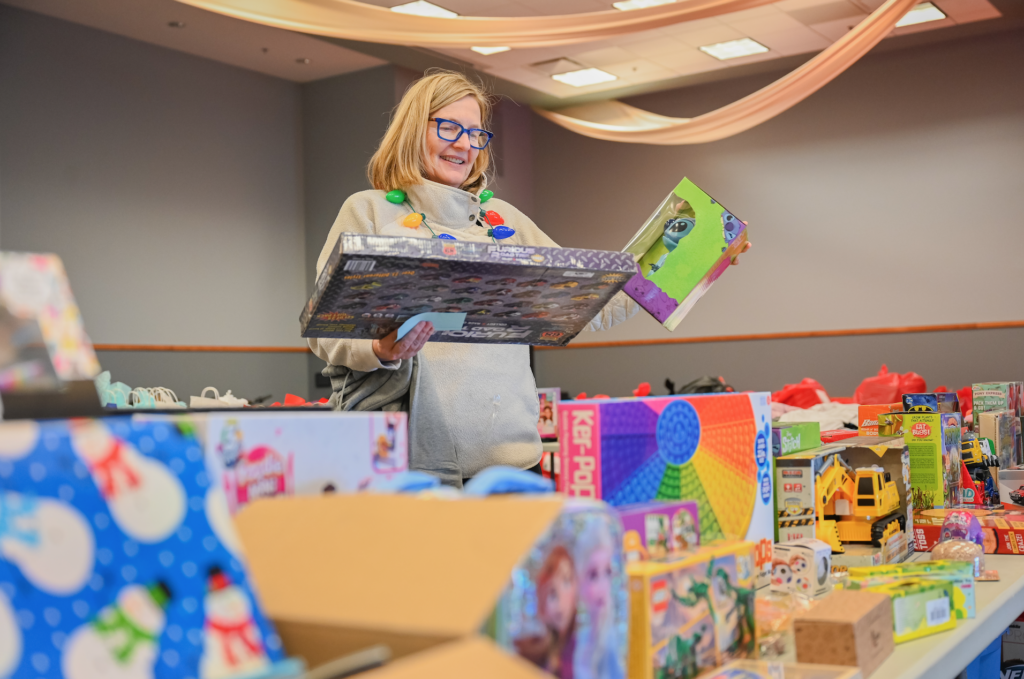 Johnson is inspired by the continuous growth Red Bag has experienced.
"I get choked up every year," she said, "because it's just a joy. We went from helping children out of Daniel Jacobs' home to now being at this huge facility."
A thank-you card the volunteers received last year from a mother whose children were Red Bag recipients reminds Johnson how great the need is.
"She said, 'Thanks to Red Bags, I didn't have to tell my son that Santa forgot him this year,'" said Johnson. "I tell my kids that's why I do this, so that Santa remembers all these kids."
'Will you join me?'
"Every year, [Red Bag] restores my faith in humanity," said Gray.
"If you watch the news, you'd think things are really bad and people are bad," he continued. "It's not true. There are so many great people. If we have a need, there will be 10 people wanting to help."
Like many of the volunteers, Gray and his wife Debbie were drawn to the program because of Daniel.
"He called me one November evening when it was early on and said, 'I'm going to go get a Christmas tree [for a family]. Will you join me?'" said Gray.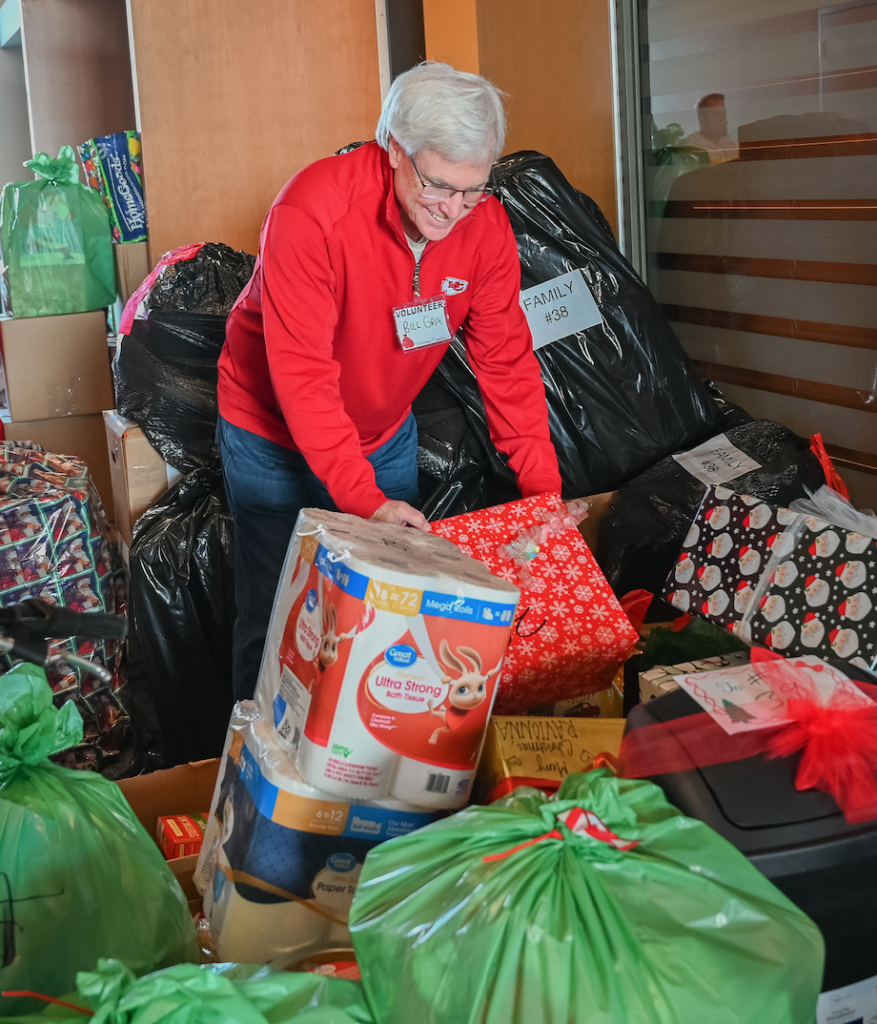 Gray accompanied Daniel on the journey to pick up the tree and take it to a family in the inner city. The man there had no wife, and his three children were asleep on the floor.
"We put the tree up, put the lights up," said Gray, "and I said, 'You know Daniel, we've got to get those kids beds.' And he did."
Gray stayed in touch with the man they helped that day, and they've remained friends for 35 years.
"He's very artistic," said Gray. "He drew a portrait last Christmas of me and Debbie and Daniel. I've got it in my office."
'This is Christmas'
Myers said volunteering at Red Bag Saturday is a way to put her faith into action and share the joy of the Christmas season with others.
"I had magical Christmases when I was little," she said. "My kids had magical Christmases when they were little.
"I just think that it's so important for little kids to have that. The kids don't know who the stuff's coming from. They don't know it's coming from Red Bag people. They think it's coming from Santa."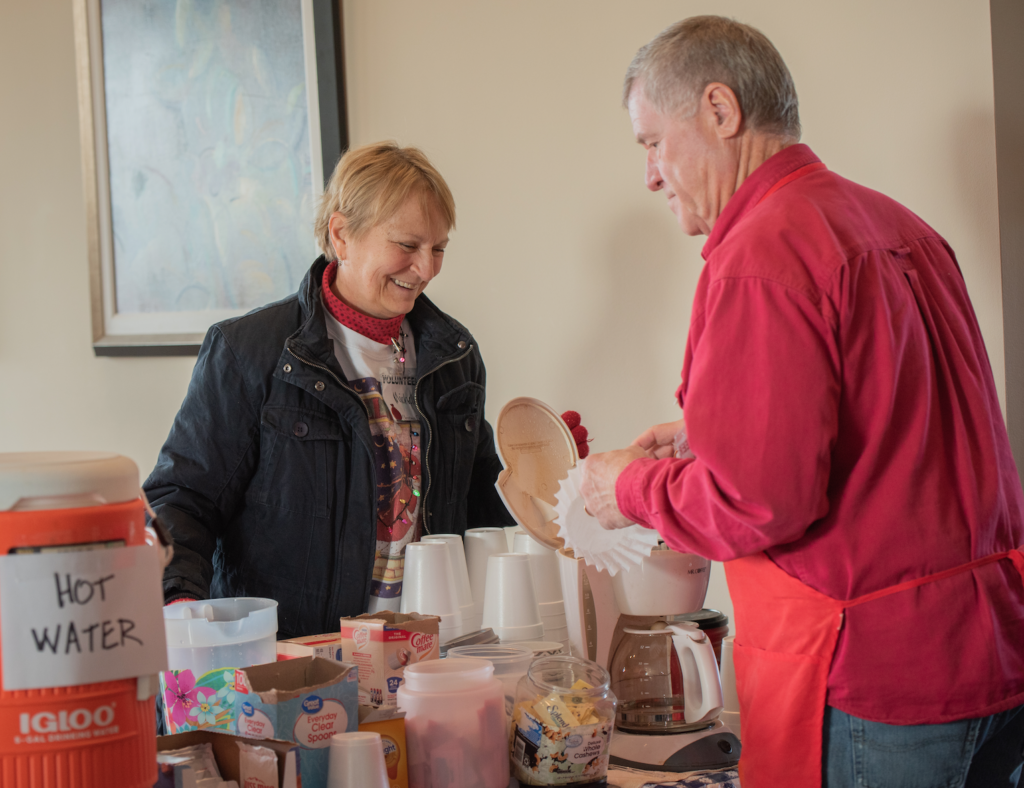 For Jacobs, carrying on his father's work in this way is a blessing.
"This puts smiles on so many children's faces," he said. "This is Christmas. Christmas is about the Lord Almighty, the Lord Jesus Christ, and giving back to others.
"That's what this is all about."
To learn more about Christmas Families and Red Bag, visit the website at: redbagskc.com.