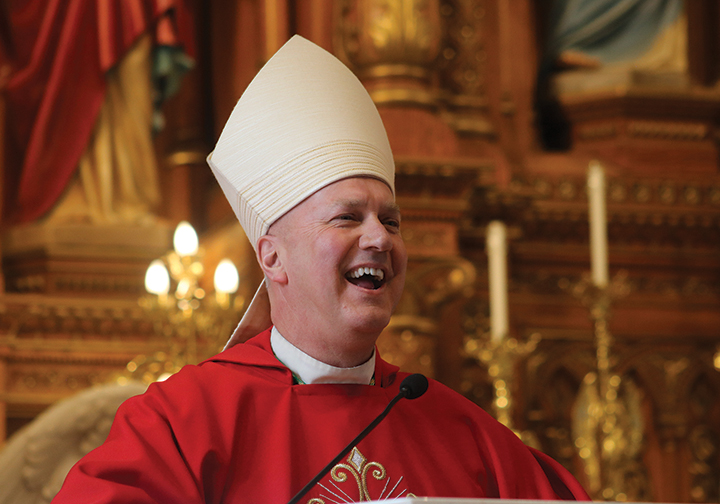 by Marc and Julie Anderson
mjanderson@theleaven.org
TOPEKA — Do you know what a game changer is?
That was the question Bishop Gerald Vincke of Salina posed to those gathered Jan. 23 at St. Joseph Church in downtown Topeka during the homily he preached as part of the annual Red Mass.
Usually celebrated at Church of the Assumption directly across from the state Capitol, the annual Mass is offered by the Kansas bishops at the beginning of each Kansas legislative season to invoke the Holy Spirit's guidance for all those serving in public office, as well as anyone in the legal profession.
This year's Mass was celebrated by Archbishop Joseph F. Naumann and concelebrated by Bishops Vincke and Carl Kemme of the Diocese of Wichita. Father Anthony Saiki, rector of the Cathedral of St. Peter in Kansas City, Kansas, served as master of ceremonies.
The term "Red Mass" comes from the red vestments worn by the celebrants — a color symbolizing the Holy Spirit, who is called upon to bestow the gifts of wisdom, understanding, counsel and fortitude to the gathered.
And, according to Bishop Vincke, the Holy Spirit is "the game changer" for all Catholics.
It was a "game changer," he explained, when Kansas City Chiefs quarterback Patrick Mahomes suffered a high ankle sprain in the game against the Jacksonville Jaguars two days before.
But just as "a game changer" in the world of sports is someone or something that alters the course of the game, there are other game changers in life.
"For all of us in the life of the church," said Bishop Vincke, "the game changer is the Holy Spirit."
The bishop reminded the congregation of how the apostles preached the Gospel to a world that didn't know Jesus yet — but it was the Holy Spirit who gave them courage to suffer persecution and martyrdom.
Referencing the Gospel of Luke, the bishop said, "There's a . . . Scripture passage where Jesus is teaching the apostles how to pray. . . . And then he says, 'How much more will the Father give you if you ask for the Holy Spirit' (11:13). How much does God desire to give us the Spirit?"
The Holy Spirit, the bishop said, wants to be with us. The faithful should ask for his presence by simply saying, "Lord, I need you in my family life. I need you in everything that I do. Please send your Holy Spirit and send the spirit of truth as well."
Later, Bishop Vincke said the Holy Spirit gives us courage and instructed the congregation to recall how St. Peter denied knowing Christ three times, but "when he received the Holy Spirit went out and preached Jesus Christ. . . . They (the Roman authorities) told him to stop talking about Jesus. And he said, 'We have to obey God.'"
"The Holy Spirit, dear brothers and sisters," he concluded, "is the game changer and can really turn the world upside-down.
"But we need to ask."