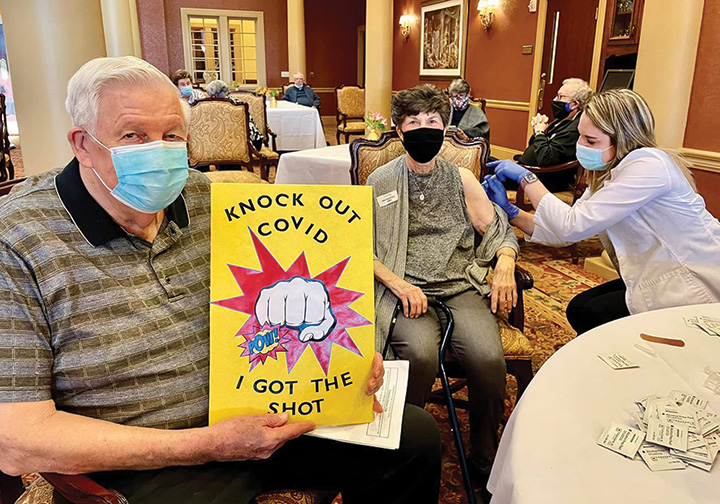 by Mike Achoki
Special to The Leaven
OLATHE — A long-awaited milestone for Santa Marta residents was reached March 1, when after a year of pandemic-induced uncertainty, the Catholic-sponsored senior living community here hosted its final on-site COVID-19 immunization clinic that day.
The event capped off vaccinations for the community after several weeks of visits from CVS and AuBurn Pharmacy representatives. Both doses of the vaccine were offered to residents community-wide, as well as Santa Marta's entire staff. In fact, the community was able to secure vaccinations for its independent living residents even before the state of Kansas had a concrete plan in place for immunizing seniors in independent living.
"It's naturally a huge weight off our shoulders," said Santa Marta executive director Chet Surmaczewicz, who commended residents and associates for their resilience, support and cooperation to ensure everyone's safety during the pandemic. "We're blessed to have a strong support system in place, which has enabled us to persevere up to this point."
"It's like seeing a light at the end of the tunnel," said resident Jan Kramer, who has lived at Santa Marta for nearly five years. "The staff and the pharmacies did such a great job. We feel very fortunate to have been able to receive the vaccinations here at the community, especially since there are many seniors across the country who are still waiting to get their shots."
Prior to the vaccinations, many services and activities at Santa Marta had been suspended as a necessary safety precaution. With immunizations concluded, some semblance of normalcy is settling in. Communal dining in a limited capacity has resumed. The community has also reopened its fitness center and pool so residents can exercise alongside their neighbors.
Social events are even making a return, and residents were able to enjoy a live musical performance together in early March.
The excitement stemming from these developments is palpable.
"I've really enjoyed exercising and having dinner with others," said Kramer. "It's comforting to be reunited with our Santa Marta family. We knew we missed some things but didn't realize how much we missed them until we started mingling again."
Despite the ongoing lifting of some restrictions, Surmaczewicz emphasized safety protocols will remain in place at Santa Marta for the foreseeable future based on evolving guidelines from the Centers for Disease Control and Prevention.
"We're taking everything one step at a time and listening to the health experts," he said. "While we're thrilled we're able to loosen up a bit, our main focus is still on ensuring everyone's safety above all else. However, the peace of mind that comes from being vaccinated makes life a little easier."