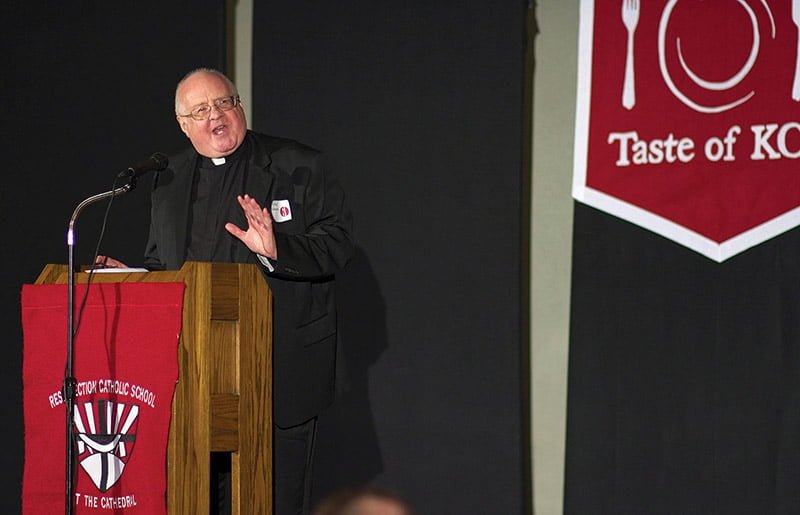 by Jill Ragar Esfeld
jill.esfeld@theleaven.org
KANSAS CITY, Kan. — It was homecoming day for Father Mark Goldasich at this year's Taste of KCK — an annual fundraiser for Resurrection Catholic School at the Cathedral here.
A native of the city's Strawberry Hill district, Father Goldasich attended St. John the Baptist Grade School from 1959 to 1969.
"So, we consider him an alumnus of Resurrection," said principal Lynda Higgins.
Resurrection was formed in 2007 from a consolidation of schools that included St. John the Baptist.
The school serves families from diverse ethnic heritages, and each was reflected in the menu of its eighth annual Taste of KCK.
Father Goldasich, of Croatian descent, was delighted to see one of his all-time favorites — Croatian potato salad — on the menu, among many others.
And those old-neighborhood staples were complemented by traditional dishes from other Resurrection families like pulled pork barbecue, tamales, enchiladas, fried chicken, Polish sausage and Burmese soup.
When it came time for his keynote speech, Father Goldasich relied on the method of communication he's most known for — storytelling.
While his audience enjoyed desserts as varied as churro cheesecake, povitica and rum balls, Father Goldasich told stories that illustrated diversity and acceptance of differences.
He said that a recent visit to Resurrection School felt a bit like he'd been to a little United Nations.
"I was so impressed with the children there," he said. "They certainly had different nationalities, they came from different races, they had different cultures. But the spirit of joy in that school, the spirit of welcome, the spirit of respect I felt was just a beautiful thing.
"To me, it makes real what Pope Francis continues to talk about, and that is the culture of encounter."
In a 2014 meeting with the bishops of Asia, Pope Francis talked about the importance of empathy in a continent of varied cultures, saying, "This capacity for empathy leads to a genuine encounter; we have to progress toward this culture of encounter in which heart speaks to heart."
Father Goldasich echoed that sentiment, telling the audience that changing the world — changing people's hearts — means sitting down with one another and speaking heart-to-heart.
"And one of the things we come to appreciate is that we're all the same," he said. "We're all children of God.
"We're all brothers and sisters of Jesus, but we have unique heritages."
The food shared that evening, he pointed out, was a wonderful example of the diversity we can all appreciate.
Father Goldasich praised Resurrection for preparing children to respect and love one another in acceptance of their diverse nationalities and cultures.
"If we can teach all children this lesson from a young age," he said, "I think we have a real chance of moving away from the prejudice that unfortunately is so prevalent in our world."
Father Goldasich told another story illustrating the importance of knowing God — not just with your mind, but with your heart.
The children of Resurrection, he said, learn more than the recitation of catechism answers.
"They're here to know not about Jesus, but to know Jesus," he said. "They know Jesus as their friend, as their guide, as their protector.
"What that does is change the hearts of these children, so no matter what they do after they leave Resurrection . . . they're going to carry that in their hearts.
"They're going to carry the love of Jesus in their hearts and they're going to know him as a friend."
Father Goldasich concluded his remarks with a couple of stories about bringing light into the darkness and the contagiousness of a smile.
He called the students of Resurrection the light of the world, as we are all called to be.
"And just as we gather tonight, the joy that fills this room is electric," he said. "It is light.
"It reminds us all we're called to take this spirit out into the world."
The evening's celebration also included student speakers, who themselves illustrated the excellence in academics and spiritual development that Resurrection strives for. In short presentations, they shared their experience at the school and their hopes for the future.
The Resurrection Legacy Award was presented to Church of the Nativity, Leawood, for its parishioners' volunteer efforts at Resurrection School.
And Father Harry Schneider, who retired as pastor from the Cathedral of St. Peter in 2019, was recognized with a Lifetime Service Award.
At evening's end, Resurrection had reached $100,000 of its $150,000 goal.
But as students circulated throughout the room with donation baskets in hand, Higgins reminded the audience that "we know, with God, all things are possible."