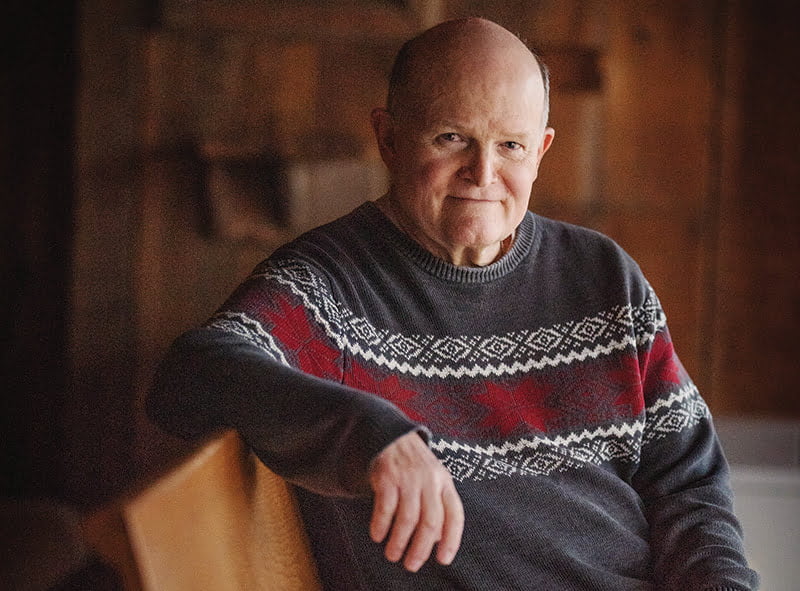 by Joe Bollig
joe.bollig@theleaven.org
EASTON — If you read the Gospels carefully, you will notice that Jesus went on retreats.
From the 40 days of being tempted in the desert, to shorter times lasting hours or a day, Jesus felt the need to separate himself from his normal routine and the disciples to spend time alone with God the Father.
Think about it: If Jesus went on retreats, shouldn't we?
One of the special places in the Archdiocese of Kansas City in Kansas set aside for retreats is Christ's Peace House of Prayer, located on 120 acres of rolling pastures and timberland 14 miles west of Leavenworth near Easton.
Recently, Christ's Peace announced its 2020 schedule of retreats (see below).
What is a retreat?
"Making a retreat means taking time to get away from the busyness and stresses of life, to go to another place for some purpose," said Vince Eimer, director of Christ's Peace. "Frequently, on a retreat you'll be taught something."
There are such things as secular retreats done by all kinds of business, governmental and other kinds of entities and organizations. Most of the retreats at Christ's Peace are religious.
"The kinds of retreats we talk about are [directed toward] spending time with God and deepening our relationship with him, and hopefully learning something about building the kingdom among our brothers and sisters," said Eimer. "[They are places] to learn some skills and become a channel of God's love."
Retreats have four basic aspects. First, it takes us to a different place. Second, it provides a break in our routine. Third, it involves prayer. Fourth, it involves quiet or even silence.
"The best way to have a retreat is to get away from the environment you normally live in," said Eimer. "So, it's always good to get away to a place that fosters looking within — places in nature, away from the noise and cities. That's what we offer here at Christ's Peace.
Why go on a retreat?
It's simple human nature that people get in a rut or a routine. They can grow stale or complacent and need a "boost" to get them moving, or even a "reset" or "refreshment."
A retreat can accelerate one's goal to be closer to God and others, said Eimer.
Although Christ's Peace has a formal retreat schedule, there are actually more opportunities than listed there in the sidebar to the right. A retreat can be designed for anyone according to the circumstances of his or her life.
Retreats can last from a couple hours to days, weekends or weeks. They can be done in a group or individually, directed or undirected. They can be silent, if you so choose. Retreatants can stay with others in the guest rooms or alone in one of the cabins.
Suggested donations per night, including meals, are: cabin/courtyard rooms, $85 single, or $125 couples; single guest rooms are $50.
If you are interested in one of the retreats on the schedule, a retreat as an individual or member of a group, or have questions about Christ's Peace House of Prayer, contact Eimer by email at: info@christspeace.com; call (913) 773-8255; or visit 22131 Meagher Rd., Easton.
Christ's Peace House of Prayer is on Facebook and its website can be accessed here.
Retreat schedule for 2020
• Feb. 21-23: St. Ignatius — Discernment of Spirits
• March 27-29: St. Therese — The Shroud of Turin
• April 17-19: St. Faustina — Divine Mercy
• May 15: St. Isidore Day with Archbishop Joseph F. Naumann
• May 15-17: Thomas Merton — Contemplation and Action
• May 22-25: St. John Paul II — Theology of the Body with Father Thomas Loya
• June 12-14: Dorothy Day — Social Justice
• July 17-19: Katheryn Doherty — A Poustinia Desert Weekend
• Aug. 14-16: St. Louis de Montfort — Consecration to Mary
• Sept. 11-13: St. Benedict — Work and Holiness
• Nov. 6-8: Sts. Louis and Zelie Martin — Family Sanctity
• Dec. 4-6: St. John the Baptist — An Advent Silent Retreat
• Jan. 8-10, 2021: Spiritual Reflection and Planning
Volunteer opportunities
Christ's Peace House of Prayer has a small staff, so they welcome volunteers to help them maintain the buildings, trails and other amenities on the 120-acre property.
The volunteers who have helped Christ's Peace in the past include parish groups, Knights of Columbus councils, AmeriCorps and Catholic HEART Workcamp.
"They did work in three days that I thought would take a couple of weeks," said director Vince Eimer.
Christ's Peace has monthly volunteer weekends. To volunteer, individually or as a group, contact Eimer (see main story).