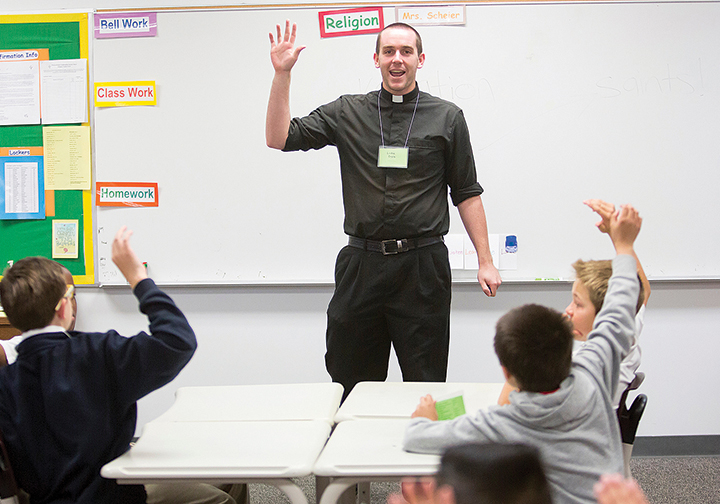 I fled Him, down the nights and down the days;
I fled Him, down the arches of the years;
I fled Him, down the labyrinthine ways
Of my own mind; and in the mist of tears
— "The Hound of Heaven," by Francis Thompson
by Joe Bollig
joe.bollig@theleaven.org
KANSAS CITY, Kan. — Deacon Luke Thomas Doyle did not pursue the priesthood so much as he was pursued by the priesthood — in reality, by Jesus himself, as described by the English poet and Catholic mystic Francis Thompson.
Pursued — like by a relentless hunting hound who could not be put off his trail.
"What really strikes me about my vocation story is how [Jesus] has been relentless in his pursuit of my heart, and he has been so generous to go the extra mile — to invite me, call me, strengthen me and prepare me for the priesthood," said Deacon Doyle.
He was ordained a transitional deacon by Archbishop Joseph F. Naumann on May 16, 2020, at the Cathedral of St. Peter in Kansas City, Kansas.
And Deacon Doyle — with two other men — will be ordained a priest by Archbishop Naumann at 10 a.m. on May 29 at St. Michael the Archangel Parish in Leawood. Due to COVID-19 restrictions, participation is by invitation only. You can follow the liturgy online at: livestream.com/archkck/ordinations.
Deacon Doyle is one of the eight children of Drs. Thomas and Jeanne Doyle, members of Most Pure Heart of Mary Parish in Topeka. The deacon was born in Omaha, Nebraska.
Thomas Doyle is a cardiologist and Jeanne Doyle is a psychiatrist, now a part-time science teacher at Hayden High School in Topeka.
A foreshadowing of the young man's future came when he was a little boy. At that time, the Doyle family lived in Texas. They took in a young priest who was from Poland who had come to serve at their parish.
"My mom took him under her wing and helped him learn to speak English," said Deacon Doyle. "He was at our house frequently to learn how to pronounce the words from the Gospel and to practice speaking his homily in English. He would celebrate Mass for our family and my first memories of serving Mass were with him when I was a very young boy."
The family moved from Temple, Texas, to Topeka in 1996, joining Assumption Parish.
As he grew up, Deacon Doyle participated in various parish activities: serving Mass, singing in the boys choir, attending Teens Encounter Christ and others. He attended Assumption School, graduating in 2004. The family joined Most Pure Heart of Mary Parish in 2006.
Occasionally, he thought of the priesthood, but not seriously.
"The faith was always taken seriously and embraced by my parents," said Deacon Doyle. "We consistently went to Sunday Mass, had family rosaries [and] made a Holy Hour once a month as a family. But the faith didn't become my own until I underwent the first conversion of my life in high school."
Deacon Doyle had three major conversions in his life that deepened his faith and set the stage for his vocation to the priesthood.
The first was when he was introduced to a new way of praying the rosary while in his junior year at Hayden High School.
The second was when his pastor invited him to become an extraordinary minister of the Eucharist.
The third occurred while being peppered with questions about Catholicism by a non-Catholic friend. Deacon Doyle became his sponsor and godfather during his senior year of high school, when that friend decided to become a Catholic.
His parents named him "Luke" because they thought (or hoped) he would follow in their footsteps and take up a career in medicine. Deacon Doyle thought so, too, and after graduating from Hayden, he entered the pre-med program at Creighton University in Omaha.
Those non-serious thoughts he had off and on about the priesthood growing up, however, became louder and more serious. He was a counselor at Camp Tekakwitha in the summer of 2010 when he decided to apply for the seminary.
"What convinced me at the time to go was praying the 'call' stories of the first apostles in the Gospels," said Deacon Doyle, "when Jesus called them to follow him on the shore of the Sea of Galilee."
His seminary experience was not a straight shot all the way through. Rather, it was more like the "Hound of Heaven" dogging his heels, because at one point, he totally left formation. It occurred while he was studying in Rome.
"I loved my time in Rome," he said. "I loved being at the center of the universal church studying theology. I had a lot of wonderful experiences, but I didn't have peace and freedom about moving forward to make that final commitment to become a priest."
"And so," he continued, "I decided to step away from priestly formation to let Jesus prove to me he was calling me one way or another."
He returned to the Kansas City area in early 2015. He began to teach theology at St. James Academy in Lenexa, taught the Rite of Christian Initiation of Adults classes at St. Michael the Archangel Parish in Leawood and part time for the Holy Family School of Faith.
His students in all three settings inspired him. During a Holy Land pilgrimage in 2018, near the Sea of Galilee, he had a powerful encounter with Jesus. Jesus invited him back into priestly formation and Deacon Doyle said "yes."
"[Jesus] convinced me what the world needs is not just better theology teachers — and it does — but even more it needs him," said Deacon Doyle. "I was made not just to teach about Jesus, but to bring him to his people and to bring his people to him."
Why does he want to be a priest?
"I want to be a priest because I want to bring the healing power of Jesus into a world so desperately in need of it, and I'm convinced that Jesus has invited me to do this in only the way a priest can," said Deacon Doyle.
Personally Speaking
Name: Deacon Luke Thomas Doyle
Age: 31
Born: Omaha, Nebraska
Raised: Temple, Texas, and Topeka
Parents: Drs. Thomas and Jeanne Doyle
Siblings: Elizabeth, James, Andrew, Maria, Anna, Thomas and Catherine
Home parish: Most Pure Heart of Mary, Topeka
Education: Hayden High School, 2008; Cardinal Glennon College in St. Louis, Bachelor of Arts in Philosophy, 2012; Augustine Institute in Denver, Master of Arts in Theology, 2016; National Catholic Bioethics Center in Philadelphia, Certification in Health Care Ethics, 2020; University of St. Mary in Bismarck, North Dakota, Master of Science in Bioethics, 2021; Kenrick-Glennon Seminary in St. Louis, Master of Divinity, 2021; Pontifical Gregorian University, Bachelor of Sacred Theology with a concentration in bioethics, 2021
Favorite food: Ice cream, anything on the menu at Chick-fil-A, and my mom's spaghetti and meat sauce recipe!
Least favorite food: Cauliflower. . . Don't tell my mom!
What I wanted to be growing up: A pilot: I love travel and was fascinated by airplanes growing up.
Best job I've ever had: I taught theology at St. James Academy in Lenexa, RCIA at St. Michael the Archangel Parish in Leawood and was a catechist for the Holy Family School of Faith. I loved being able to help others know Jesus and watch him transform their lives!
Things I like to do: I love watching and playing sports, spending time with friends and family, reading, staying active and ministering to God's people.
The closest I've come to death: There is a Doyle family legend about a time my dad and I nearly burned down our garage to chase out a mole that had burrowed itself underneath it!
If I could do it all over again, I'd: know to choose never to listen to the voice of fear, because that is not the voice of God.
Best vocation advice I've received: Following Jesus without reservation is the most direct route for anyone to the best life imaginable!
My advice for vocation discerners: Live the truth that Jesus is God and let it influence everything that you do. When you are living life under his lordship, then it makes sense to give him permission to show you how you were made to love. Be not afraid!
What is your greatest fear/concern about your first months as a priest? I want to be the best priest that I can possibly be, but Jesus wants to remind me that I am not called to be perfect, and it's OK to make mistakes! He does not call us to be successful; he simply calls us to be faithful.
What I'm looking forward to most as a priest: Being able to serve as a bridge between God and his people, especially through the celebration of the sacraments.