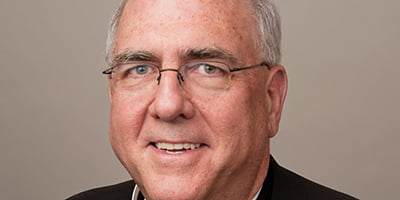 by Archbishop Joseph F. Naumann
With the rest of America, I was saddened and stunned by the tragic killing of 20 children and six adults at Sandy Hook School in Newtown, Conn.
My prayers and sympathy go out to the parents, spouses, children, siblings and friends who lost a loved one in this latest mass murder at an American school. I cannot imagine a human suffering more profound than losing a child or a spouse in such an abrupt and brutal manner.
President Obama spoke eloquently and emotionally to the American people acknowledging our nation has "endured too many of these tragedies in the past few years." With his voice cracking with emotion, the president said: "I know that there is not a parent in America who doesn't feel the same overwhelming grief that I do. The majority of those who died today were children — beautiful little kids between the ages of 5 and 10 years old. They had their entire lives ahead of them — birthdays, graduations, weddings, kids of their own. Among the fallen were also teachers — men and women who devoted their lives to helping our children fulfill their dreams."
Some are calling for stricter gun control laws. Others are urging even tighter security for all schools. No doubt others will cite the violence in our entertainment that portrays so cavalierly the taking of human life. Certainly, there are lessons to be learned. Who would not want to take reasonable measures that could prevent another such tragedy?
In one sense, these horrors can happen in America because of the tremendous freedoms we enjoy. A police state can eliminate the opportunities for individuals to perpetrate such horrible acts. However, history, sadly, is strewn with too many examples of totalitarian governments committing, on a grander scale, far worse crimes against humanity.
At the time of the writing of this article, the nation still does not know the motive of the perpetrator of this violence. I presume that we will hear many reasons why this man committed these crimes. We may well find that at some moment in his life he was victimized. Perhaps, we will find others that bear some responsibility for what happened last Friday, because they inflicted the emotional scars that disposed the perpetrator to engage in such violent acts.
In the end, I believe we will discover that, in this atrocity, we have once again caught a glimpse of the reality of evil. What happened at Sandy Hook School was not inevitable. Choices were made by a human being that led to Friday's horrific events. Every mass murder and other terrible crimes manifest the fractured nature of our humanity. The tragedy at Sandy Hook School makes even clearer why we need Christmas — why we need a Redeemer.
One relevant observation that I have not heard and do not anticipate hearing from the mainstream media is that more than 1,000 other American children were killed on Friday, Dec. 14. I have not heard it, perhaps because to say it will evoke fierce criticism.
More than a thousand other children died by abortion last Friday. The key differences between their deaths and the deaths at Sandy Hook School are: 1) their killing was authorized by their mothers, who in most instances were pressured or encouraged by their fathers, 2) their murders were performed by professionals who are trained to heal and 3) their deaths were sanctioned by our government.
The president, who rightly mourns the deaths of the children who were murdered in Newtown, advocates for the so-called "right" for unborn children to be killed every day in America. In fact, the president has actually made abortifacient drugs part of his healthcare plan for the nation.
Flags will not fly at half mast for these unborn children. The president will not address the nation about the tragedy of their deaths. Nevertheless, the children who died by abortion on Friday, Dec. 14, also "had their entire lives ahead of them — birthdays, graduations, weddings, kids of their own." We not only lost them, but we lost all the good that they could have contributed to our society.
We will not hear anyone justifying what happened in Connecticut by invoking the perpetrator's right to choose to kill the children of Sandy Hook School. Yet, the deaths of the more than 1,000 unborn children who died on Friday were permitted under the cloak of a false rhetoric of choice and personal freedom.
For this tragedy at Sandy Hook School to happen so close to the celebration of Christmas seems to magnify and intensify the pain. My father was murdered 64 years ago on Dec. 18. I was in my mother's womb at the time, sheltered from the tragedy that enveloped her.
Hopefully, the family and friends of the victims of this tragedy have the same faith that my mother had for the One born in Bethlehem. It was from her faith in Jesus that my mother found the peace and strength to care for me and my Brother despite her own personal pain and sadness. It was from Jesus that my mother found the power not to allow her life to become dominated by her anger against my father's murderer. It is from Jesus that she was consoled with the truth that my dad's life had changed, but not ended.
What happened at Sandy Hook School was a reminder of why we need Christmas. Why we need a Redeemer. Why we need Jesus Christ.