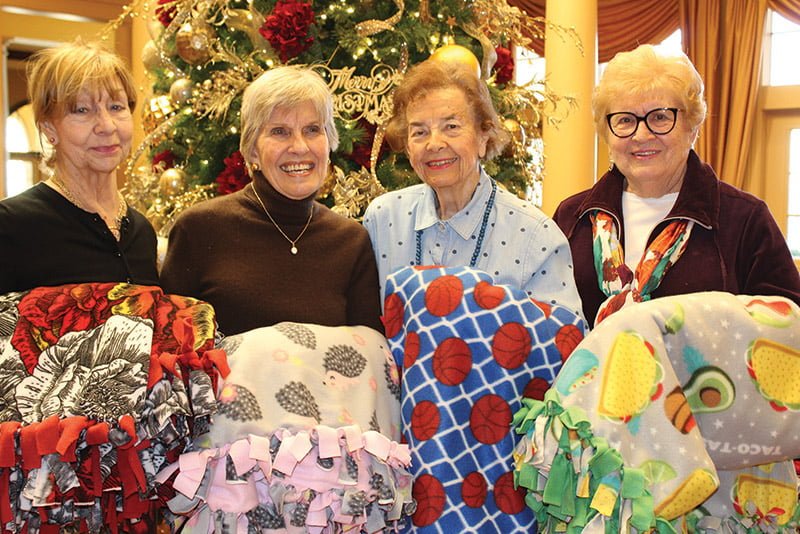 by The Leaven
OLATHE — In 2008, a team member at Santa Marta senior living community kickstarted a charitable initiative geared toward helping underprivileged youth. The program — Fleece 4 Friends — involved residents at the Olathe retirement community making fleece blankets to donate to local homeless teenagers.
More than a decade later, the program shows no signs of slowing down.
Residents from both the independent living and the assisted living units get together each month to collectively work on the no-sew blankets. Around 20 seniors are currently involved in the endeavor. This year, the blankets were gifted just two days before Christmas.
Santa Marta provides materials and tools for the initiative, which has impacted hundreds of teens in need since its humble beginnings.
"Philanthropy is an important part of our community culture; many of our residents recognize how blessed they have been throughout their lives and are committed to paying it forward," said Gina Zwickel, director of resident operations at Santa Marta.
Zwickel, who helps coordinate the program, has been part of the community's management team for 11 years.
"A majority of homeless teens don't receive gifts for Christmas," she said, "so we provide the blankets during the holiday season to let them know there are people out there who love and care for them. Staying warm is also critical during the wintertime."
The program recently began repurposing plastic bags to make sleeping mats as well. Residents cut and tie the bags into ropes and crochet them into pads and cushions intended to bring comfort to the homeless.
Resident Gay Woosley has been involved with the program since she first moved to Santa Marta in mid-2018. Despite being relatively new to the community, she said the opportunity to give back through Fleece 4 Friends has been one of the most rewarding aspects of living there.
"It's been very worthwhile," said Woosley. "I've been involved in volunteer work all my life, and Fleece 4 Friends has a special place in my heart, because it gives me the opportunity to do something I've always loved.
"It's also fun and a great way to connect with my fellow residents while helping people who are experiencing hardship."
Her sentiments were echoed by other participants.
"Giving back is so important, especially to kids who need it most," said resident Lou Ella Scobie, a veteran of the initiative since 2014. "We all absolutely love it."
"Knowing we're putting smiles on people's faces is what has kept this program thriving for so long," said Zwickel. "We're looking forward to making a difference by helping others in need for many more years to come."